Michigan State University is at the forefront of aquatic animal health with a regional effort devoted to the research of infectious and noninfectious diseases of aquatic animals, particularly those affecting fish of the Laurentian Great Lakes Basin. Aquatic animal health research, service, and outreach is interdepartmental, and bridges the Department of Pathobiology and Diagnostic Investigation at the College of Veterinary Medicine and the Department of Fisheries and Wildlife at the College of Agriculture and Natural Resources. The faculty and laboratories involved offer a variety of diagnostic and health certification services for publicly and privately managed aquatic animal facilities.
Aquatic animal health activity at MSU began in 2001 with the arrival of Emeritus Professor Dr. Mohamed Faisal, who founded the first-ever regional laboratory to provide fisheries management. Together, Faisal's work and the University have blossomed into a premier and globally recognized health initiative through the development of collaborative regional and national partnerships with State and federal management agencies.
The faculty devoted to aquatic animal health at MSU continue to track and study the ever-growing health challenges facing aquatic animals through multiple synergistic programs: the Aquatic Animal Disease Ecology (AADE) Program is directed by Dr. Thomas Loch, while the Fish Pathobiology and Immunology (FPI) Program is directed by Dr. Bartolomeo Gorgoglione.
MSU Courses
Principles of Fish and Wildlife Disease and Laboratory (FW423 & FW423L)
Aquatic Animal Medicine Clerkship (PDI 636)
Location
MSU's Aquatic Animal Health research teams are located on the third floor of the Food Safety and Toxicology Building at Michigan State University, with extensive wet-lab space in the MSU Research Containment Facility.
Mohamed Faisal, DVM, PhD, Dr. Honoris Causa, CertAqVet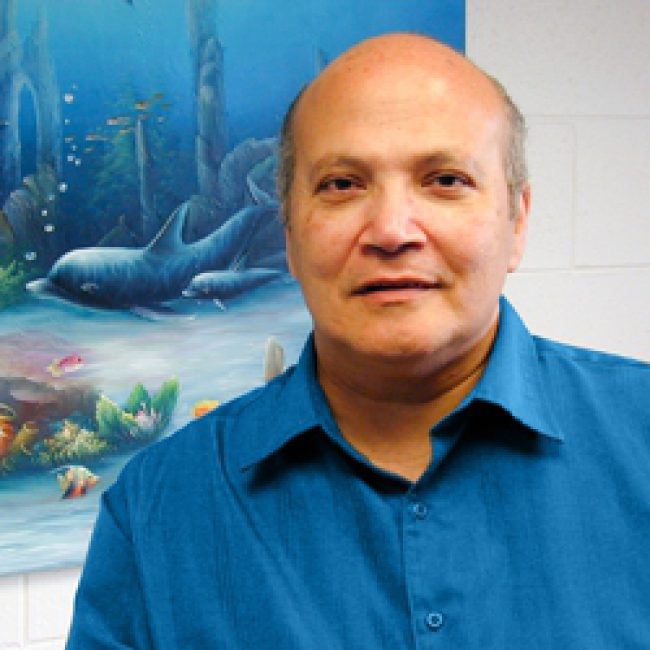 Dr. Mohamed Faisal is an S. F. Snieszko distinguished scholar and professor emeritus of Aquatic Animal Medicine for the Michigan State University Colleges of Veterinary Medicine and Agriculture and Natural Resources. In addition, he is a distinguished fellow of the World Aquatic Veterinary Medical Association and a mentor to many.
Faisal has worked in aquatic animal medicine for the past 45 years, and has co-authored nearly 300 peer-reviewed publications. He is the recipient of numerous national and international professional awards, as well as an honorary doctorate degree. At Michigan State University, Faisal worked in tandem with the Michigan Department of Natural Resources to establish a fish disease laboratory group focused on emerging and resurging infections in the Great Lakes Basin, as well as invasive species including sea lamprey, Asian carp, and zebra mussels. Through that work, Faisal brought together collaborative, cross-departmental research groups across campus and the State.
Prior to that, Faisal earned his DVM, and then joined the University of Munich in Germany, where he first studied fish diseases and, specifically, carp viremia. He finished his studies and graduated with his PhD. In the late 80's, Faisal was recruited to the University of California, Los Angeles' Department of Immunology, as the field was under rapid expansion due to the HIV/AIDS epidemic and the development of psychoimmunology. However, Faisal missed working with fish, so he joined the Virginia Institute of Marine Science. From 1989 through 2001, Faisal studied the affects of toxic chemicals on fish immune systems and, specifically, oyster pathology.