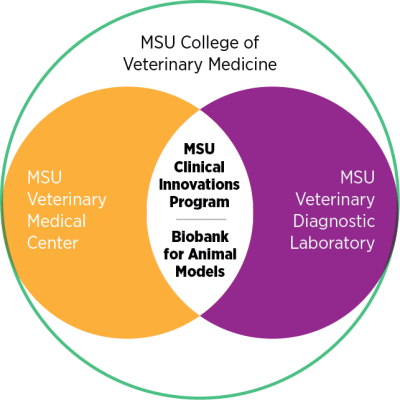 Michigan State University's College of Veterinary Medicine houses and collaborates with researchers across disciplines that are deeply involved with the development of tomorrow's medical and surgical solutions for animals and people.
With its wide-reaching referral network of private veterinary practices, clinician experts, and high-resolution imaging and surgical resources, MSU's Veterinary Medical Center is well-positioned to launch a successful, productive clinical trials program.
The state-of-the-art MSU Veterinary Diagnostic Laboratory supports the Hospital's on-site Clinical Pathology Service, as well as a multitude of other diagnostic services nearby.
MSU College of Veterinary Medicine will establish a Biobank for Animal Models (BAM). This repository will be designed to store tumors, healthy tissues, normal cell lines, blood, serum, and different biopsies, such as bone marrow, as well as infectious agents including viruses, bacteria, and fungi. BAM will be a major resource for secondary research because it will provide large sets of specimens that fulfill international standards in biomarker-based test validations for diagnostics and/or theranostics (combined therapeutics and diagnostics for tumors), as well as in the development of drugs and vaccines.