House Mentorship Program
House Mentoring Program: Training Kick-off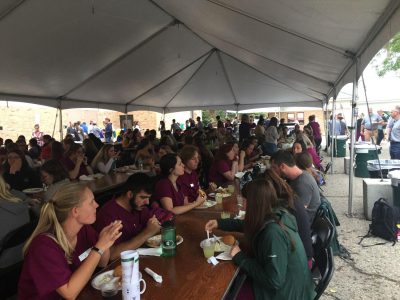 Our first training session for the new House Mentorship Program was a success! Early in September, more than 60 alumni attended our in-person training session, with many more joining remotely via Zoom video conference. Alumni volunteers had the opportunity to join the College-wide Fall Welcome Picnic, where many of them met and talked with their student mentees. The atmosphere was energetic! We're looking forward to continually growing the House Mentoring Program, fostering meaningful interactions between mentors and mentees. If you're interested in being an alumni mentor, please refer to the volunteer information.
We are excited to announce the creation of a new mentorship program at Michigan State University's College of Veterinary Medicine, and even more excited to ask you to join us in mentoring our future veterinary professionals!
As you know, doctor of veterinary medicine and veterinary technology programs are rigorous, and a support system is essential for student success. To this end, the College created the House System in 2017. Our House System sorts students into four houses, and is designed to bring together faculty, staff, and especially students to build community and facilitate student wellness and success.
This year, we are weaving a mentorship component into the House System. This is where you come in! We are recruiting our valued alumni to join us on this journey to provide social and professional mentorship to our DVM and vet tech students.
Each of our mentors will be sorted into a house and randomly assigned four DVM students and one vet tech student, who also are in that house. The Program will be largely managed by house faculty and lead students, with support from the Office of Admissions, Student Life, and Inclusivity team. The Program will be led by an advisor to help facilitate communications and create opportunities for interactions between mentors and mentees. All members of the Program will receive training, be provided with resources outlining the responsibilities of being a mentor, and given the tools necessary to provide our students with social, emotional, and professional support.
Responsibilities of Mentors
As a mentor, you will help support learners using ­­your experiences, knowledge, and understanding of life in the field of veterinary medicine. Using whatever means of communication you're comfortable with (email, phone, text, in-person) to visit with students and answer their questions. You might engage your group in a monthly Skype chat, meet during a horse show at the Pavilion, visit during an MSU football game, share interesting research or articles, or just be there when they need you.
If you are interested in learning more about the Program, or if you already know you'd like to become a mentor to our future veterinary professionals, please go to cvm.msu.edu/mentor and fill out a short survey with your contact information.
We'd love to have you join us!
MMIs
As part of the DVM admissions process, the College conducts Multiple Mini Interviews (MMIs) for potential students. MMIs are a series of 6-minute interviews at 7 stations, each with its own evaluator and scenario. The scenarios address attributes we believe are important in becoming a competent and caring veterinarian like communication, maturity, and cultural competence.
Evaluators are a trained cohort of faculty, administrators, staff, and local alumni and practitioners. MMIs provide an opportunity to assess competencies, which are relevant to the College's DVM program and have been aligned with American Veterinary Medical Association Council on Education competencies.
We are looking for College Alumni volunteers to serve as evaluators!
Contact admiss@cvm.msu.edu for more information and to get involved! MMIs to select the Class of 2024 will run from December 2019 through February 2020.