The evolution of clinical specialties, started in the 70s, continued with the development of additional clerkships for fourth-year veterinary students both on- and off-campus. Student enrollment was decreased from 115 to 100 students per class in the four-year curriculum, and the number of women and minorities increased.
The applicant pool dramatically changed, as well. From approximately 800 applications per year in the early 1970s, the number of students applying for admission to MSU-CVM decreased to 453 in 1987. In addition, the number of students applying to more than one veterinary school increased. Top students were recruited by veterinary colleges throughout the United States.
The increased numbers of new veterinary schools also continued to have an impact on the college. The loss of faculty to these schools necessitated realignment of teaching responsibilities as recruitment for replacements took longer because of shortages in certain specialties.
Before John R. Welser departed as dean in 1983 to become vice president and director of agricultural research at the Upjohn Company, the seed had been sown for expansion of the VCC. Dr. Waldo F. Keller served as acting dean. Having cultivated the support of Jack Breslin, a long-time friend of veterinary medicine, as well as the leadership of the MVMA, selected agricultural organizations, and legislative leadership, Dr. Keller was successful in obtaining the $46.8 million necessary for the new building and renovation program. The official groundbreaking for this project occurred on June 23, 1988.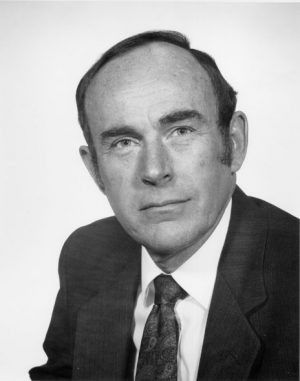 Dr. John B. Tasker left a position as associate dean at the College of Veterinary Medicine at Louisiana State University to become the seventh dean of MSU's veterinary college. He assumed these duties October 1, 1984.
Research in the college grew significantly during the '80s. In 1988, the college received $3.1 million in research support.
In the 1980s, the college established two endowed chairs. A campaign to endow the Wade O. Brinker Chair of Veterinary Surgery began in 1978 and met its goal in the mid-80s. (The chair was not occupied until 1992). More than 1,200 contributors made gifts to commemorate Dr. Brinker and perpetuate his example of scholarship in veterinary surgery.
In 1985, the Matilda R. Wilson Chair in Large Animal Clinical Sciences was endowed by a gift from the Matilda R. Wilson Fund, which was established from the estate of this long-time supporter of Michigan State University. Dr. N. Edward Robinson was selected as the first Matilda R. Wilson professor in 1988. He remains a professor in the Departments of Physiology and Large Animal Clinical Sciences and director of the college's Pulmonary Laboratory. Dr. Robinson is a pioneer in the study of respiratory function and diseases in large domestic animals.
Over the years, the college has been generously supported by alumni, friends, corporations, and associations. During the years from 1981 to 1987, private support increased from $172,104 to $960,142.