The Hussey Laboratory studies herpesvirus. Specifically, the Lab is working to identify the role of equine herpesvirus 1 (EHV-1) proteins for establishment of viremia and infections of central nervous system (CNS) endothelia, identify feline herpesvirus-1 genes and their effects on host immunomodulation for the development of modified live vaccines, identify miRNA in peripheral blood mononuclear cells collected from horses during EHV-1 viremia and establishment of latency, and identify the role of EHV-1 infection for testicular/male genital tract pathology.
Gisela Hussey, DVM, MS, PhD, researches respiratory immunity and modulation of immunity for protection from herpesviral disease, models EHV-1 infection of immunoprivileged vascular endothelia to study EHV-1 myoencephalopathy, and studies the role of different EHV-1 genes for impairing the immune response and facilitating transfer of the virus to the CNS in order to develop effective therapies and vaccines.
IMMUNITY AND IMMUNE MODULATION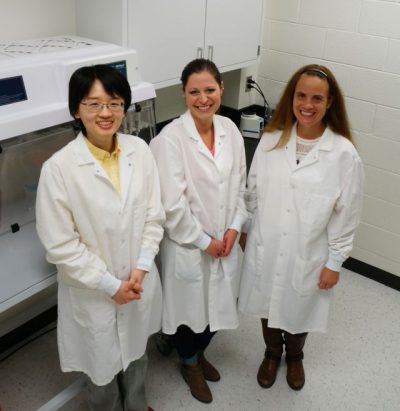 Dr. Gisela Hussey's research interest is in viral pathogenesis with a focus on the host immune response to viral infection.
The emphasis of research in the Dr. Gisela Hussey's lab is on herpesviral pathogenesis and immune modulation. The laboratory focuses on characterizing the immune response to viral respiratory diseases, including responses to equine herpesvirus-1 (EHV-1), equine herpesvirus-4 (EHV-4), equine herpesvirus-5 (EHV-5), equine influenza virus, and feline herpesvirus-1 (FHV-1).
The team focuses on viral pathogenesis and how initial interactions between viruses with their hosts influence host immunity and protection from infection and disease using equine and feline respiratory epithelial cell (EREC/FREC) systems for studying immunity, cell-to-cell interactions, and function of immunomodulatory genes.
A major interest of the laboratory is EHV-1, a highly contagious pathogen of horses causing upper respiratory disease, late term abortions, and neurological disease. The lab's focus is to study the way EHV-1 genes impair the horse's immune response to this virus and facilitate the transfer of the virus to the CNS. The lab's goal is to identify new targets for developing effective therapies and vaccines that could prevent EHV-1 infection. In addition the laboratory research, the team focuses on the development of new models to study equine herpesvirus myelitis (EHM).
Dr. Gisela Hussey serves on six guidance committees, has employed several undergraduate students and four DVM students, and has served as major advisor to two PhD students, three postdoctoral fellows, and two MS students. Two PhD students are currently training under her mentorship.