"Veterinarian" is a commonly used term. People outside of the veterinary community—even young children—know what a veterinarian is: a doctor for animals. But when asked about a veterinary technician, the answer isn't quite so apparent to those outside, or even inside, the veterinary world.
The confusion surrounding what a veterinary technician is and does is often a source of frustration for those individuals. "I feel that, at times, how much veterinary technicians do is not recognized," says Liz Gorecki, a licensed veterinary technician currently working in the MSU Veterinary Medical Center's Neurology Service. Gorecki, who has been with MSU since 1985, says it's unfortunate that the clients veterinary technicians serve often don't fully understand the knowledge base and role of veterinary technicians. "I wish people would understand and respect us like registered nurses in human medicine."

Part of this confusion stems from the term "veterinary technician," which is often used to describe people with different levels of education and a variety of job responsibilities. It might be used interchangeably with "veterinary assistant" or "veterinary technologist." It also is often used as a shortened version of the term "licensed veterinary technician."
Licensed Veterinary Technicians
The MSU Veterinary Medical Center has more than 15 specialty services for large and small animals, and most of these service teams include designated licensed veterinary technicians (LVTs), who work in roles like those of nurses in human medicine. The term "LVT" might refer to a person who has graduated from an accredited two- or three-year program with an associate degree or certificate of completion, or a person who has graduated from an accredited four-year baccalaureate program. Also, in Michigan, like registered nurses (RNs), LVTs must pass state and national certifications before obtaining their license.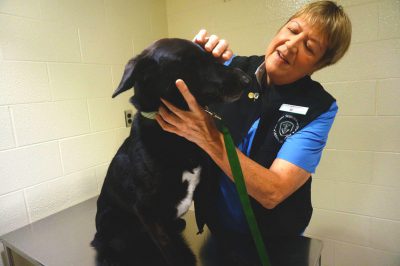 Just as RNs are integral to a human medical team, licensed veterinary technicians are a vital component of an animal's medical care team. They provide professional health care to animals in conjunction with a veterinarian. Like nurses, technicians perform routine and necessary work, such as taking patient histories, administering medications, phlebotomy, surgical prep and assistance, injections, and physical exams.

They are trained in the care and handling of animals, educated in normal and abnormal life processes, and are required to be knowledgeable in medical and surgical nursing, anesthesiology, diagnostic imaging, and clinical laboratory procedures. According to the American Veterinary Medical Association, the only things a licensed veterinary technician cannot do are diagnose, prognose, prescribe medications, and perform surgery.
The Many Jobs of LVTs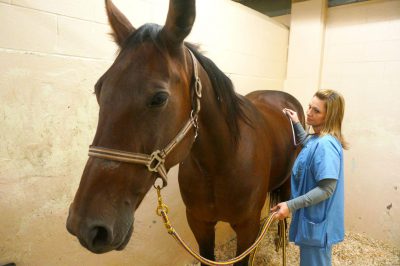 Another reason for the confusion surrounding the role of the licensed veterinary technician is that they do so much. "We wear many hats," says Gorecki. "Technicians get to do a lot of different tasks, such as anesthesia, placing IV catheters, drawing blood, treatments, and talking to clients to ensure their concerns are conveyed to the doctor."
"Veterinary technology requires a variety of skills," adds Jean Beemsterboer, who has been working as an LVT for the Hospital for the majority of her 45-year-long career. "From lab tech, anesthesiologist, radiologist, parasitologist, dentist, surgical assistant, critical nurse, hospice caregiver, and counselor."
Beemsterboer has worked in many different services at the Hospital. She has been an LVT in the clinical laboratory, the intensive care unit, general practice, and dermatology. For the past several years she has worked as a dentistry technician and supervisor of the MSU specialty technicians. Beemsterboer is currently in the process of retiring. "Our profession is physically, emotionally, and psychologically demanding," she says.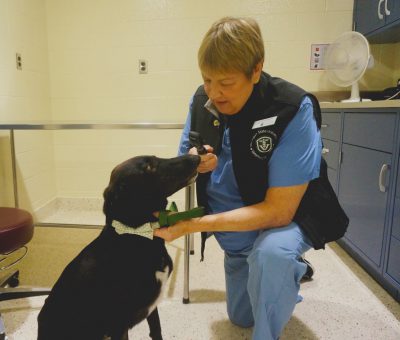 Licensed veterinary technicians also are patient advocates; they fight for their patients' best interests, using their education and experience while working to meet each patient's individual needs. Another important aspect of their work is being a liaison between the client and the veterinarian, helping to manage client needs. This is an aspect of being a technician that is often overlooked.
"We are communicators and educators, listeners and teachers, multi-taskers and team players, and most importantly, patient advocates and caregivers," says Kelli Geisen, who graduated from the College's Veterinary Technology Program in 2006 and has worked at the Hospital ever since. She has worked in multiple services for the Large Animal Clinic including radiology, surgery, emergency medicine, and sports medicine. Currently, she supervises the veterinary technicians, animal caretakers, and working students in the large animal clinic.
"We are invaluable members of the healthcare team that many veterinary practices under-utilize or don't utilize at all," Geisen says. She believes spreading more information about what licensed veterinary technicians do will help veterinary medicine as a whole. "Understanding what a licensed veterinary technician does and using their training appropriately will add value to any veterinary practice."
For the Love of the Job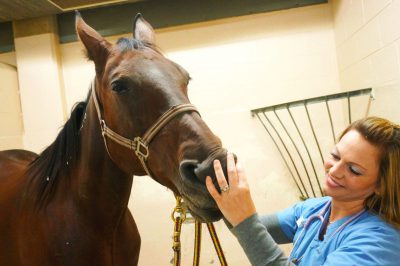 The complex skills and variety of jobs required of licensed veterinary technicians might make it difficult to pin down a singular job description, but they also are part of the reason why LVTs love their jobs so much. "There is virtually nothing you can't do, no animal you can't help," says Beemsterboer. "You can have a profound effect on so many different people. Working with clients, patients, and students has meant everything to me."
Above all, technicians work to help both animals and their owners. "I love being a part of the team," says Gorecki. "Helping both the patient and the client in their health care."

Love for animals drives what licensed veterinary technicians do each day to ensure each of their patients receives the best care possible. "As a veterinary technician," Geisen says, "I understand, respect, and nurture the human-animal bond. My dedication to this profession is strong and my love for animals runs deep."