Having completed both the Veterinary Technology (now Veterinary Nursing) Certification Program and a master's degree from the Comparative Medicine and Integrative Biology (CMIB) Graduate Program, Keri Gardner (LVT '88, MS '07) has vast experience in multiple fields of study within veterinary medicine.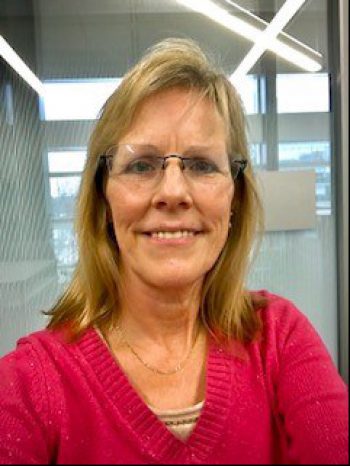 What was your experience in the Veterinary Technology Certification Program like?
I graduated from the Veterinary Technology Certification Program in 1988, and shortly after that, I finished my Bachelor of Science in Animal Science at the University of Wisconsin. During my time in the MSU Vet Tech Program, all students had classes together for nine months, which was followed by a year of clinical rotations. It was a very rigorous program in which we had 16-18 credits per semester during a trimester system. Since we were highly trained in clinical techniques, graduates were in high demand.
After getting your Veterinary Technology Certification and your bachelor's degree, you enrolled in the CMIB Program. What was your favorite part of CMIB?
The diversity of the persons within the program and the ability to tailor the program to my own areas of interest.
Can you briefly describe your career path after graduating from CMIB?
After graduating, I continued in research with Dr. Steven Arnoczky as his lab manager in the Laboratory for Comparative Orthopedic Research (LCOR). After Dr. Arnoczky's retirement, I managed the Research and Teaching Technical Support group, a group of licensed veterinary nurses helping with research projects throughout campus, in addition to managing Dr. Stephanie Valberg's Neuromuscular Diagnostic Laboratory (NMDL) for equine research.
After three years of working both positions, I took a full-time position in Dr. Valberg's research laboratory. When Dr. Valberg retired, I began working as a lab manager for Dr. Brian Johnson's research laboratory in the College of Veterinary Medicine, Pharmacology and Toxicology department, where I am currently located.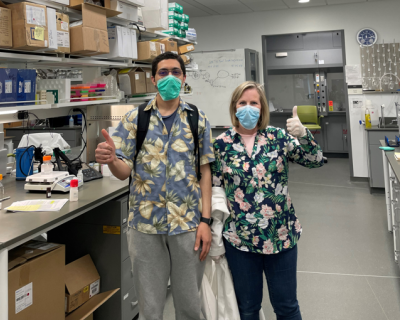 Can you describe your current research?
The goal in Dr. Johnson's laboratory is for us to develop strategies and technologies that lead to the treatment of disease and the prevention of birth defects in vulnerable populations. Currently, we are investigating environmental chemicals that could lead to cleft lip/palate and developing models of breast cancers to uncover therapeutic targets. Also, we are working on multicellular modeling for thyroid homeostasis.
What might a typical day on the job look like for you?
A typical day requires traditional laboratory managerial duties, such as checking equipment, ordering supplies, running experiments, manipulating cells in culture, and helping/teaching graduate or undergraduate students. Additional collaborations with other laboratories help keep our research innovative.
Do you have any advice for CVM students looking to get into research?
I would tell Veterinary Nursing students interested in research to go for it, and that there is more mobility in industry or government than in academia or private practice. Additional certifications and specializations are good for veterinary nurses, such as Emergency Medicine and Laboratory Animal Surgery. Also, the American Association of Laboratory Animal Science offers programs to expand credentials in laboratory animal science.
CMIB/CVM is a good choice for a master's degree if you wish to continue academic research or need additional research experience. I would suggest a PhD for those who would like to work in industry, government, or teaching.
Scientific and Creative Thinker
In her free time, Gardner enjoys artistic creativity, reading, and travel.