Maggie Bodiya (LVT, BS '10), an instructor and technician supervisor at the Michigan State University College of Veterinary Medicine, has an impact on students of all kinds. As a trainer in the anesthesia clinical rotation, Bodiya teaches both veterinary nursing students and DVM students. Her passion and commitment are evident by her nomination for Teacher of the Year by the Veterinary Nursing class of 2022. Additionally, she received the 2023 Distinguished Veterinary Nursing Alumni Award for her dedication to furthering the College's mission to Learn, Discover, Heal, and Protect.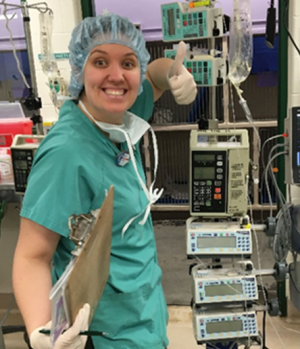 What initially interested you in veterinary nursing?
Like many veterinary professionals, I had an intense love for all living creatures from an early age. I knew that I wanted to somehow work with animals. When I took the VM101 course my freshman year at MSU, it was the first time I had been exposed to that side of the career path. It was in that pivotal moment that I knew veterinary nursing was where I belonged.
What was your experience in the Veterinary Nursing Program like?
I had such an incredible experience in the Veterinary Nursing (then Technology) Program. The small class sizes allowed my classmates, instructors, and me to bond; we truly became a family. The hands-on learning approach was second to none.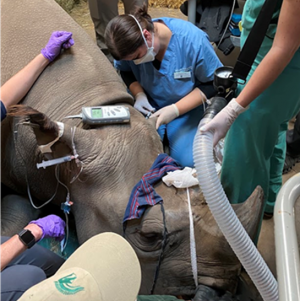 Can you describe your career path after graduating?
After graduation, I took a job at a general practice near my hometown, where I had previously worked as an assistant. After about a year, I moved on to work in the surgery department at a specialty hospital, where I worked for 5 years. It was there that I discovered my passion for anesthesia, so when an opening in the department came up at MSU, I immediately applied. I've worked here for about 8 years now, so the rest, as they say, is history.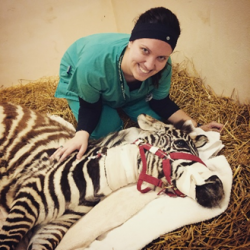 What might a typical day on the job look like for you?
I currently have a split position between the Hospital clinical floor and as an academic instructor in the Veterinary Nursing Program— so every day is different! If I am teaching that day, I am either involved in a live animal lab coaching didactic students through the anesthesia, or I am instructing in the classroom. If I am on the clinical floor, I am working, alongside our faculty, with clerkship students to carry out any anesthetic event on the schedule that day. From elective procedures to critical emergency surgeries, large or small animal, we do it all!
What do you enjoy most about training students in the anesthesia clinical rotation?
Seeing the growth and confidence the students have on week three versus when they start on week one is where I get the most fulfillment. Anesthesia is stressful, and for some, it's the rotation they're most anxious about. To see them successfully practicing their skills and actually enjoying themselves by the end is what fills up my cup!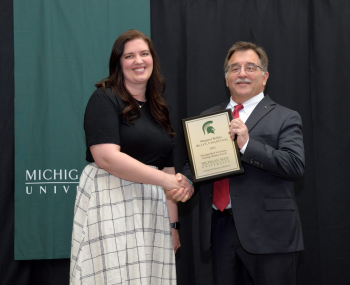 What does it mean to you to receive the 2023 CVM Distinguished Veterinary Nursing Alumni Award?
I am very honored to have received this award. Veterinary nursing and teaching are two of my greatest loves, so to be able to combine them into a career is a dream come true. I am blessed to have experienced once-in-a-lifetime opportunities and have had the privilege of working with extraordinary veterinary professionals along the way, each one an integral part of who I am today.
What is your favorite way to celebrate being a Spartan?
I have been bleeding green since I was born into my Spartan family. Just about every member has attended MSU, dating back to my grandparents. So, whether it's attending football games and tailgates, walking the gardens on my lunch breaks, or doing my best cheerleading moves whenever I hear the fight song, I cherish this MSU community. Maybe someday I'll be brave enough to get my Spartan helmet tattoo.
Outside the office
In her free time, Bodiya enjoys horseback riding, backpacking, mountain biking, traveling, and gardening. A few years ago, she and her husband started competitive dock diving with their golden retriever, Finley. More recently, though, her free time has been taken up by her six-month-old baby, Emma. "I wouldn't have it any other way!" says Bodiya.