A delegation of MSU veterinary students attended the Purdue University Medicine of Aquatics, Amphibians & Reptiles (MOAAR) 4th biennial symposium in West Lafayette, IN, in which Dr. Bartolomeo Gorgoglione gave a keynote talk and led the Aquatic tracks.
"The MOAAR organizers did an amazing job hosting such a great event offering a unique opportunity for students and veterinarians to learn about unconventional animals during a weekend together. We should look for more opportunities like this to strengthen this collaboration between our universities. I'm happy my lectures were highly appreciated, including my keynote talk. I also took the chance to introduce everybody to further training and small fellowship offered by WAVMA."- Dr. Gorgoglione.

Student Experiences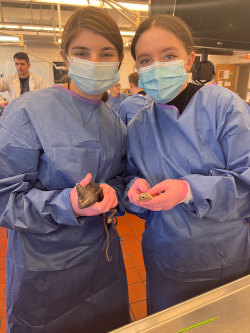 "MOAAR was such a great opportunity for us to gain experience in a field of veterinary medicine that we don't get to see as often. We were able to meet so many great people, grow our networks in the exotic field, and see where and who we want to be when we complete our time at MSU." - Grace Hearth, Doctor or Veterinary Medicine (DVM) class of 2026.
"As a student interested in aquatic medicine, MOAAR Symposium was an incredible opportunity to explore this underrepresented side of veterinary medicine. From actually working with aquatic species to meeting possible mentors and colleagues in the field, this conference was an incredible opportunity for me."- Victoria Duffy, DVM class of 2026.