In 2018, when the MSU College of Veterinary Medicine updated its curriculum, One Health was explicitly included as a subject of study. This was following a push in 2016 by veterinary and medical interests in the United States to incorporate One Health competencies into veterinary education with more intentionality.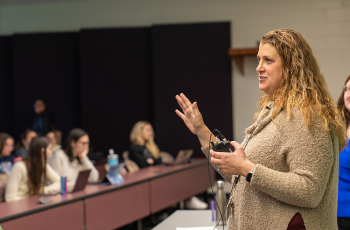 The College began to develop One Health classes to round out the students' learning. Now it's getting an update that is as collaborative and multi-disciplinary as One Health itself.
Recently, the course covered highly pathogenic avian influenza (HPAI). The teaching plan was initially a prerecorded video from 2020 by an HPAI expert. Dr. Elizabeth Hamilton—assistant professor, MSU Veterinary Medical Center epidemiologist, and One Health course series facilitator—felt veterinary students would appreciate a more interactive experience. She reached out to public health contacts and created a panel. "We had a human influenza expert from the Michigan Department of Health and Human Services, and HPAI specialists from the Michigan Department of Agriculture and Rural Development and the Department of Natural Resources. They gave the presentation together and walked the students through a case study."

"I told the students that day: 'This is One Health, right here!' We had the human, animal, and wildlife spheres coming together to solve a problem." Being able to show students One Health principles at work has brought the course new liveliness, in Hamilton's opinion.
The journey to get to this point, however, started elsewhere.

What is One Health?
"One Health is a collaborative, multisectoral, and transdisciplinary approach—working at the local, regional, national, and global levels—with the goal of achieving optimal health outcomes recognizing the interconnection between people, animals, plants, and their shared environment," says the U.S. Centers Disease Control and Prevention.
One Health as a process is heavily linked with veterinary medicine, says Dr. Hamilton. "As a clinical veterinarian, when you treat your patient, you center One Health in your practice because of the way your patient interacts with other things. You're thinking about what they ate, what's growing in the animal's backyard, whether their humans are taking antibiotics, and so on. You would think about the animal's environment in the way that you treat them—that's a One Health perspective."
In 2022, facilitation responsibilities for the One Health course series passed fully to Dr. Hamilton from Dr. Melinda Wilkins, who initially created the course as an associate professor at the College. As Hamilton taught and facilitated the course, she identified foundations that could be built upon to further student understanding in a rapidly changing One Health landscape.
How to Think About Systems Thinking
The series began as four pre-clinical classes, a semester-long each, and covering a separate One Health topic—an overview, food safety, zoonotic diseases and disaster response, antimicrobial resistance with systems thinking—in that order.
The systems thinking part of the final class was a sticking point. "It was placed at the end because Melinda and I were working with a new concept and it wasn't immediately evident to us how it fit in," explains Hamilton.
Systems thinking is the underlying thought process behind One Health, but it doesn't have to be tied to veterinary medicine. The broad scope can make it a challenge to fit into the narrow focus of a standard veterinary subject class.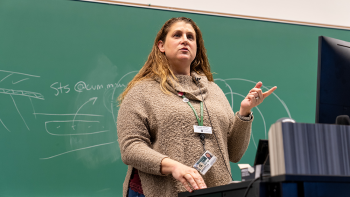 "Systems thinking is attacking a problem by understanding the system that defines it. The system can be your department, the system can be trade, the system can be anything. It's understanding how one aspect of a system can affect another or that certain relationships are required in order to make up a larger structure," says Hamilton.

Hamilton, seeking to make systems thinking accessible to students, sought out potential instructors for the topic. Watching them cover the subject things began to click in place. She realized what was bothering her was the course order. "If students learn systems thinking first, then they'll be able to understand One Health better as we move through the different topics. When I realized that it needed to be moved that's when I knew I needed to rethink everything."

Refreshing the One Health Classroom
Over the summer of 2023, the restructuring began with systems thinking built into the One Health overview class and placed first.
Student assessment also changed significantly.
"One Health isn't fact-based—it's a concept and it's a process. Memorization isn't going to help here. I want to create thinkers," says Hamilton. "Tests didn't make sense to me anymore." The only tests in the course series are now on zoonotic diseases.
Beyond that, the assignments are projects. From analyzing case study scenarios to developing a public service announcement on the prevention of zoonotic diseases, the students are enacting One Health principles to learn them. Where an exam would test knowledge, these projects assess the practical skill of thinking with the One Health mindset.
"I tell students that I have to grade with high expectations, however, I am more focused on their journey and their learning process. I don't care if they get questions right or wrong as long as they understand the concept by the end," explains Hamilton. This is unusual for veterinary classes, which are often exam-based.
"It's almost liberating that I don't have to be a stickler!" she jokes.
Systems Thinking on the Fly
The way the material is framed has changed as well. Instructors are pushing many of the discussions toward subjects that are at the front of students' minds. This doesn't just mean bringing in relevant speakers and working with case studies – it means figuring out student interests on the fly and adapting to them.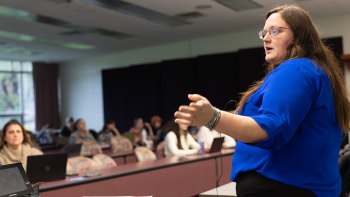 Flexibility has been key to developing an engaging course plan. Megan Patrick, academic specialist for the College's Master of Science in Food Safety (MSFS) program and the instructor Hamilton selected to cover systems thinking, was originally working with Hamilton as an instructional designer for the class Introduction to Food Safety. However, upon discovering Patrick has a background aligned with systems thinking, Hamilton asked her to teach for the One Health course series. Patrick was unsure about taking on another class, especially one taught in person—the MSFS program is taught online. "But the more we talked the more excited we became. We designed three of the classes together. [Patrick] created a great structure and plugged it into year one of the curriculum."
"As [Patrick] was teaching she asked them to choose a problem and talk about the systems involved. Her examples were small in order to illustrate the concept—a study group as a system. But students brainstormed problems like climate change, heart disease in Black females, suicide rates among veterinarians, and lower support in agriculture. Giant topics! I thought that was amazing and didn't want to knock this down. I said to her, 'I want to encourage their large thinking, can we pivot in the middle of class?' She did amazing—she pivoted her teaching to fit the big problems. I was excited about that because she hadn't taught systems thinking before. The feedback I'm getting is great."
The Reviews Are In
"It's been extremely fulfilling to see the students engage in the new systems thinking content—identifying their own complex problems and creating visual maps of their systems to further their understanding of the problem and the context of where it occurs," adds Patrick.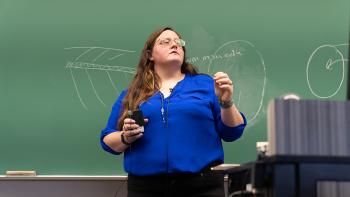 She feels the course has been going well because students have lots of questions. "I was so excited. I see students asking questions as a sign that they're engaged. It means people were thinking."
Hamilton hopes this more interactive method of learning will allow students to continue to keep One Health principles in their minds as they move on to other parts of their education. "I think I'm most excited about creating an opportunity for the students to carry One Health with them."
So far, it's working.
"Personally, I enjoy the course a lot," says Mikayla Casolari, DVM class of 2026. "One Health will remain with me throughout my entire career. It's taught me a new way to view the world, so now when I learn about things like the food processing industries, farms, wildlife preservations, and more, I can see the hidden work veterinarians and others in the field must have put in."
"Students are understanding and that is the whole point of putting systems thinking in the first semester. When we move to food safety next semester, they'll be able to apply the systems framework," says Hamilton.
Only the Beginning
Hamilton has emphasized the importance of the students' journey in One Health—the same goes for Hamilton in facilitating the subject. Like One Health itself, the work to restructure the classes has been collaborative and interwoven. The course series is achieving heightened engagement because of the learning happening not only on the student side but also by instructors and facilitators seeking the best way to teach.
"It's only the beginning of this new format for the course series, but I'm excited to see where it goes," says Hamilton.