Black History Month provides an opportunity to celebrate the role of African Americans throughout U.S. history while highlighting the successes of Black Americans. 
On Monday, January 15, the MSU College of Veterinary Medicine celebrated Martin Luther King Jr. Day by welcoming Dr. Allen Cannedy, director for Diversity and Multicultural Affairs at the North Carolina State University (NCSU) College of Veterinary Medicine. Cannedy presented "My Future, Our World: One Veterinarian's Perspective on the Future of the Profession and its Connection to Our World." Administrators, faculty, staff, and students engaged in an open discussion regarding the history of diversity in the veterinary medical field and how individuals like Cannedy are effecting positive change in the higher education, veterinary, and One Health arenas.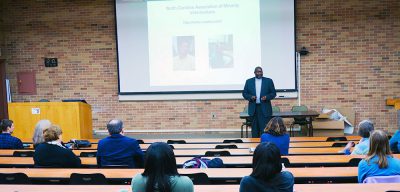 "I am humbled to be here and to share my story," says Cannedy. "The role that veterinarians play in American history is very important."
Cannedy is passionate about being a mentor and recruiter of students from groups that are underrepresented in veterinary medicine, which is a hallmark of his career. He served as president for the North Carolina Association of Minority Veterinarians for more than 10 years, has served as a member of the AAVMC's Diversity Committee for the past 16 years, and was selected to represent the veterinary medical profession at a White House's expert meeting in 2015. In addition, Cannedy was awarded the Distinguished Alumnus Award in 2016 from his alma mater, Tuskegee University College of Veterinary Medicine. He also is the recipient of the 2017 Iverson Bell Award, which highlights his outstanding leadership and contributions in promoting opportunities for underrepresented minorities in veterinary medical education. "I am humbled to be here and to share my story," says Cannedy. "The role that veterinarians play in American history is very important."
A Veterinarian's Story
Cannedy began his journey toward a veterinary medical education at Spotsylvania High School in Virginia. There, he assisted his family friend on their dairy farm and grew interested in large animals. After graduating from high school, Cannedy completed two years of undergraduate education at Germanna Community College while working full-time at a dairy farm. Cannedy began applying to universities where he could study the science of veterinary medicine.
After choosing to fulfill his undergraduate degree at Virginia State University, he pursued his Doctorate of Veterinary Medicine (DVM) at Tuskegee University. "Tuskegee inspired me to do something I never thought I would do," says Cannedy. "I dreamt of being a dairy cow veterinarian but the dairy farms in my hometown were going out of business. So, my mentors at Tuskegee encouraged me to accept a one-year large animal residency position at the University of Tennessee."
During his large animal residency at the University of Tennessee, Cannedy discovered that he was allergic to horses and that he was interested in working with small ruminants. These discoveries led Cannedy to become a small ruminant production medicine resident at NCSU, where he has remained since 1995.
Post-residency, Cannedy was offered a position as a ruminant group faculty member at NCSU. In this role, he founded his desire to educate and mentor students, especially those who are members of underrepresented groups in veterinary medicine, such as himself.
"Think outside the box," says Cannedy, which is exactly what NCSU did when they created the director of Diversity and Multicultural Affairs position for him.
Torn between his love for small ruminants, his dedication to mentoring and teaching veterinary medical students, and his mission to advance diversity and inclusion within the veterinary medical education system and profession, Cannedy decided that he would be all three things—a veterinarian, a professor, and a leader. While his passion for healing, teaching, and leading are never-ending, he retired the clinical instruction component to dedicate more time to diversity and inclusion efforts.
"The main reason why I do what I do is because veterinary medicine is the least diverse of all health care professions," says Cannedy.
In addition to his diversity and inclusion work, Cannedy also owns and operates a "Mobile Vet" private practice. Mobile Vet serves small ruminants and camelids and specializes in care for llamas, alpacas, goats, and sheep.
Veterinarians in Our World
As Cannedy and his roles within the veterinary medical community have changed and developed, so have the roles of veterinarians, veterinary organizations, and the lives that veterinarians care for. Since the founding of the American Veterinary Medical Association (AVMA) in 1863, the profession of veterinary medicine has been given a collective voice. This voice—though changing constantly—is working to serve and protect animal and human health, perhaps more than any other health profession.
In addition to the AVMA founding in 1863, the Emancipation Proclamation also was delivered. This date is not only a significant date in American history, but in veterinary medical history as well.
"Veterinarians played an extremely critical role in providing care for slaves because they were considered animals," says Cannedy. "Dialogue is the key to success and educating."
A part of that dialogue is giving a voice to those who do not have the means to be heard—animals and all humans, regardless of the color of their skin.
"I am pleased with the direction we are heading. More than 20 percent of DVM graduates are from underrepresented minorities," says Cannedy. "Pat yourselves on the back because you are making diversity and inclusion efforts at the College that are yielding results."