The novel coronavirus has introduced a wave of hard economic times within the state of Michigan, and students are not immune. Throughout this crisis, DVM and Veterinary Nursing students at the MSU College of Veterinary Medicine have faced the loss of employment, as well as their in-person experiences in clinics and the classroom. These events, and others, have added to students' financial needs, so the College is promoting its CVM Student Emergency Fund for Give Green Day, MSU's annual day of giving back.
"Our students shouldn't have to worry about which bill they can pay, if they can afford necessary technology for the virtual transition, or any other critical resource, so our goal this year is to raise $5,000 for the CVM Student Emergency Fund," says Dr. Caitlyn Perry Dial, assistant director of Development and Alumni Relations.
The fund was created in spring of 2020 to help students with unforeseen circumstances created by the COVID-19 pandemic, and has done just that. Students have requested help with rent, utilities, childcare, supplies, and other critical resources—and the requests keep coming.
"The health and wellbeing of our students is our top priority right now," says Perry Dial. "They need this help, so we're giving it to them."
Your Impact Matters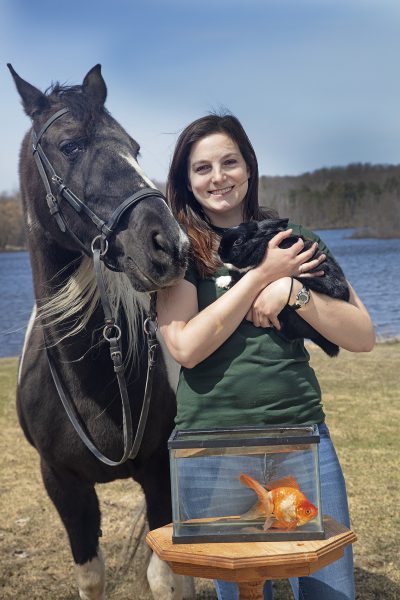 Two such students who have already received assistance from the fund are DVM Students Emily and Allison. Emily and Allison both needed help acquiring technology that would be sufficient for the online learning transition.
"I requested assistance because my nearly six-year-old laptop was unable to keep up with the demands of constant Zoom meetings and online activities. I now have a laptop with a working webcam, USB drives, and long battery life so I can keep up with online vet school, and it makes it easier for me to attend class on Zoom.
"I really appreciate the generosity of those who support the CVM Student Emergency Fund. Your gifts have made it easier for me to keep up with my schoolwork, and I now have a fast, updated computer to keep all my notes and assignments safe."
–Allison, DVM 2022, future large animal veterinarian
"My personal computer was impairing my ability to learn in an online curriculum. It required a constant power source from the charger, and if I slid it across the table or picked it up, the entire screen would go black. The repair shop could not find a reason for this, and their solution was to leave it plugged in and to never pick it up.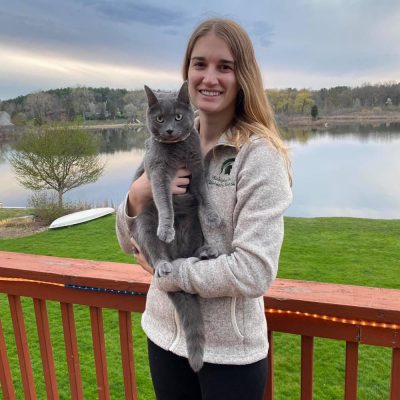 "This was a huge stress, knowing that we were transitioning into a completely online curriculum with online proctored exams. When we received the email that our curriculum was transitioning fully online due to COVID-19, I had two thoughts run through my head. One being how will this change our curriculum that is built as a flipped classroom, and second whether I would be able to participate fully in our online classes, attend meetings and take our online proctored exams. Knowing that I could be missing out on key learning opportunities and that my computer would not be able to keep up this change, I requested assistance from this fund.

"Receiving assistance from the CVM Student Emergency Fund has allowed me to attend class via Zoom without worrying about my technology failing during an interactive breakout room or an exam. It has made the stress of online professional school a little easier to deal with, and I am forever grateful for it. To all who gave, thank you so much for choosing to donate to the CVM Student Emergency Fund! I am extremely grateful."
–Emily, DVM 2023, future emergency and critical care or internal medicine veterinarian
To support the CVM Student Emergency Fund, visit the College's Give Green Day webpage.