Posted September 15, 2021

To protect the health and nutrition of humans and animals alike, the world needs food animal veterinarians. To that end, three Michigan State University College of Veterinary Medicine students who are interested in production animal medicine were awarded scholarships by Merck Animal Health.
Most of the scholarship recipients, of which there are three each year, take part in the College's Food Systems Fellowship (FSF) Program, which offers a concentrated focus on the food industry via summer employment with industry partners. Merck has been an important FSF partner since 2006. Since 2013, Merck has awarded three $5,000 scholarships to FSF and Doctor of Veterinary Medicine (DVM) students at the College annually.

"We continue to be enormously grateful to Merck Animal Health," says Dr. Ángel Abuelo, assistant professor of Cattle Health and Wellbeing for the Department of Large Animal Clinical Sciences and head of FSF. "Their generous support; as well as their research, products, and services; makes a real impact on future and current veterinarians who will take care of production animals."
"Merck Animal Health's commitment to the science of healthier animals is directly manifested in our support for the next generation of veterinarians. Their future work will lead not only to healthier animals but also healthier humans," said Lowell Midla, VMD, Livestock Technical Services Veterinarian for Merck Animal Health. "We are proud to partner with Michigan State University to support these future veterinary leaders, as we have done since 2013."
The 2021 Awardees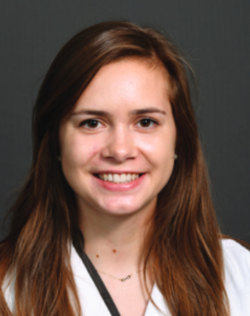 Monika Dziuba of Riverview, Michigan earned her bachelor of science degree in animal science from MSU. She is currently a third-year veterinary student at the MSU College of Veterinary Medicine, and is pursuing a master's degree in the College's Food Safety Program. She expects to graduate from both programs in May 2023.
Dziuba has interned for the Michigan Milk Producers Association, and has participated as a researcher and worker for the MSU Dairy Teaching and Research Center, the MSU Swine Teaching and Research Center, the Molecular Pathogenesis Laboratory under Dr. Paul Coussens, and Meadow Brook Immunology Laboratory. She has also been a veterinary extern and dairy farm worker.
"I plan to work in a dairy-concentrated area of the U.S., where I will be able to work with large, progressive dairies and embrace the role that veterinarians have on these farms," says Dziuba. "I plan to use both of my degrees to serve food producers by assisting them with herd health, as well as consumers by ensuring a safe and healthy product. The FSF's emphasis on progressive and alternative job paths gave me experience and knowledge in these areas, so I can implement them in my future veterinary positions."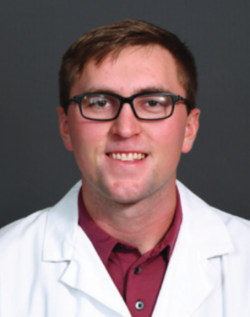 Jared Sanderson of Sandusky, Michigan earned his bachelor of science degree in animal science from MSU and is currently a third-year veterinary student at the MSU College of Veterinary Medicine. He expects to graduate in May 2023.
Sanderson became passionate about cattle and the dairy farming lifestyle as a child while regularly visiting his grandfather's dairy farm. That love, combined with experiences gained through his local veterinary clinic, led him to pursue a career in the field. He has had leadership roles in the MSU Dairy Club, MSU Dairy Challenge, MSU chapter of the American Association of Bovine Practitioners, and the College of Veterinary Medicine's Theriogenology Club. His internship experiences within and outside of Michigan have led him to develop interests in preventative medicine, employee training, farm data analysis, and feed management.
"Upon graduation, I intend to go into private practice," Sanderson says. "I plan to build a practice with the mission of providing the latest medical knowledge and managerial skills to improve the prosperity of my clients, by ensuring the health and well-being of their livestock. I am honored to be awarded this scholarship and it will go a long way to decreasing my student debt load, allowing me the financial capability to one day become a practice owner."
Though the COVID-19 pandemic prevented Sanderson from participating in FSF, his internships have granted him valuable experiences in speaking Spanish and observing the role of staff veterinarians.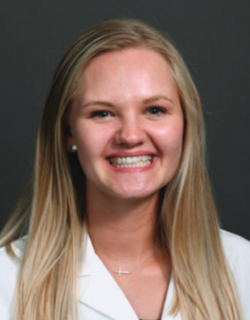 Emmy Schuurmans of Freeport, Michigan, earned her bachelor of science degree in animal science from MSU. She is currently a third-year student at the MSU College of Veterinary Medicine and expects to graduate in May 2023.

In addition to her work as a FSF intern, Schuurmans has been a dairy cattle research technician within the MSU Department of Animal Science and a veterinary intern at Zoetis, experiences that have granted her a passion for providing the public with nutrient-dense food that has been grown safely and sustainably.
"My goal as a future dairy practitioner is to improve animal welfare, decrease environmental impacts, and increase economic gains," Shuurmans says. "I am also excited about connecting the public to their food source by building relationships with consumers and promoting transparency within the food animal industry. I am beyond grateful to have the support of FSF in this vision. Now, thanks to the scholarship, I also have the financial support to focus on my academics."
About FSF and Merck Animal Health
FSF has provided hands-on experience with food animals to the College's veterinary students since 2006. More than 20 local, national, and international partners in the agriculture industry offer summer externships to FSF students, providing for the development of qualified veterinarians who are passionate about the advancement of animal and human health.
More than 140 food animal veterinary students have participated in FSF. OF those, 23 have been awarded Merck Animal Health Scholarships.
"The value of these scholarships cannot be overstated," says Abuelo. "DVM students carry large student loan burdens, and financial support goes a long way in relieving that."
To learn more about the MSU College of Veterinary Medicine's Food Systems Fellowship Program, visit the College's website.
About the MSU College of Veterinary Medicine
The MSU College of Veterinary Medicine was established in 1910, although veterinary science has been taught at MSU since the institution's founding in 1855. With a focus on One Health—the interconnectedness of animal, human, and environmental health—the College is at the forefront of veterinary medical education, research, clinical practice, and diagnostic and public health services. For more information, visit the College, the MSU Veterinary Medical Center, and the MSU Veterinary Diagnostic Laboratory. Find us on social media @msuvets.
About Merck Animal Health
For 130 years, Merck, a leading global biopharmaceutical company, has been inventing for life, bringing forward medicines and vaccines for many of the world's most challenging diseases. Merck Animal Health, a division of Merck & Co., Inc., Kenilworth, N.J., USA, is the global animal health business unit of Merck. Through its commitment to The Science of Healthier Animals®, Merck Animal Health offers veterinarians, farmers, pet owners and governments one of the widest ranges of veterinary pharmaceuticals, vaccines and health management solutions and services as well as an extensive suite of digitally connected identification, traceability and monitoring products. Merck Animal Health is dedicated to preserving and improving the health, well-being and performance of animals and the people who care for them. It invests extensively in dynamic and comprehensive R&D resources and a modern, global supply chain. Merck Animal Health is present in more than 50 countries, while its products are available in some 150 markets. For more information, visit www.merck-animal-health.com or connect with us on LinkedIn, Facebook, Twitter and Instagram at @MerckAH.