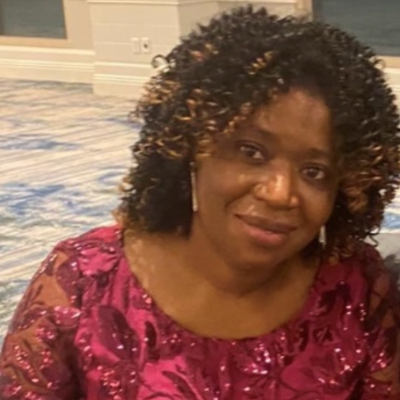 Research Administrator II Colette Zulu at the College of Veterinary Medicine received a Research Administrator Spotlight Award from Michigan State University's Office of Sponsored Programs and Contract and Grant Administration.
"The Office of Research Facilitation is here to serve the College community with grant applications, preparation and justification of budgets, identification of appropriate pipelines to necessary materials, and other critical steps in research funding," says Dr. Srinand Sreevatsan, associate dean for Research and Graduate Studies and professor in the Department of Pathobiology and Diagnostic Investigation. "Colette is outstanding—she rises to faculty needs. Throughout the year, no matter what time or day of the week, she responds, especially when submissions have been delayed. She even works with faculty late at night to meet submission deadlines. Her work ethic elevates research at the College, and serves as an example for others to follow."
Zulu was recognized with a plaque and a small financial award to signify her accomplishments. Learn more about how Zulu supports research activities at the College and what she thinks about her work.
Looking back on your time thus far as a research administrator at the College, what's been your biggest accomplishment?
At the end of the day, I feel that I have accomplished something when I hear news that a PI [principal investigator] that I assisted has won an award. I also rejoice when proposals that my PIs have been working on are submitted without issues. This past year, I have had the pleasure of celebrating and cheering on as award after award was announced for CVM researchers, including some who received several awards in a single year. While credit should go to faculty for their work and the science at the core of any winning proposal, I still feel gratified in the knowledge that I contributed my little bit to help CVM faculty win awards, including in making sure that everything for the submissions was in place and on time.
Even though the grants that CVM faculty go for are very competitive, I feel down when PIs do not receive an award after working so hard. Often, it is not that the science or the application is inadequate; only that there simply are too many applications for too little money. I derive some consolation from the knowledge that the PIs will use any feedback they receive to implement the needed improvements to get them over the top next time around.

What's your most important responsibility as a research administrator?
It is my responsibility to make sure that guidelines for a grant are followed to the T and any compliance issues adhered to. I ensure that the proposals going out from our office have been thoroughly reviewed and are accurate. I also make sure that budgets have been reviewed by the MSU Office of Sponsored Programs, and that proposals are not at risk and submitted in a timely manner.
If the College isn't compliant, what can happen?
On the pre-award side of things, a simple mistake could mean no funding for an application. If there are non-compliance issues after an award is in place, a sponsor could withdraw funding. So, non-compliance issues are very serious issues. Federal granting agencies are required to conduct effective compliance review programs to ensure that award recipients comply with applicable federal laws. So, I work with faculty to ensure that they pay as much attention to compliance issues as they did in winning the grant.

Do you have a favorite type of project to support or a favorite faculty member to work with?
I am thrilled by the diversity of research topics that faculty pursue funding for, and I like and learn so much from them all! This diversity of topics helps me to appreciate the brilliant minds of the researchers that I work with in all their different, but wonderful, personalities. I am glad to be able to assist in any way that I can.
How did you become a research administrator?
My husband is a researcher at Michigan State, so sometimes when he wanted to apply for a grant, I would help him with the budget, proofread a draft, or we'd just talk about his research and what he's doing. I got interested in the process, and began to think of ways that, not being a scientist myself, I could use my financial knowledge to contribute to the production of knowledge through his research and the research of others, broadly. And I vaguely knew that research administration was out there, so the seeds were sown then.
I got to find out that MSU offers the research administration series. I started taking the courses in preparation for research administrator positions that would come up at MSU or elsewhere. Through networking, I met MaryJo Banasik, the former CVM research administration manager. She was teaching one of the research administration courses, and I told her of my interest in the field, in case there was an open position. At some point, it so happened that someone that she was working with had left. She let me know the position would be posted, I applied when it was, and the rest is history. Now, I don't really believe in fate, but I think this was my calling.
Do you have future goals or milestones as a research administrator?
I would like to take on more challenging roles, including engaging more with other areas of research administration beyond pre-award. With a more rounded knowledge base in other areas, I aspire to rise to the role of a research administration manager and oversee a team!