Three veterinary medical students participating in the Michigan State University College of Veterinary Medicine's Food Systems Fellowship Program (FSF) were awarded $5,000 each in scholarships by Merck Animal Health. The FSF offers a concentrated focus on food supply veterinary medicine through summer internships with MSU faculty or industry partners.
Since 2006, Merck Animal Health has been a key FSF partner for the College. Every year since 2013, Merck Animal Health has awarded three FSF students with scholarships to help address the national shortage of food animal veterinarians and support agriculture.
"It was very hard to select only three students among all the future veterinary leaders that participated in the FSF this year," says Dr. Ángel Abuelo, head of FSF and associate professor of Cattle Health for the Department of Large Animal Clinical Sciences. "We are extremely grateful to Merck Animal Health for their unwavering support to the program and the students. Their commitment to the science of healthier animals is clearly evidenced by how they support the future and current veterinarians who will take care of production animals."
"As part of our unconditional commitment, Merck Animal Health is proud to honor these veterinary students who represent the future of our profession," says Justin Welsh, DVM, executive director of livestock technical services, Merck Animal Health. "I am confident as these students get ready to embark on their careers, they will make a significant impact in the field of veterinary medicine."
CONGRATULATIONS, 2023 FSF AWARD WINNERS!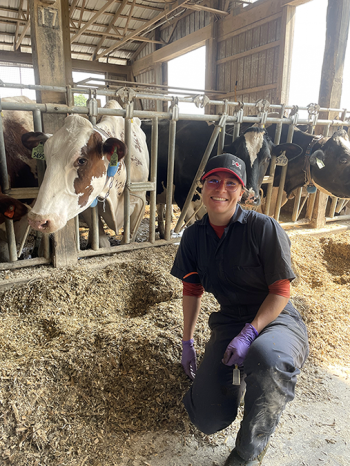 Corey Luna of La Habra, California earned her bachelor of science degree in global disease biology from the University of California, Davis in 2019. Two years later, she earned her master's degree in public health with an emphasis in epidemiology from the Colorado School of Public Health. Luna is currently a third-year DVM student at the Colorado State University College of Veterinary Medicine and Biomedical Sciences, from which she expects to graduate in May 2025.
While earning her BS, Luna volunteered with Mercer Clinic for Pets of the Homeless while at UC Davis. In 2022, she worked her summer at Roberts Ranch (Leachman Cattle Co.) in Livermore, Colorado, where she helped implement a sustainable, rotational grazing program for a beef cow-calf operation.
"I'd like to work as a veterinary epidemiologist, exploring the effects of management strategies and infectious disease on animal health, wellbeing, and productivity. I want to help farmers find practical solutions to their animal health problems," shares Luna.
This summer, Luna worked in CentralStar's research and development lab as part of her FSF experience. She used the CentralStar database to explore the relationship between bovine leukemia virus and milk production in dairy cows.
"The Food Systems Fellowship gave me an opportunity to work with a great team of people and a really unique database at CentralStar," Luna says. "This is exactly the sort of thing that I'd like to be working on as a veterinary epidemiologist, and gaining practical experience in this field was an incredibly valuable opportunity."
"I'd like to thank my FSF mentor Dr. Casey Droscha and the entire CentralStar research and development team for a valuable experience, as well as Dr. Ángel Abuelo at MSU for running the FSF Program and the USDA for making the FSF Program possible—and, of course, thank you to Merck for providing Merck Animal Health scholarship funding!"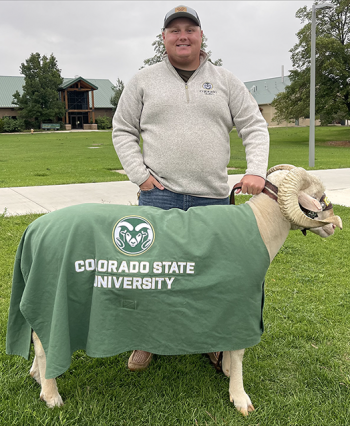 Joseph Hoadley of Calhan, Colorado earned his bachelor of science degree in biomedical sciences from the University of Colorado at Colorado Springs in 2019. In 2021, he earned his master of science degree in toxicology from Colorado State University. Hoadley is currently a third-year DVM student at Colorado State University's College of Veterinary Medicine and Biomedical Sciences, and expects to graduate in May 2025.
"Growing up in the eastern plains of Colorado, large animal vets have always been few and far between," Hoadley shares. "I knew at a young age that I wanted to go to vet school and help fill an important void in the community that raised me into the man I am today. I plan on utilizing the knowledge obtained throughout vet school to aid producers in Colorado with their operations while educating on the importance of food animal systems.
"The Food Systems Fellowship has provided insight into the research behind food animal production that I would not have received if not for Dr. Abuelo, Michigan State University, and the USDA. Because of the experience working in the Gastrointestinal Stress Biology Lab this summer at MSU, I am motivated to actively seek out research opportunities in my future to further expand our knowledge in the food animal production industry."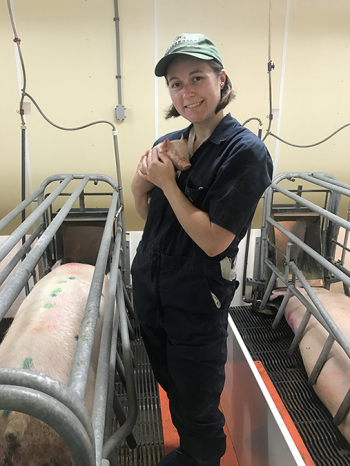 Lauren Harper of New Egypt, New Jersey earned her bachelor of science degree in animal science from Cornell University in 2020. She then took a gap year to begin work at Cayuga Pet Hospital in Ithaca, New York at the height of the COVID pandemic, and she continues to work on their team as a veterinary assistant. Harper is currently a third-year student at Cornell University's College of Veterinary Medicine, and expects to graduate in May 2025.
"When getting a vet degree, it feels like the world is your oyster," Harper says. "I would like to go into a mixed animal practice after I graduate, but I am open to returning to school for either a PhD or internship or residency in the future. The FSF has helped me to continue to build my resume for further education and pursue my interest in research. At the same time, I was able to gain some clinical skills in a species that I had minimal experience with prior [swine].
"I would like to shout out my advisor Dr. Madonna Benjamin and research partner Savannah Thompson, an MSU DVM student, for their mentoring and assistance this summer. I would also like to say "hi" to Chris Freeman, my grandma, who I know will read this press release. She reads a few different papers every week."