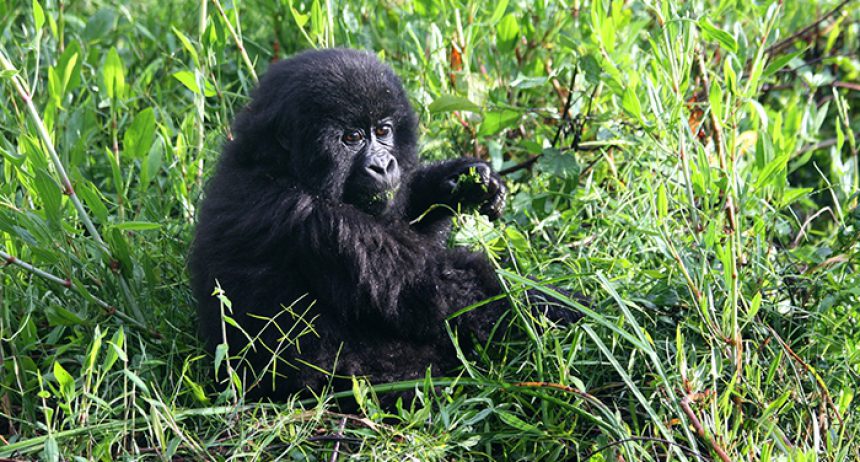 In late February and March 2020 I was invited by Dr. Kirsten Gilardi, the executive director and chief veterinary officer of Gorilla Doctors (Mountain Gorilla Veterinary Project and UC Davis Wildlife Health Center), to travel to their regional headquarters in Musanze, Rwanda for three weeks to provide veterinary pathology support for endangered mountain gorillas.
My involvement with Gorilla Doctors began in 2016 through the Uganda-Rwanda-Democratic Republic of Congo (URD) Pathology Network, which is a group of veterinary pathologists and other veterinary and healthcare professionals who work on a voluntary basis to support pathology capacity-building in East Africa. Through the URD Pathology Network, I am part of a team of pathologists that provides pathology consultation both in-country and via telepathology, under the direction of Dr. Linda Lowenstine, professor emeritus at UC Davis School of Veterinary Medicine, and Gorilla Doctors's head pathologist.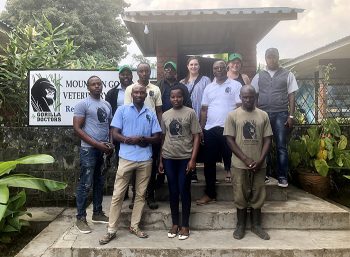 Gorilla Doctors is the only organization dedicated to providing clinical veterinary care to endangered mountain gorillas (Gorilla beringei beringei) and critically endangered Grauer's gorillas (Gorilla beringei graueri). Mountain gorillas live at high altitude in Rwanda, Democratic Republic of Congo (DRC), and Uganda in the Virunga Massif (Volcanoes National Park, Virunga National Park, and Mgahinga National Park) and in Bwindi Impenetrable National Park in Uganda.

Gorilla Doctors has teams of East African veterinarians in all three countries that monitor the health of the mountain gorillas daily and provide life-saving clinical intervention. When necessary, this team of doctors also performs postmortem examinations in the field and laboratory. Because of this dedicated team, the mountain gorilla population is increasing. There are currently over 1,000 mountain gorillas in the wild, and this species has recently been reclassified to endangered from critically endangered by the International Union for Conservation of Nature.
Understanding the causes of morbidity and mortality by conducting postmortem examinations, including histopathologic evaluation, is important in the long-term management and conservation of this fragile wild population. Physical trauma is the leading cause of death in mountain gorillas, either due to human-induced trauma such as snares from poaching, or intraspecies trauma between gorillas. Infectious disease is the second most common cause of death.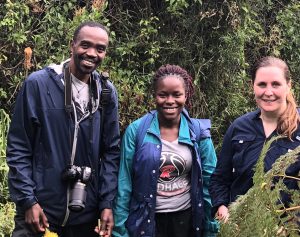 Mountain gorillas and humans are susceptible to many of the same infectious diseases, such as viral respiratory infections. Gorilla tracking is a very popular tourist activity in all three countries, and there are strict rules in place, such as maintaining a minimum distance of 10 meters from the animals during observation, to prevent disease transmission from humans to mountain gorillas. While we do not know if gorillas are susceptible to SARS-CoV-2, the virus causing the global COVID-19 pandemic in humans, it is safest to assume they are at risk, so the national parks in Uganda, Rwanda, and DRC have currently suspended gorilla tourism. Read more about how Gorilla Doctors are protecting the health of mountain gorillas and the people that care for them during this challenging time in the organization's recent blog post.

While in Rwanda, I performed histopathologic evaluation of mountain gorillas on recent cases, working closely with the veterinary team and connecting with Dr. Lowenstine via telepathology at UC Davis. I presented these findings to the veterinarians from all three countries at the Gorilla Doctors Regional Rounds Meeting, and to one of Gorilla Doctors's government partners, the Rwanda Development Board. I also had the opportunity to present on general approaches to histopathology, and worked with the veterinary team on tissue trimming protocols, sample handling and collection, and postmortem examinations.
During my visit, I also accompanied Dr. Fred Nizeyimana, one of the Gorilla Doctors field veterinarians in Uganda, on a routine health check of the Nyakagezi mountain gorilla group in Mgahinga Gorilla National Park. Observing these animals in the wild in their natural habitat is a life-changing experience. This also gave me a chance to witness the hard work and daily dedication of the veterinary team and trackers in protecting these animals.
It is an honor to work with such a dedicated team of veterinary professionals at Gorilla Doctors and through the URD Pathology Network. Although there are currently no veterinary pathologists in the country of Rwanda, the use of telepathology in more recent years has allowed us to connect remotely and work as a team to build pathology capacity and support in veterinary services in these regions. I hope to continue to use my veterinary pathology background to be a part of the conservation of endangered species like the mountain gorilla throughout my career.