This story, and its photos, were graciously provided by Binder Park Zoo.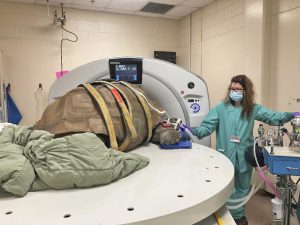 "Al", the 85-year-old Aldabra giant tortoise who lives at Binder Park Zoo, recently took a road trip from Battle Creek to East Lansing for a CT exam. The veterinary staff at the Zoo have been treating an infection in Al's front left foot since 2018. Reptiles do everything slowly, and that includes healing, too! Although the original bone infection appeared to have resolved, he was experiencing minor, intermittent flare-ups that required closer monitoring.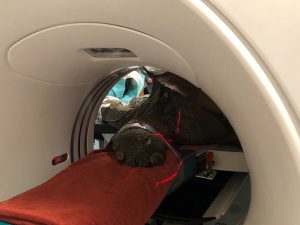 Due to a current infection in Al's toenail, he made the trip to the Michigan State University College of Veterinary Medicine in December for a CT exam to evaluate the foot more closely. Unfortunately, it appears that the bone infection is re-occurring. Binder Park Zoo is grateful to the MSU College of Veterinary Medicine's clinical team for sharing their diagnostic equipment and experience to help care for this special tortoise! Through this great, collaborative care, we can continue to monitor his healing as Al will likely be requiring another trip to MSU in the upcoming months. We are still hopeful Al will be back on the road to recovery soon. A Zoo resident since 1984, Al enjoys near-celebrity status and is very popular with guests!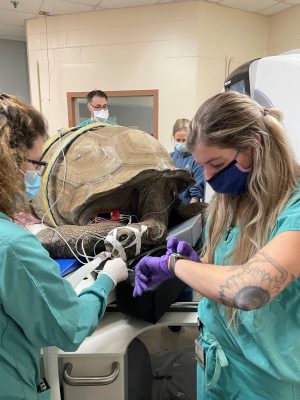 This was Al's third CT exam. The first two exams were performed at Brookfield Zoo which has a CT machine large enough to accommodate Al's 600-pound self. A video of that trip can be seen here.
Since only an image of Al's distal foot was required this time, Al was able to stay a little closer to home, which was much easier on Al, and easier on zoo staff, too. Maneuvering a tortoise of Al's size is no easy task; it required the use of an equine hoist and table and a whole lot of teamwork!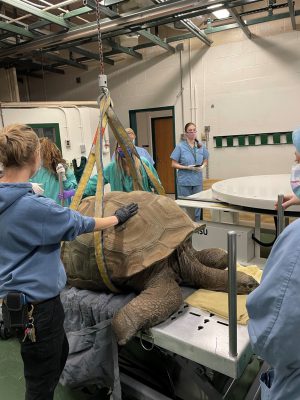 In addition to being Binder Park Zoo's Staff Veterinarian, Dr. Kim Thompson also is an adjunct assistant professor at MSU College of Veterinary Medicine. Together with her husband, Dr. Ronan Eustace, the Director of Animal Health at Potter Park Zoo, they serve as co-advisors for the MSU CVM ZEWA Club (Zoo, Exotic, Wildlife, and Aquatics). They provide mentorship and lectures for students interested in pursuing zoological medicine and run final-year clerkships in Zoological Medicine. "Collaborating with the MSU College of Veterinary Medicine on zoo cases is a win-win for both the zoo and the school. It allows us to provide our animals with an advanced level of care and it's also an opportunity for veterinary residents and students to get hands-on experience with a non-traditional species" stated Dr. Thompson, "After all, it's not every day that the anesthesia residents get to monitor a 600-pound tortoise!"