Dr. Benjamin Adu-Addai, Dr. Dalen Agnew's first graduate student, was recently presented with the prestigious Zoetis Award for Veterinary Research Excellence. In celebration of this accomplishment, Adu-Addai answered a few questions about his time at MSU, his experience working with Agnew, and the research that won him this award.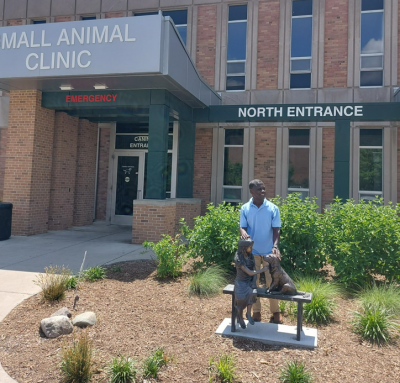 Can you briefly describe your education history?
I obtained my DVM from the Moscow State Academy of Veterinary Medicine, and then completed an internship in pathology at the University of Hohenheim in Stuttgart, Germany. I later came to the US, where I completed a PhD in veterinary pathology and residency in anatomic pathology (special cases) at Michigan State University. Following this, I completed a 1-year postdoctoral program.
What did your career path look like after graduating with your PhD?
After my PhD, I worked as a pathology associate at the Department of Pathobiology, College of Veterinary Medicine, Tuskegee University. I am currently a faculty member in the Department of Biomedical Sciences. Among other duties, I teach microanatomy and microbiology. Being a part of the faculty provides me with the platform to share my knowledge, contribute to the education of aspiring students/scientists, and advance the field through research and scholarly activities. It also offers opportunities for professional growth, networking, and making a significant impact in the academic community.
What do you remember most about your time at MSU?
The good people I met, the campus size, transportation, getting from one part of the university to another, snowy weather with snow-covered landscapes, and a unique set of activities and challenges associated with winter weather.
How did Dr. Dalen Agnew shape your experience?
Dr. Dalen Agnew provided invaluable support to me during my studies. He offered me his wealth of knowledge and expertise in various fields. He helped me to make important decisions related to my studies and career goals. He helped in making my research more relevant to my home country by investigating some unstudied diseases. Also, Dr. Agnew opened his house to me and my family.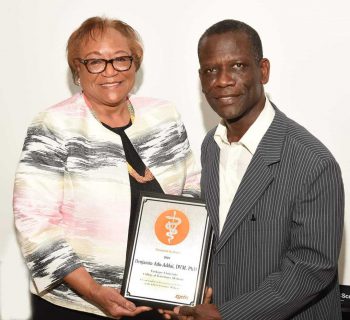 Can you describe the research that earned you the Zoetis Award for Veterinary Research Excellence?
This research focuses on the effect of the combination of IgY, cholecalciferol, and the novel peptide RP on Staphylococcus aureus (SA) mastitis in a mouse model. (Staph. aureus is a contagious pathogen, which is transmitted from infected glands or teats during the milking process.) The research addresses the main evasion mechanisms, including bacterial internalization by the mammary epithelial cells, the bacteria's capacity to reproduce and to produce biofilms, and antibiotic resistance. Moreover, it aims to minimize or prevent the fibrosis (the thickening and scarring of connective tissue) of the mammary gland. The treatment components are nontoxic and biodegradable. This study supports food safety, global food security, agricultural biosecurity, and sustainable agriculture.
What does winning this award mean to you?
Winning the award serves as validation of my work, dedication, and achievements. It acknowledges that my skills and contributions have been recognized by others in my field, and that is so motivating to me. This success can inspire and motivate others.
While winning an award yourself is always a nice thing, as a teacher and researcher, there is nothing more personally satisfying than having one of your mentees win an award of this prestige.