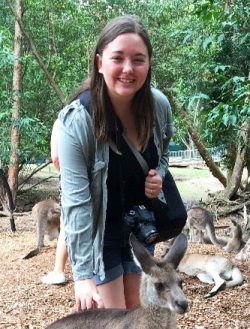 We may think we're getting 100% cheese when we buy a product that's labeled "100% cheese," but that isn't always the case.
Dr. John Spink, assistant professor in the MSU College of Veterinary Medicine and director of MSU's Food Safety Program, spoke with NBC's Today Program about food fraud. Spink spoke about the deceptive practices of companies that mislabel food, and those companies' attempts to deceive the American public. He has focused on product fraud since MSU's Food Safety Program and the School of Packaging began research on the topic in 2006.
Americans generally trust the labels on their food, so it's disconcerting to some that a product may contain ingredients the label doesn't list. The Food and Drug Administration (FDA) examined a particular cheese that has a label explicitly stating it has no ingredients besides cheese. They found that Castle Cheese's "parmesan cheese" contains cellulose, the organic filler that can be derived from wood pulp .
The FDA regulates the safety of substances added to food, as well as how most food is processed, packaged, and labeled.
"It should all be included on the label," said Spink.
The FDA found that not only did Castle Cheese's parmesan cheese contain unlisted fillers, their parmesan cheese contained no parmesan cheese at all. It was made of the cheaper cheeses Swiss and cheddar, as well as cellulose. The FDA informed Castle Cheese of the findings.
Fillers like cellulose are allowed, but only up to 4% of the total. Hard cheese is on the list of foods with documented mislabeling issues. Olive oil is also on the list, which some companies cut with cheaper oil, like canola oil. Some lobster contains cheaper fish like white fish, and some orange juices labeled "100% juice" are not.
The FDA said its highest priority is to keep us safe, and to ensure the safety of food products, not labeling. They are responsible for protecting the public health by ensuring the safety, efficacy, and security of products such as human and veterinary drugs, medical devices, products that emit radiation, and food—including food labeling.
Companies mislabeling food products are deceiving the public, said Spink.
"They're trying to cheat us," said Spink. "They're trying to do things that we don't notice, but to cut corners so they can make money."
Spink and Dr. Douglas Moyer of the MSU Program in Public Health and the Food Fraud Initiative recently published a paper in the peer-reviewed defining the term "food fraud." The paper also tackles a system-wide focus that could lead to prevention.
"For governments to begin addressing the issue, they needed a credible source they could reference – an academic source rather than a food association that could potentially have biased views," he said.
The MSU Food Fraud Initiative is global in scale. Getting involved in the issue at the earliest stage has established MSU as one of the key sources for government agencies and company leaders. The next phase of this research will be to put these new laws and guidelines into practice.