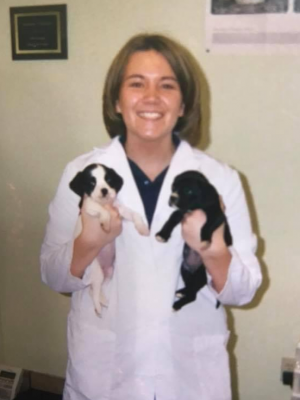 Growing up, Kelli Keith (BS, LVT '05) knew she wanted to work with animals. "I assumed being a veterinarian was my only career path," says Kelli. "In high school, I shadowed a local clinic and discovered what a veterinary technician does. I was hooked." She knew that MSU had one of the best veterinary schools in the country, so she applied and was accepted to the program. However, she soon realized that she did not have enough math or chemistry to accept the seat. She was discouraged at first, but Dr. Helene Pazak encouraged her to take the required courses at Lansing Community College and apply again. Kelli did exactly that. "The genuine care and mentorship I received in that process (and throughout the entirety of the program) created an amazing learning experience that lives with me to this day," says Kelli.
Upon graduation, Kelli accepted a position at a day/ER clinic doing small animal medicine and emergency care. She made many memories during her time in private practice, but after 11 years and 4 different clinics, Kelli began to feel burned out. It felt like it was time to try something new.
"My decision to go into industry was a very difficult one. I considered leaving the profession entirely, but my passion for veterinary medicine just wouldn't let that happen," says Kelli. She ended up taking a job with Hill's Pet Nutrition, where she was responsible for helping 150 clinics understand the importance of good nutrition. Through her excellent work in this position, Kelli was noticed by a Henry Schein (now Covetrus) representative, and she was asked to join their team. "Helping make the day better or easier for clinics was the highlight of this time period of my career," Kelli reflects.
As Kelli continued to grow professionally, she developed a vast network. One of these individuals introduced her to Mission Veterinary Partners (MVP), a veterinarian-owned and managed network of animal hospitals. She joined MVP as a student experience liaison, and the job ignited a passion for mentorship. Kelli now oversees more than 100 current vet tech students and provides them with caring and compassionate mentorship as they navigate their studies.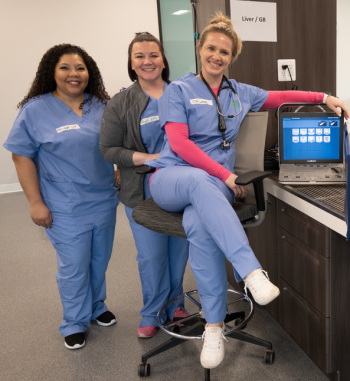 Throughout her winding career path, Kelli has relied on her MSU education and training. "MSU taught me to reach for the stars. That I could do hard things and excel at them," says Kelli. "I had some of the best mentors and instructors. I didn't know how deeply their level of care and encouragement would affect the rest of my life. I use those things every day in my current position and have used them throughout my career to build a reputation that I'm incredibly proud of."
Kelli's reputation as a dedicated and passionate individual led her colleague, Sarah Tomasik, BS, LVT, to nominate her for the 2022 CVM Distinguished Veterinary Technology Alumni Award. In her nomination letter, Sarah wrote, "For those who have had the pleasure of working with Kelli, you can't help but enjoy her. She looks for the positive in everything. If there's a problem and she can't solve it, she has no ego and will ask for help. She'll also be the first person to jump in and help when needed."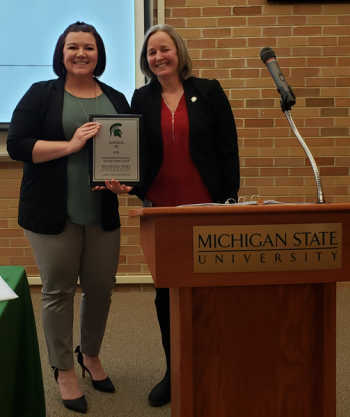 Kelli found out about her nomination for this award when Sarah, who is currently an instructor at MSU, sent her a Facebook message. "I love the fact that several MSU teachers and professors have followed my career and stayed connected with me," she says. And when Kelli found out that not only had she been nominated, but won? "The ugly cry was instantaneous!" she laughs.
She was touched to be recognized by her fellow industry professionals and mentors at MSU. "This award symbolizes all the hard work, blood, sweat, tears, and love I've poured into my profession," says Kelli. "I could never really put that level of pride into words. While I love seeing the award hung next to my degree and license, it's more so a reminder of all that I've been through and all that I've overcome to get where I am today. To know that such amazing people in my profession recognize my accomplishments is more than I could have ever asked for."