By Bridget Walker, DVM Class of 2021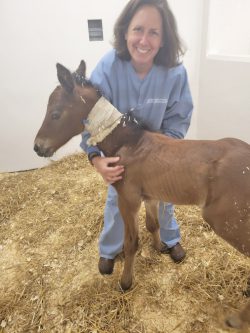 While I worked as a summer student with Dr. Ronan Eustace, director of animal health for Potter Park Zoo, I had the opportunity to work with one of the most amazing patients—Doppsee, a 12-year-old female pregnant black rhino (Diceros bicornis). Black rhinos are critically endangered, as only 5,000 remain in the wild. The main threats to the wild black rhino population are from loss of habitat and poaching. There are approximately 60 black rhinos housed in Association of Zoos and Aquariums (AZA)-accredited zoos and aquariums, so each birth in captivity is crucial for the long-term sustainability of the captive black rhino population.

This is Doppsee's first pregnancy. As such, the animal care and veterinary departments are closely monitoring her pregnancy. On a weekly basis, the veterinary department performs ultrasounds and collects blood via voluntary sample collection from Doppsee's medial tarsal vein in her leg. After a few weeks of working with Dr. Ronan, I was taught to collect blood from Doppsee.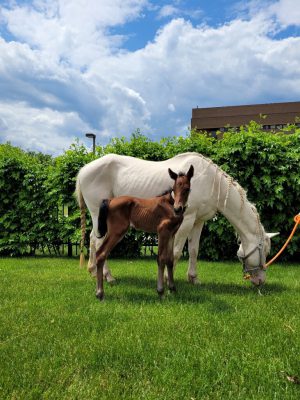 Serum is submitted to the Saint Louis Zoo Endocrinology Lab, where serum progesterone is measured to help make sure that Doppsee is producing sufficient amounts of progesterone to maintain her pregnancy. After measurement of progesterone, the remaining serum is sent to Dr. Monica Stoops, an endocrinologist who works jointly for Omaha Zoo and Center for Conservation and Research of Endangered Wildlife (CREW), for multiple studies on black rhino pregnancies and reproduction.

Ultrasound allows Dr. Ronan to assess the health of the growing black rhino fetus and the health of Doppsee's uterus in a non-invasive method. The ultrasound was generously donated to the Zoo and allows the veterinary department to provide top-level medical care to the animals who live there. It also helps the veterinary staff do their job. Doppsee is such a calm and patient animal; many veterinary students have been given the rare and memorable opportunity to perform transabdominal ultrasounds on her.
Doppsee is unique in that she has a very regular estrous cycle, and this has allowed her to be a major contributor to several research studies. These studies provide valuable information on black rhino reproduction—information that we cannot get from wild populations. Though the information on rhino theriogenology is growing in leaps and bounds due to the work of researchers like Dr. Stoops, zoo veterinarians, and captive black rhinos like Doppsee, there is still a lot that we do not know.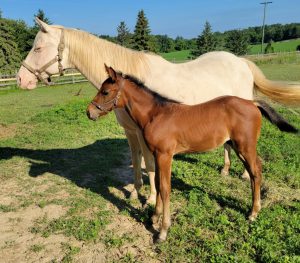 Rhinos are in order Perissodactyla, a group of herbivorous mammals characterized by the possession of either one or three hoofed toes on each hindfoot. Domestic horses also are included in the order Perissodactyla, and when there is insufficient information on clinical conditions in the rhino medicine literature, zoo veterinarians often look to equine medicine literature and experts to help guide their decisions.

Luckily, MSU has multiple experts in equine medicine and several veterinarians, such as Dr. Carla Carleton, Dr. Julie Strachota, and Dr. Jennifer Roberts. These veterinarians, along with MSU veterinary medical students, visit the Zoo regularly to work with Dr. Ronan when he is performing his weekly pregnancy examinations on Doppsee.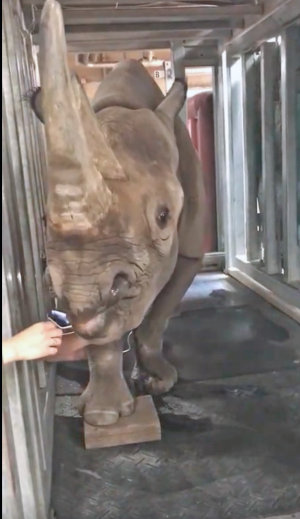 Doppsee is an incredible rhino; she allows Dr. Ronan to draw her blood and ultrasound her while completely awake (i.e., free of sedation)! Her zookeepers have worked very hard to earn her trust and have taught her behaviors that allow her veterinary care to happen without anesthesia. At the beginning of her exam, her keepers cut up some of her favorite snacks including sweet potatoes, carrots, and apple, and ask her to come inside to a large chute. Doppsee walks inside and takes her position in the chute and gets rewarded with snacks. Once she is in position, Dr. Ronan can draw her blood and perform ultrasounds. During this entire process, both ends of the chute are open, which gives Doppsee an important choice: she can stay for the exam and keep getting snacks, or she can walk away. This choice helps Doppsee to stay calm and maintain a positive relationship with her zookeepers. Most days, Doppsee chooses to take part in her pregnancy check-up, which has allowed Dr. Ronan to keep a close eye on her progress as well as contribute to information on rhino reproduction.

I have had several opportunities to help out on these pregnancy check-ups and was able to draw blood and ultrasound Doppsee. Being able to get this hands-on experience is invaluable to me, as Doppsee is a species I am not able to work with often, so this experience continues to help me learn more about what it means to be a veterinarian. I am so excited to watch Doppsee and Potter Park Zoo continue to prepare for this very special birth and cannot wait for the baby to arrive!