The Michigan State University College of Veterinary Medicine recently welcomed the first-year doctor of veterinary medicine (DVM) Class of 2025 to campus for orientation, where they received a gift that will help them succeed through their next four years of classes and clinics. For the third consecutive year, Dr. Pete (DVM '74) and Sharon VanVranken generously donated stethoscopes to the incoming DVM students.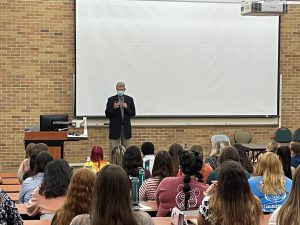 Dr. Pete VanVranken addressed the Class of 2025 on their final day of orientation, sharing words of wisdom as they start their journey in veterinary medicine. He remarked, "You'll learn what you'll learn, and then you'll get out and refine it, and refine it, and refine it; work really hard to learn your profession and your craft."
After graduating from MSU with his DVM degree, Pete founded Dickman Road Veterinary Clinic. Sharon owns Veterinary Apparel Company. Both are based in Battle Creek, Michigan. In looking ahead to when the Class of 2025 enters the profession, Pete shared the following advice, "Have integrity. Do the right thing, learn to develop your own style with your clients. But whatever you do, act as an advocate with your patients, and do the right thing. Show up and work hard for your clinic and your patients."
Read more about Pete and Sharon's background here, and their previous years of donating stethoscopes to incoming classes.