Breanna Demaline, a fourth-year veterinary student, was selected out of six student leaders nationwide to receive the Regional Leader of the Year award from the Veterinary Business Management Association.

Below, Demaline explains her involvement with the VBMA.
WHAT IS VBMA?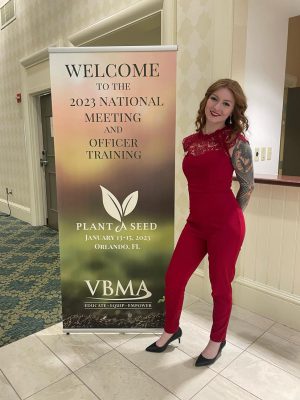 "VBMA is an entirely student-run organization. Across the country, almost every veterinary school has a local chapter. While it's about business and you can earn a business certificate through the organization, I always joke that the only bad thing about VBMA is its name. Students see the word 'business' and run the other way. VBMA isn't only about business, it's about building character, building development, building who you're going to be as a leader. At the core of VBMA is the discussion that when we graduate veterinary school, each one of us are going to be leaders wherever we end up, so it's just preparing us for when we get there.
As a local chapter, MSU VBMA's main goal is to give the students the opportunity to learn and develop. They have different speakers from all walks of life to teach the veterinary students and expose them to topics outside of veterinary school."
HOW DID YOU GET INVOLVED?
"I joined our local chapter very early on and by the end of my first year I'd taken on a position in the board. I was on the board again for the next year and I eventually became the president of our chapter here at MSU. I wasn't quite ready to let go at that point in time, so I applied to be a regional leader! As a regional leader my job is to support a group of chapters. I led seven different universities this last year, supporting chapters in reaching their goals."
TELL US ABOUT YOUR AWARD!
"The award that I received was Regional Leader of the Year. I believe it was due to the growth that my chapters had this last year. We held a summit together–the first time a region had ever had a summit–so being able to support them made a difference for my region. Several of my chapters won awards themselves for their own personal growth, which was incredibly rewarding! One won Chapter of the Year. I was really proud of them for their hard work this last year and seeing them be recognized was amazing! I'm very honored to have received such an award because of how passionate I am about VBMA; it's been such an inspiration in my veterinary journey."
DO YOU SEE YOUR MENTORSHIP CONTINUING?
"Absolutely. I've always loved being a leader and being able to support the passions of others. I've always said I love animals as a veterinarian, but my passion is really people. I love communication, I love culture. I hope to open my own veterinary practice in the future for those two reasons. I want to fix the unfortunate trend of toxic veterinary workplaces and create a great environment for people to support them and their goals. As far as VBMA goes, I'll be graduating, but they do have an alumni group. I plan on joining and being as involved as I can as a first-year veterinarian. I'm sure many opportunities will arise in the next year, and I will put my hands in for sure, because I love being involved and being able to help people. I'm so very thankful to the mentors who have poured time and energy into supporting my goals these past few years and I hope to return the favor!"
WHAT IS YOUR OUTLINE FOR THE NEXT COUPLE OF YEARS?
"I didn't actually know I wanted to own a practice in my first year at all. I knew I wanted to do small animal medicine. I didn't know what else it was going to look like. So, I went to a couple of VBMA meetings and met phenomenal speakers who taught me about having one-year, three-year, five-year goals – knowing that they can change but having those goals and being able to reflect on them and say, 'what do I need to do now to make those happen' has been huge."
ANY ADVICE FOR GETTING INVOLVED IN VBMA AND OTHER ORGANIZATIONS?
"It can feel intimidating. Pick out the things you're most passionate about that you think that would benefit you personally and your career. If there's an organization here at MSU or at your veterinary school, get involved. Go to the meetings. Chat with the officers about opportunities. Most of the officers in those organizations are just like you. They want to be involved, they want to be leaders, they want to change things and help people; just talking to them is a good start. Go to that office, knock on the door, and ask 'what can I do?'"