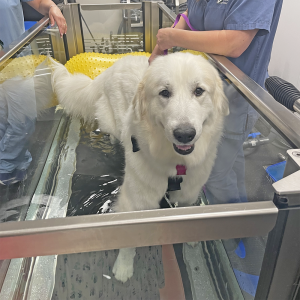 Sadie became a Spartan at a young age: at just 10 months old, Sadie was presented to the MSU Rehabilitation Service due to the concern of right hind limb lameness.
One of her littermates bit her right hind leg when she was 4 weeks old, an injury that led to severe bacterial infection at the tarsus (ankle joint) and tibia (the shin) of her leg. Sadie was treated with antibiotics until she was three months old. The last of several biopsies, done to evaluate Sadie's recovery status, revealed no infection of her right hind leg. "The infection got quite severe," says Sadie's owner. "But she never gave up." Though the infection was gone, Sadie was left with what looked like a peg leg—or a calcified tarsal joint. This is what caused the persistent lameness, and what would require joint fusion surgery or amputation to correct.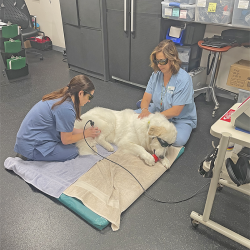 However, Sadie's owner wasn't fond of either of those options. She wanted to pursue rehabilitation before she put Sadie through potentially more painful and invasive treatment options. So, for more than three years, she's been making the hour-long trek to MSU so Sadie can receive rehabilitation therapy. "I ended up here because MSU is the best," adds Sadie's owner.
During her bi-weekly sessions, Sadie receives therapeutic laser and massage and completes 30 minutes of hydrotherapy on MSU's underwater treadmill. On top of her sessions at MSU, Sadie also receives at-home therapy sessions. "Sadie's owner is amazing at taking care of her at home," says Stephanie Kiszka, veterinary nurse for the MSU Rehabilitation Service. "She purchased an Assisi loop to manage daily inflammation due to Sadie's arthritis, performs daily home exercises to ensure utilization of all her muscles, and gives her daily massage with stretching to keep her muscles in good condition."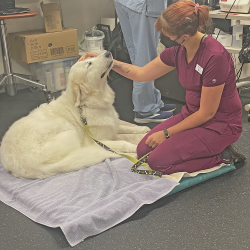 At only four years old, Sadie also has arthritis (she was diagnosed at one year old), likely an additional complication from her puppyhood injury as well as her large-breed-dog size. A healthy weight, regular exercise, and fun play sessions with her fur brother keep Sadie relatively pain- and symptom-free. "She runs around, plays, body slams her larger brother," says Sadie's owner. "She's just a happy dog and her whole mentality is great. She's so cooperative and smart. She works hard when she comes to MSU and when we do our at-home exercises."
Reflecting on Sadie's journey thus far, her owner adds, "She probably shouldn't have survived that infection, to be honest. Even now, when you look at the X-rays of her leg, you think, 'Oh my goodness. That looks so bad.' And it does. But it's stable because Sadie is so determined and strong. There's no pain, no inflammation. She does everything she needs to and she's amazing."
After more than three years and 100 visits as an MSU Rehabilitation Service patient, Sadie is infection and pain free. "The MSU Rehabilitation team is so awesome with her," says Sadie's owner. "I just love them. And so does Sadie."
And we just love you, Sadie girl! Congrats on your 100th visit and beyond.

A look inside Sadie's 100th visit!