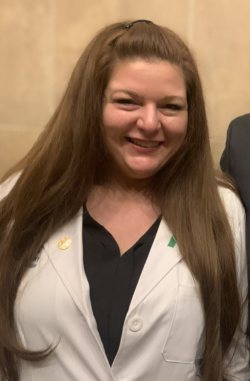 "My pathway into veterinary medicine wasn't straightforward," says third-year DVM student Kendra David. "I graduated with my Bachelor of Arts in psychology and pursued a career as a mental health coach. Although I enjoyed helping people, my passion is veterinary medicine."
David decided to make a career change and returned to school to complete the required coursework for veterinary school admission. After completing a Bachelor of Science in biology and a Master of Science in microbiology, David matriculated into MSU's DVM program.
Now in her third year, David is enjoying the opportunity for more hands-on learning on the clinic floor. "Third year has been the best! I love being able to apply what I have learned during my first two years. This has been a year of transition from didactic coursework to developing my skills as a student veterinarian, and I'm looking forward to my remaining clinical rotations," says David.
Many people play a role in David's enjoyment and success in the DVM program: faculty who share their knowledge and passion, mentors who guide her through each year of school, and fellow students who are navigating some of the same challenges that she is. But two people that have played a special role for David are Ed and Roxy Nyberg, whose established scholarship was gifted to David this year.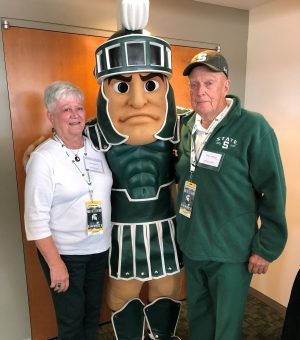 Ed and Roxy, who live in Linden, Michigan, have been animal lovers all their lives and wanted to help the profession by supporting future veterinarians. "We know all students need help, and hopefully this will help more people become veterinarians," says Roxy Nyberg.
Their hope for the scholarship is coming to fruition as David continues to work toward her dream. Ultimately, David plans to work in a small animal general practice/emergency medicine setting, though she has many interests that may lead her to various places over the course of her career. "I have an interest in internal medicine, ophthalmology, exotic animal medicine, aquatic medicine, conservation medicine, wildlife, and avian medicine," says David.
To Ed and Roxy, David says: "Thank you for the gift. I am very grateful for this scholarship. I will continue to improve upon my veterinary medicine knowledge in order to save lives. I appreciate your support in my dream of becoming a veterinarian."
The Roxy Williams-Nyberg and Edwin O. Nyberg Endowed Scholarship helps DVM students relieve some of the financial pressure as they work toward becoming veterinarians. Join Roxy and Ed— support the next generation of veterinarians.
Q&A with Kendra David: MSU Edition
Favorite teacher/professor?

Too numerous to count! I am quite impressed with the faculty at MSU CVM. I am very lucky to have the opportunity to learn from these extraordinary individuals: Dr. Stephan Carey, Dr. Harry Cridge, Dr. David Emery, Dr. Hayley Gallaher, Dr. Donna Harris, Dr. Linda Mansfield, Dr. Kirk Munñoz, Dr. Andrzej Ogrodny, Dr. Chris Pirie, Dr. Birgit Puschner, Dr. Harold Schott, Dr. Sarah Shull, Dr. Ioana Sonea, Dr. Maureen Spinner, Dr. Julie Stickle, Dr. Jennifer Thomas, and Dr. Kurt Williams.
Favorite class?
Junior Surgery, Veterinary Science I, and Veterinary Science II
Most challenging class?
Musculoskeletal II
Favorite spot on campus?
Not on campus, but I prefer to be outside, and I am always eager to get home to my two Weimaraners.