Featuring Melissa Santonocito, DVM Class of 2019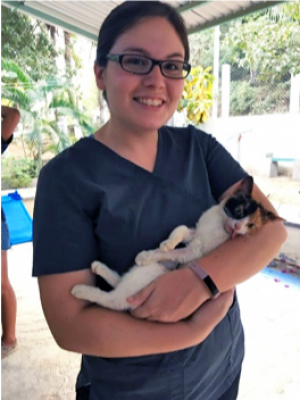 For the first three weeks of January, I spent my clinical rotation in Mazunte, Oaxaca, Mexico. Although Mazunte itself is a tourist area, it was far from the resort Mexico that most people experience. The weather was hot and humid every day, the bugs ate us alive, and there was no air conditioning anywhere we went. However, those things didn't stop me from having an amazing experience, both culturally and academically.
After a long journey to Mazunte and a day of rest, it was time for our first day of surgery to begin. We set up our equipment and supplies on a basketball court between two little markets and an ocean pier. Throughout the day, locals were catching fish and carrying them through our surgery site. Never in a million years did I believe I would perform surgery with a view of the ocean right in front of me. For our first two days, a man named Tin Tin presented the cases to us, to help us learn the flow of things. He set up appointments and arranged when the animals would be brought to us.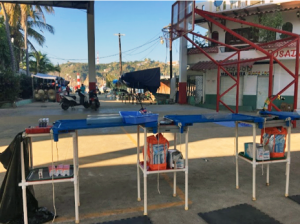 I anticipated the locals wouldn't understand the benefits of this elective surgery for their pets, but I couldn't have been more wrong; people brought their pets, even if they didn't have an appointment. They were willing to wait all afternoon to see if there would be time to have their pets spayed or neutered, too. In addition to the surgeries, some locals brought pets with wounds or limps for evaluation. Although they loved their pets dearly, the accessibility of veterinary care in the area was limited.
Following our first surgery day, we were rewarded with local foods and the view of a beautiful beach. Before returning to Mazunte, we visited a local market to buy some fruit. This "large" market was two walkways filled with fruits and vegetables. The mangos we purchased here put mangos from back home in Michigan to shame. In the evening, we ate a delicious dinner with the rest of the Mazunte Project participants; 50 people from all over the United States and Canada came to Mazunte to participate in this annual project.
The Mazunte Project has been occurring for 19 years and continues to grow. A noticeable decrease in the numbers of dogs hunting for sea turtle eggs also has occurred over the years. This gave a huge sense of personal satisfaction to know we were a part of something that was actually making a difference in the world.
The second day of surgery had its own challenges; our surgical location was a dirt playground with limited shade, so we had to make our own with tarps. The patients here were likely infected with a tick-borne disease called ehrlichia, which resulted in excess bleeding during surgery. Not only did surgery in Mexico have the challenges of heat, bugs and limited lighting, but also the dogs bled more than I had ever experienced. I was able to complete a dog spay and neuter that day.
We didn't perform any surgeries the following day, as it was Sunday. Instead, we were able to experience Mexico and enjoy the wildlife. We took an eco-tourism boat ride around the coast to see humpback whales. After arriving at a different beach, we were supplied with snorkeling gear; we were given a few hours to relax and explore. Although snorkeling was fascinating, it was an experience I may never do again. This day of rest prepared us for the following, intense day of surgery.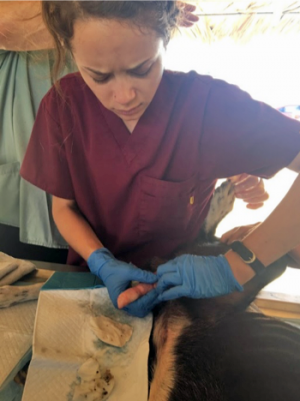 We drove 2.5 hours away on the third day of surgery, and still managed to complete 41 surgeries before dark. Our team gained 2 fantastic technicians and we developed a very efficient workflow. I performed 3 spays and felt my confidence in my surgical technique build. The heat was intense on this long day; one surgery would make your gloves fill with so much sweat that you couldn't lift your arms without sweat pouring out. One grateful local brought us food and beverages to keep our energy going for the day. I was able to take a break and piece together a conversation with the local woman, despite my weak Spanish.
Our fourth surgery site was conveniently located at a casa de salud. This was a small clinic with medical supplies, which came in handy. One of our patients had recently whelped and developed tremors post-operatively. These were likely due to low calcium, or eclampsia, and calcium was not part of our initial supplies. IV fluids containing calcium were found in the casa de salud and helped stop the tremors in this dog. I personally had a difficult surgery day and a valuable lesson in gentle tissue handling. My first spay of the day was a cat with very abnormal, white uterine tissue. Before I could ligate the uterus properly, it ripped in my fingers. With the guidance of one of our experienced veterinarians, I was able to fix the problem—and learn from it. My next spay of the day was approached with a little extra caution.
Day five of surgery was a bit slower than the others. I was able to perform one spay and one neuter that day, and also assist in a few other unique experiences. One dog was brought to us for evaluation because he had paraphimosis for the past six days. This meant that his penis, which is supposed to be within the prepuce, had been exposed to the elements for this period of time. We sedated him and observed that at the base of his penis was a transmissible venereal tumor (TVT). We learned about this tumor in our lectures but had yet to see it in practice. TVTs are uncommon in the U.S. but aren't uncommon in regions where dogs are able to freely reproduce. With the use of sugar and lube, we successfully returned the penis into the prepuce, TVT and all. Someone had brought the chemotherapy drug, vincristine, with us for treatment of these TVTs. In addition to this, we also saw a puppy with a neck laceration from a machete. Wounds aren't uncommon in our clinics back home but knowing how to manage a wound with limited supplies is a valuable lesson.

The sixth surgery site resumed the busy pace of the first few. I was able to perform two neuters and a spay without complications. My suturing skills were improving already. After our typical surgery day, we visited the iguana sanctuary. This was run by Marcelino, the Mexican veterinarian who had helped develop the Mazunte Project. Adult and baby green iguanas were free to roam in this sanctuary along with a couple species of turtles.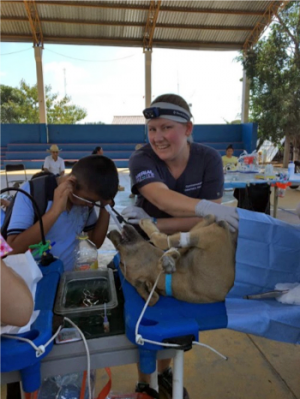 Our weekend was a continuation of learning experiences in Mexico. Marcelino runs the turtle center in Mazunte and works for the sea turtle rescue. He brought us out on a private beach where turtles lay their eggs in order to hunt for nests. The following night, we released the baby sea turtles. Prior to releasing them, Marcelino educated us on the life cycle of the sea turtles and explained the many challenges they face that make it difficult for the eggs to reach the ocean. One of those challenges are local dogs that consume the eggs. This was exactly what the Mazunte Project was founded to prevent, and it was doing its job.

As we returned to surgery on the seventh surgery day, we no longer had our amazing technicians to help. Luckily, our group of students and veterinarians developed an excellent workflow and were able to continue the project. I performed three dog spays, two of which were unique to me. The first was a dog with hemorrhagic ovarian cysts and the second was a late term pregnancy dog. These were experiences I embraced, as they further developed my surgical skills. Happy locals provided us with a delicious lunch of fresh shrimp, avocados, and a refreshing pineapple beverage. To us, it may seem as though these people didn't have much, but they were so willing to give whatever they did have. Towns such as this one strengthened our belief in our mission, as they were extremely thankful for our skills.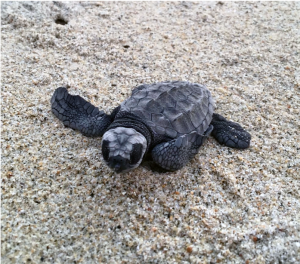 Our eighth day of surgery was a slower day; I performed two spays. We were joined by two fascinating Canadian veterinarians who had stuck around past the rest of the Mazunte Project group. This provided us with more experienced veterinarians from which we could learn different surgical techniques from.

Our final surgery day took place on another small site in which I was able to perform a couple of spays. We were exhausted at this point in the experience but savored our last surgical day. Once again, grateful locals provided us with treats to help us power through the day. Coconuts were cut open for us with machetes and we were able to drink the refreshing water inside. To make the day even sweeter, the three of us fourth-year students found out we all passed our NAVLE! It was the cherry on top to our amazing trip.
Overall, this experience was a once in a lifetime opportunity. We were able to strengthen our surgical skills in ways that comfortable clinics back home couldn't make us do. I am far more efficient, fast, and better at saving supplies than I ever thought I would be at this point in my career. The cultural experience was influential to my life and my Spanish may not be fluent, but it has improved. Knowing that I was able to be a part of a mission that will truly be a positive impact on Oaxaca is a feeling that cannot be explained with words.