Dr. Linda Mansfield, MS, VMD, PhD, DACVP, and Dr. Jack Harkema, DVM, PhD, DACVP, have been named the inaugural Albert C. and Lois E. Dehn chairs for the Michigan State University College of Veterinary Medicine. These positions are funded by a $12.6 million dollar donation, which is the College's single largest gift in its history. The endowment will initially fund two new endowed chairs in the Departments of Large Animal Clinical Sciences and Pathobiology and Diagnostic Investigation with a plan that the gift could eventually support four endowed positions.
"It is funding such as this that allows for the continued quality and advancement of our faculty and students," says Dr. John Baker, dean for the College. "Both these departments are nationally and internationally recognized as a source of groundbreaking research—a legacy to which the newly established Dehn chairs will contribute."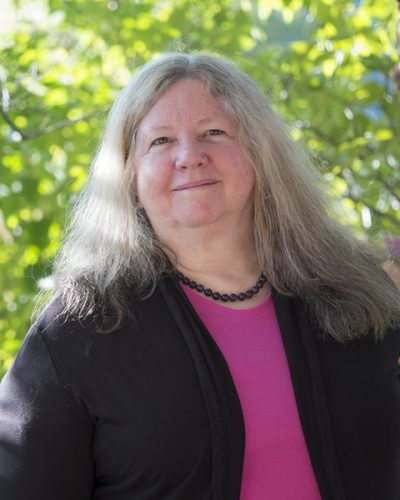 Dr. Linda Mansfield, university distinguished professor for the Departments of Large Animal Clinical Sciences and Microbiology and Molecular Genetics, formerly led the MSU Enterics Research Investigational Network (ERIN). She has received more than 25 honors and awards for her work as a scientist and educator.

"Dr. Mansfield brings a wealth of experience in the development of collaborative and innovative research programs that emphasize translational research focused at the interface of animal and human health," says Dan Grooms, chairperson of the Department of Large Animal Clinical Sciences. "Her work is pivotal in driving the research mission of the Department and College, and this endowed position will allow more flexibility and funding for her work."
Mansfield's research interests focus on the study of enteric pathogens that cause gastrointestinal disease. She studies the foodborne bacterium Campylobacter jejuni, and has produced a diagnostic test and demonstrated that this infection can lead to autoimmune diseases including inflammatory bowel disease (IBD) and Guillain Barré Syndrome (GBS). Both are rising in incidence and GBS is the number one cause of paralysis, now that polio has been controlled. Her work identifying virulence genes and evolution of Campylobacter in the host during infection has led to better understanding of how this pathogen triggers acute and chronic disease. Based on this, current work is focused on discovery of therapeutics or preventatives that could be applied in animals and humans.
"The endowed funds for this position will be used to enhance biomedical research in areas key to the understanding of host-microbiota-pathogen interactions that govern enteric health and disease," says Mansfield. "I also plan to expand our current research foci into a facilitation role for increased collaboration between the Department and the College and beyond."
Mansfield's vision is to engage faculty across the Department, College, and University by creating dynamic interdisciplinary teams to solve complex health problems at the interphase of animal and human health.
After earning her MS in virology from the University of Delaware, Mansfield went on to earn her VMD and PhD in parasitology and immunology from the University of Pennsylvania. She then became a postdoctoral fellow for the Agricultural Research Service with the USDA. Her most notable contributions to science include determining the lifecycle of Sarcocystis neurona; illustrating the pathogenesis of C. jejuni, its immunity in porcine (pig) and murine (mouse) models, and its evolution in a natural host; determining antibiotic resistant C. jejuni in animal populations and the environment; illustrating the pathogenesis of GBS; and defining the role of the early infant microbiome in mediating allergic outcomes.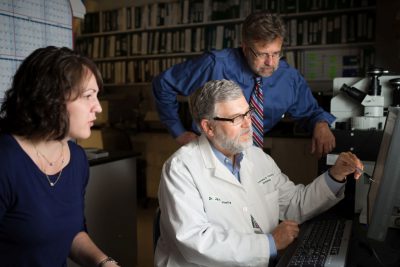 Dr. Jack Harkema, university distinguished professor for the Department of Pathobiology and Diagnostic Investigation, has served for the past six years as the director of the Great Lakes Air Center for Integrated Environmental Research (GLACIER), one of only four US Environmental Protection Agency-funded Clean Air Research Centers in the nation. He also is a faculty member of MSU's Institute for Integrative Toxicology, which focuses on the health and environmental effects of toxic agents.
"Dr. Harkema's accomplishments as an academic biomedical researcher highlight the importance of translational research connecting the impacts of the environment on animal and human health," said Dr. Srinand Sreevatsan, chairperson for the Department of Pathobiology and Diagnostic Investigation. "As the College continues on its mission to protect local, national, and global communities, Dr. Harkema's research and mentorship will remain a critical asset."
Harkema, an alumnus of the College, conducts research designed to clarify the biological mechanisms responsible for airway injury, repair, and adaptation in response to environmental exposures to toxic agents. Much of his recent work has focused on developing animal models of human respiratory, cardiovascular, metabolic, and autoimmune diseases that are used to study how chronic disease may influence an individual's susceptibility to adverse health effects of outdoor air pollutants.
"I strive to foster an open and safe laboratory environment that is not only collaborative, but also nurturing and rewarding for all participants—that includes staff, students, and faculty," says Harkema. "It must be a place to learn through both individual and group effort. Hopefully, it is a place where people can be inspired to be creative, to love discovery, and to grow as individual and team scientists. Our goal is to generate new knowledge about the pathologic basis of disease that can be used to better animal and human health."
Harkema came to MSU to earn his MS in animal physiology and DVM. He went on to earn his PhD in comparative pathology from the University of California, Davis. Harkema worked for nearly a decade as an experimental pathologist for the Inhalation Toxicology Research Institute in Albuquerque, New Mexico before returning to Michigan State University in 1994.
Harkema's research and productive collaborations are reflected in more than 240 publications with coauthors from 19 different units at MSU and 133 national and international laboratories. His most notable contributions to science include designing, constructing, and utilizing mobile air research laboratories to study the inhalation toxicology of "real-world" particulate air pollution found in urban and rural communities; illustrating how toxicologic pathology of the respiratory tract should be microscopically examined and morphometrically measured using state-of-the-art digital imaging techniques; and elucidating the pathobiology underlying the harmful health effects of commonly encountered air pollutants, like ozone and particulate matter.
Currently, Harkema's laboratory, along with that of his long-time MSU collaborator, Dr. James Pestka (Food Science and Human Nutrition), are embarking on a new NIH-funded research project to determine how dietary interventions of omega 3 fatty acids may prevent the early onset of autoimmune diseases, like systemic lupus erythematosus, that are triggered by inhalation exposure to silica dust and possibly other airborne toxicants found in the environment or workplace.