Three veterinary students from the Michigan State University College of Veterinary Medicine—Patrick Crannell, Monika Dziuba, Jared Sanderson—have been awarded scholarships by the American Association of Bovine Practitioners (AABP).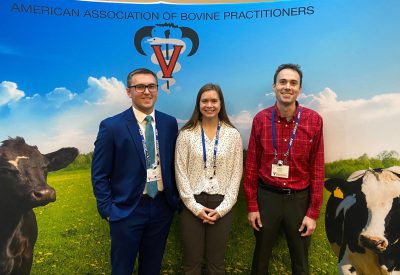 "These scholarships reflect the passion, dedication, and knowledge of our students," says Dr. Ángel Abuelo, assistant professor of Cattle Health and Wellbeing for the College's Department of Large Animal Clinical Sciences. "Earning these awards is a huge accomplishment, and I'm proud to congratulate the winners."

"Congratulations are in order for these important recognitions and scholarships," says Dr. Birgit Puschner, dean of the College. "This illustrates the awardees' commitment to training and becoming the next generation of bovine practitioners and scientists."
During the AABP's annual conference in Salt Lake City, Utah, Crannell and Dziuba were selected to present their research in the student competition. Crannell resented his work, "Comparison of calf preweaning morbidity, mortality, and performance among categories of passive immune transfer in a large dairy herd." Dziuba won the competition for her presentation on her work, "Negatively controlled trial investigating the effect of dry cow therapy on clinical mastitis and culling."
Congratulations, 2021 winners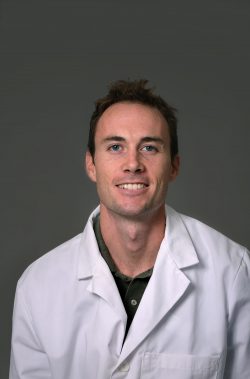 Patrick Crannell, DVM Class of 2022, was granted the AABP Foundation – Zoetis Scholarship, an award recognizing students that "demonstrate the character, knowledge, experience, motivation, and potential to become outstanding bovine veterinarians in the United States, prepared to meet the needs of the twenty-first century."
Crannell, who has a bachelor's degree from St. Michael's College, has spent his summers on dairy production medicine research projects, which enhanced his research skills and deepened his knowledge of production medicine. He wishes to serve as a dairy veterinarian in the future, translating research to practical applications on the farm.
"This generous scholarship from the AABP will help me reduce the cost of my education and help fund the expenses of completing food animal externships," Crannell says. "Completing private practice externships is an invaluable opportunity to better understand the dairy industry and help develop skills for entering a food animal career. Thank you, AABP."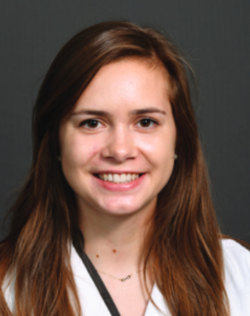 Monika Dziuba, DVM Class of 2023, was awarded the Amstutz Scholarship and the AABP Bovine Veterinary Student Recognition Award.
Dziuba's interest in the dairy industry was sparked half a world away from her hometown of Riverview, Michigan. "I'm not originally from a farm," she says, "but I got my passion for the dairy industry when visiting my family's dairy farm in Poland."
Back in the United States, she found plenty of meaningful dairy experiences, both at Michigan State and as far away as New Mexico. She has interned for the Michigan Milk Producers Association, and researched and worked at the MSU Dairy Teaching and Research Center, the MSU Swine Teaching and Research Center, the Molecular Pathogenesis Laboratory under Dr. Paul Coussens, and Meadow Brook Immunology Laboratory. In addition, she has been a veterinary extern and dairy farm worker.
Dziuba expects to graduate in 2023 with a DVM degree in addition to a masters from the MSU Food Safety Program. In the future, she plans to use both degrees to help large progressive dairies boost herd health and ensure safe dairy products—and educate the public.
"Besides just veterinary medicine, I plan to perform agricultural education for those members of society that live in city or suburban settings to increase knowledge of food production," she says. "This AABP scholarship will be valuable in helping me accomplish my goals because it allows me to focus on seeking out and attaining dairy knowledge and experiences while in school with less concern about the financial burdens associated with paying for school. This scholarship has provided and supported an opportunity for me to explore different areas of production veterinary medicine that will be useful in my future career." Dziuba was also recently awarded a scholarship by Merck Animal Health after her participation in the College's Food Systems Fellowship.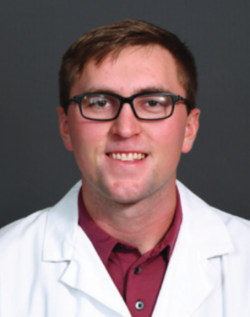 Jared Sanderson, DVM Class of 2023, was awarded the Amstutz Scholarship and the AABP Bovine Veterinary Student Recognition Award.
Sanderson's childhood was rich with dairy and agriculture experiences thanks to his grandfather's dairy farm and his own participation in 4-H near his hometown of Sandusky, Michigan. He gained work experience at a local veterinary clinic before earning a bachelor's degree in animal science from Michigan State, where he served in leadership roles in the Dairy Club and Dairy Challenge program. He completed nutrition and dairy herd management internships around the United States, and as a veterinary student, has held leadership positions in the MSU AABP chapter and the College's Theriogenology Club.
"These experiences have led me to develop interests in preventative veterinary medicine, employee training, farm data analysis, and feed management," he says. Upon graduation, he intends to work in private practice, and would like to one day become a clinic owner with a mission of "providing the latest medical knowledge and managerial skills to improve the prosperity of my clients through ensuring the health and well-being of their livestock."'
He says the AABP award will go a long way in helping him achieve his goals. "I am honored to be awarded this scholarship," Sanderson says. He also adds, "I would like to thank my family for their unwavering support while I continue this journey toward my dreams."
Sanderson was also recently awarded a scholarship by Merck Animal Health.