In order to onboard a new, state-of-the-art MRI system, the Michigan State University Veterinary Medical Center will be temporarily unable to accept referrals for large animal MRIs beginning Aug. 11, 2023 until the construction is complete in early 2024. The Hospital will still be able to accept referrals for small animal MRIs. For more information, visit this page.
Highlights: MSU's Philips MR 7700 3T MRI System
Largest scannable field-of-view with overall shortest bore length
High-performance gradients of 65mT/m at 200 T/m/s
32-channel head coil accessory
Specialty-based software (neurological/neurovascular, cardiac, musculoskeletal, abdominal)
More signal and resolution per voxel, and data points with fewer artifacts and delays
This time next year, the Philips MR 7700 3.0T MRI system with artificial intelligence and deep learning will be up and running at Michigan State's Veterinary Medical Center. But the Hospital's patients won't be the only ones to benefit from the upgrade; researchers at MSU and beyond can reap the rewards of incredible image quality, faster.
"Together with Philips, MSU truly is pioneering clinical care and research capabilities in veterinary medicine," says Dr. Srinand Sreevatsan, associate dean for the College of Veterinary Medicine's Office of Research and Graduate Studies. "It will enhance the total activity and exposure of our College across campus and the state."
The incoming 3.0T MRI will offer researchers and clinicians higher quality scans with reduced waiting time without compromising data, as well as the ability to image subjects of various sizes and species.
"A 3 Tesla MRI is so powerful, it gives great image quality with the ability to image everything from extremely small subjects like mice to the largest subjects like horses or wild cats," says Rebecca Linton, manager of the Hospital's Radiology Service. "And the new artificial intelligence software—the way it plans data points and understands what it's processing—allows the MRI to enhance your image without compromising data integrity. We'll get better image quality in less time, which is unheard of. It's going to be beautiful."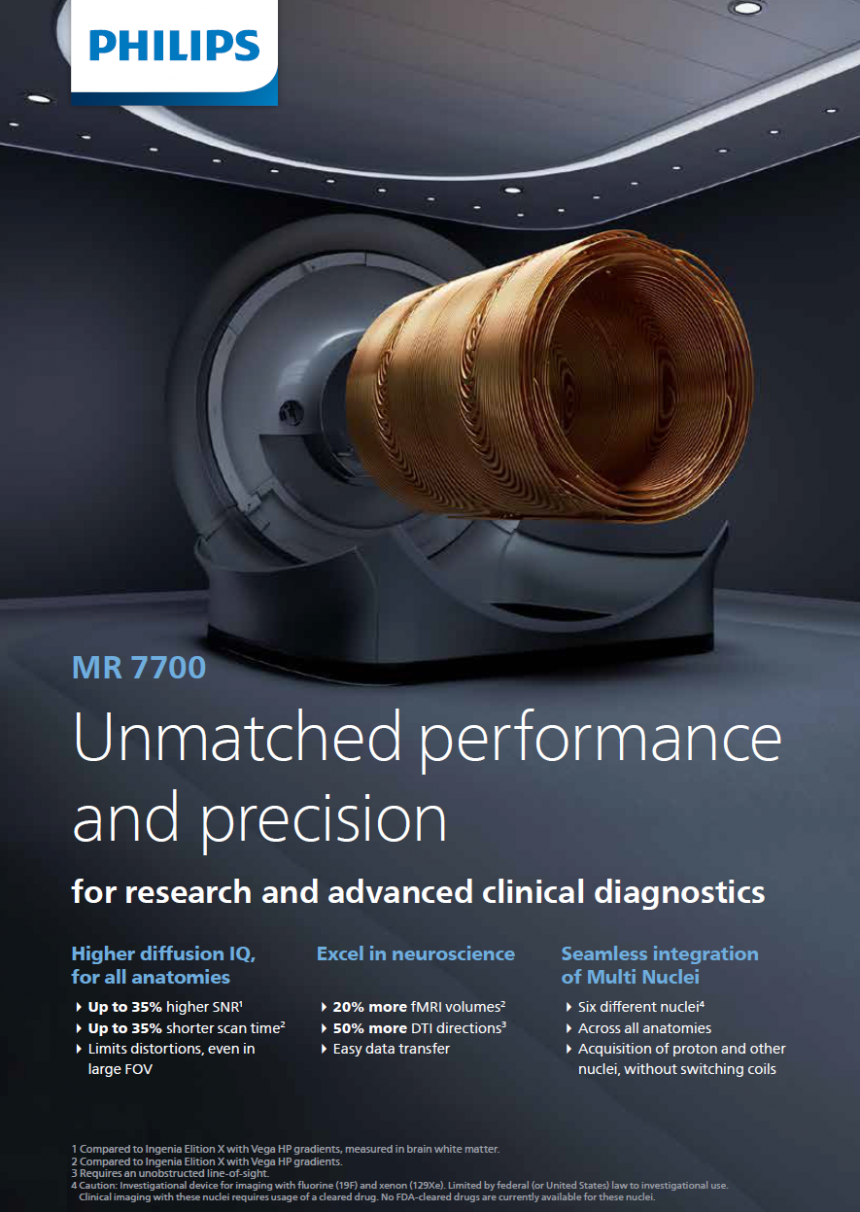 In addition to being at the cutting edge of imaging technology, the new Philips MRI system has a variety of software options that will help further neurovascular, cardiac, musculoskeletal, and abdominal research.
"It's the newest, latest, and greatest in performance, and there's specialized research software that can take scientists to new heights in their investigations. The new Philips MR 7700 3.0T is even capable of multi-nuclear imaging," says Linton. "There are programs that can be written into grant costs, and that could enable or enhance a multi-million-dollar study."
Get Ready to Research
Eager to make use of MSU's new Philips MR 7700 3T MRI System? Contact Radiology Service Manager Rebecca Linton to discuss your project and set up a VetStar account.
The new MRI purchase comes amid the launch of MSU's Clinical Innovations Program (CLIP), the College's re-invigorated clinical trials initiative. The new imaging system's benefits to CLIP are already apparent.
"Our new Philips MRI will be the cherry on top of veterinary clinical research here," says Dr. Kelley Meyers, director of MSU's Veterinary Medical Center. "The MR 7700 3T MRI opens a lot of opportunity for animal researchers, and that's only complemented by our other services. As a hospital, we have the experts here to sedate and anesthetize research animals, as well as to care for and recover them."
For more information about the Philips MRI coming to MSU, contact Rebecca Linton.
How Can I Prepare?
To get ready to use the new Philips MR 7700 3T MRI System at the MSU Veterinary Medical Center, researchers will need to provide:
University account number
Description of subjects, project timeline, and scan frequency
Sedation/anesthesia needs
Scan-building protocols and/or protocol builder contact information
Point(s) of contact
Software Suites:
ScanTools Pro- Standard imaging sequences for Brain, Spine, MSK, Body, Breast, Cardiac & Vascular
dS Performance Suite Plus- AutoVoice, ComforTone, ScanWise Implant, SmartExam for Brain, Spine, Shoulder and Knee, O-MAR, mDIXON XD FFE & Whole Body
dS Performance Suite Pro- MultiVane XD, mDIXON XD TSE & 3D VANE XD
dS Performance Suite Premium- Compressed Sense acceleration for Brain, Spine, MSK, Body & Cardiac
dS Neuro Suite Plus- 3D SpineVIEW, SWIp, Black Blood Imaging & Spectrospcopy
dS Neuro Suite Pro- 3D NerveVIEW, Zoom Diffusion & DTI Fibertrak
dS Neuro Suite Premium- BOLD (fMRI) & 3D ASL (contrast free perfusion)
dS MSK Suite- O-MAR XD & 2K Imaging
dS Body Suite- 3D PelvisVIEW & 4D-THRIVE BLISS
dS Vascular Suite- 4D-TRANCE, 4D-TRAK XD & mDIXON XD MultiStation
Additional Sequences:
Diffusion Excellence Package- SmartShim, Computed DWI, LOVA ADC & EPIC Brain all help improve diffusion imaging on many body parts
Mutliband SENSE- Acceleration factors for EPI, up to 8X faster for fMRI & up to 4 X faster for diffusion
Diffusion XD TSE- Faster diffusion TSE imaging with less distortion for brain and spine imaging
IRIS ZOOM- Improved small FOV diffusion imaging with higher resolution, less distortion & improved fat suppression for spine imaging
NeuroScience Specialist- High definition brain fiber tracking, including crossing fibers & advanced fMRI- Up to 32 b-values and up to 128 diffusion directions
3D Non Selective- Faster 3D FFE brain imaging with improved grey-white matter contrast
4D FreeBreathing- Multi-phase (dynamic) contrast-enhanced free-breathing sequence for liver imaging
Standard Coils and Accessories:
dS Head/Neck- 45 cm coverage, 20 channel for Head/Neck & 90 cm coverage, 52 channel for Total Neuro
dS Head- 30 cm coverage 15 channel (Head) & 90 cm, 51 channel for Total Neuro
dS Torso- 60 cm coverage, 32 channel for Torso, Chest, Pelvis, Heart and Peripheral Vascular
dS Base- Integrated FlexCoverage Posterior and Base coil with 90 cm coverage, 44 channel for total Spine imaging
dS Flex M- Two medium-sized flexible coils with 15 cm coverage, 6 channel for general purpose imaging
Set of patient accessories, NV Stability pad for head coil, Vascular positioning pads, HA console table, PPU for wireless physiology & Comfort PLUS pads
Additional Coils and Accessories
dS Flex L- Two large-sized flexible coils with 20 cm coverage, 8 channel for general purpose imaging
dS Knee- T/R coil with 20 cm coverage, 16 channel with split design for easy patient positioning
dS Head- 32 channel head coil for advanced neuro like fMRI, Spectroscopy & Angiography
dS Small Extremity- Semi-flexible wrap around coil with 24 cm coverage and 16 channels
T/R Interface- T/R Interface with connector on gantry to allow T/R coils or Multi-Nuclear coils to connect
Extension cable for Flex coils
DVD-PC
Patient Observation Monitor
Patient Observation Camera
Pediatric Mattress Support
FlexTilt to angle head coils
MR700/Elition Chiller