The magazine of the College of Veterinary Medicine
at Michigan State University
Spring 2014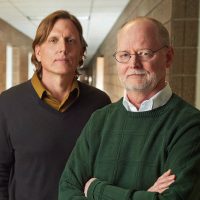 Collaborating for a cure
In 2003, Cindy Jackson, DVM, performed a necropsy on a horse in Ohio that died of unknown causes. The clinical signs—progressively worsening respiratory disease and weight loss—and her finding firm nodules throughout the lungs at the time of necropsy, were perplexing so she contacted MSU pathologist Kurt Williams, DVM, PhD, DACVP, to discuss sending a sample of the lung tissue to him.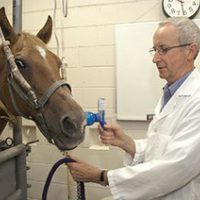 Dr. Robinson: Brillianteer*
Dr. Ed Robinson's research has changed scientific understanding and clinical treatment of respiratory disease. He has edited 6 editions of the canonical text on equine clinical therapies, and has written almost 300 papers and book chapters. He has mentored dozens of graduate and post-doctoral students, and taught thousands of DVM students. Now he is retiring after 42 years at the College.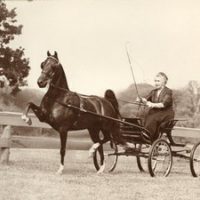 Funding creative research with endowments
The Matilda R. Wilson Chair of Large Animal Clinical Sciences has been held for 26 years by Dr. Ed Robinson. Robinson says the endowment gave him the freedom to pursue and develop new ideas to a stage where they could be funded by extramural sources. Now he is founding a new endowment.
Life-changing respiratory research: From the factory floor to the racetrack floor
Melissa Millerick-May, PhD ('08), a scientist of air quality and lung disease rescued a horse that would ultimately change the course of her career. The horse was diagnosed with a chronic and potentially life-threatening lung disease. She found that, unlike with humans, there were no guidelines with horses for air quality standards. Understanding the need to reduce or eliminate adverse exposures, she began a search for answers for to this equine lung disease.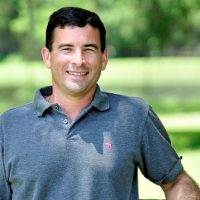 Making a mark
An encounter with Dr. Ed Robinson shaped the course of Lugo's career—and led to a pioneering biopsy technique for horses with pulmonary diseases. After a residency with Robinson and 4 years at Auburn University, he worked at a racetrack surgical practice at Camarero Racetrack. Now he's back in the United States at a specialty veterinary practice in Ocala, Florida.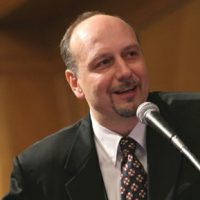 A philosophy of Perseverance
Olszewski, now an assistant professor of internal medicine at the University of Michigan Medical School Department of Internal Medicine and research biologist with the Ann Arbor Veterans Affairs Healthcare System, was an instructor of veterinary medicine in Poland in 1991, the year he and his wife, a Michigan native, traveled to the state for a visit that included the MSU College of Veterinary Medicine.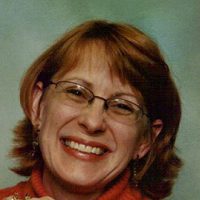 A lifetime of learning in veterinary technology
After more than 30 years on the job, it's not unusual for people to grow complacent about professional development, but that is clearly not the case for Ann Wortinger, BIS, LVT ('83), VTS (ECC, SAIM, Nutrition). Veterinary technician Ann Wortinger has taught pathology, published broadly, and spoken on general medicine, emergency and critical care, and nutrition—and has never stopped learning.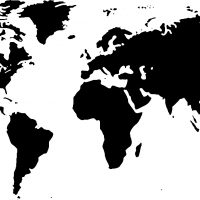 Mapping influence across the globe
Throughout a long career Dr. Robinson has left his mark on thousands. Now pursuing careers of their own, they are working to make a difference in communities around the world.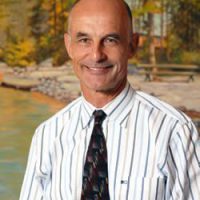 Lessons I learned from Professor Robinson
By Frederik Derksen
Professors are supposed to teach you something. As his graduate student and colleague for over 35 years, I learned plenty from Ed about pulmonary physiology, mechanisms of disease in recurrent airway obstruction (RAO) of horses, inflammatory mediators, innervation of airways and more.