A recent funding renewal for a key summer program at the MSU College of Veterinary Medicine will grant even more students firsthand experience with research—especially those belonging to populations that are underrepresented in the sciences.

The Biomedical Research for University Students in Health Sciences (BRUSH) Program is partially funded by an R25 training grant provided by the National Institutes of Health's National Heart, Lung, and Blood Institute. The Program supports research education activities, specifically opportunities for students from minoritized populations to develop their educational and career goals.

Unique among R25 grant recipients, the BRUSH Program is attached to a veterinary school. Other, similar programs are linked to human medical colleges, which gives the BRUSH Program a special role in helping students understand the role of veterinarians in both animal and human health.
Making New Norms
Dr. Susan Ewart, professor in the College's Large Animal Clinical Sciences Department, heads up the Program. To her, programs like BRUSH are the first step to diversify the biomedical field by presenting research work to those who have never been given the chance to experience it firsthand.
"We expose students to research as a career option," she says. "Doing research as a career isn't for everyone, but if you've never tried it, you're not going to pick it."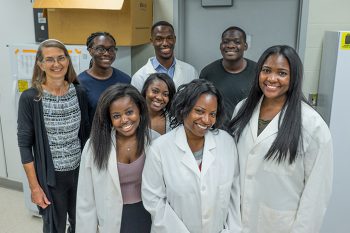 Each summer, 10 students participate in the Program. Some are MSU students; some come from other universities. Their educational backgrounds are diverse: some are pre-veterinary students, others are not. Throughout the Program's 10-year lifespan, more than 90 students have participated. Of those, about 68 percent who were undergraduate students have continued on to graduate school, medical school, or veterinary medical school.

"The vast majority have remained in the sciences in one way or another," says Ewart. "And by doing so, they are shifting the norms. Whether they're veterinarians, or physicians, or teaching science to high school students, they are there until the presence of underrepresented demographics in science becomes the norm. That's the bottom-line outcome."

According to Ewart, it's important to go beyond the initial introduction to research, however.
"For students who may have been discouraged, subtly or actively, from pursuing science, it takes more than saying 'Here, do science!' to welcome and encourage them in the scientific community," she says. "We are intentional in building a network of engaged, available mentors and peers. Students build a community—friends to share struggles and successes, who understand going in late to feed cells, or struggles with statistics."
Advocates and Ambassadors
Not every individual who participates in BRUSH goes on to pursue a career in biomedical research—and that's okay, according to Ewart.
"Regardless, it's important that every student learns about knowledge generation," she says. "They learn where information comes from, the critical thinking that leads to it, and how to evaluate—how to not simply take what someone tells you at face value. It couldn't be more relevant to today's world."
As participants, BRUSH students tackle their own research projects, often under the umbrella of research already being conducted by College faculty. They handle samples, conduct image analysis, and generate data, which they then analyze and present to others. During this process, participants learn to write abstracts, create scientific posters, and plan talks—all typical aspects of science communication work.
Where BRUSH goes further is in encouraging students to package their research for a broad audience—one without advanced scientific knowledge.
"Communicating science is foundational to the scientific method," says Ewart. "Students have an assignment in which they have to 'share the story' of their research. For this project, students have created blog posts, poems, songs, skits—all sorts of things geared to explaining science to everyday people: friends, family, the person at the grocery store. All students should be able to have those conversations, to help educate all of us."
"We've picked all the low-hanging fruit off the tree of knowledge. What's next is hard. It will take a community of scientists to solve the challenges ahead."
It doesn't happen all at once. Working as a team, BRUSH students begin at step one.
"Public speaking is one of the most anxiety-provoking activities known to humankind," says Ewart. "We build that skill every week. We call it Data and Dining. We gather at the dining hall or virtually around dinnertime when COVID made us work remotely. Each student talks about a piece of their research. At the end of the summer, they can give presentations with confidence."
Their practice culminates with presentations at various conferences, such as MSU's Mid-SURE, the Annual Biomedical Research Conference for Minority Students, or the Boehringer Ingelheim Veterinary Scholars Symposium. (BRUSH students present at events that best suit their backgrounds and career goals.)
"That's an important part of keeping students in the sciences," says Ewart. "They feel they can succeed because they have. They've created something and shared it in a professional setting."
A Community of Scientists
By correcting the underrepresentation of certain demographics in the field, scientists can better tackle biomedical issues that need attention. Numerous studies have brought to light health disparities based on race, income, zip code, and other factors. Issues such as racism are considered public health threats by many institutions. Research that tackles these issues will improve public health and wellbeing for all.
Scientists of differing racial, gender, religious, and other identities bring critical perspectives to the table at a time when they are needed greatly—which is always.
"Diversity of thought is important. If everyone has the same background, you're going to come up with the same solution, and that won't suffice for the complex problems we have today," says Ewart. "We've picked all the low-hanging fruit off the tree of knowledge. What's next is hard. It will take a community of scientists to solve the challenges ahead."