You're a middle-school student faced with an animal patient: Comet, a ten-year-old Bichon Frise whose leg appears injured after a jump from a bunk bed. What do you do?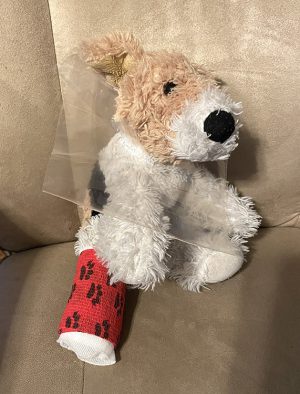 Fortunately, there's no pressure. You're only taking part in a simulation, Comet's health is not really in your hands, and the dog you are about to bandage is made of stuffing and cloth—you've still got 15 years to go until vet school!
These hands-on learning opportunities are brought to life by students belonging to the BIPOC Club at the MSU College of Veterinary Medicine, with coordination and support from College outreach specialist Micaela Flores. They partnered with Michigan GEAR UP and the MSU Office of College Access Initiatives to educate kids from diverse backgrounds about career paths in veterinary medicine.
The students from BIPOC Club (DVM students Kimberly Guzmán, Nicole Hamlin, Lindsay Jordan, Uzma Manzoor, Jade Ognibene) walked 150–200 eighth-grade students at a local Lansing middle school through a fictional patient scenario: having them consider how to evaluate and treat Comet. As part of the virtual walkthrough, students practice bandaging a patient of their own—a stuffed dog, not a real one.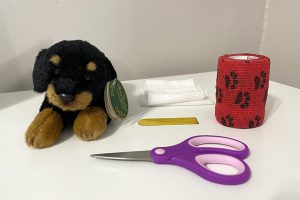 "The students were provided a stuffed animal and bandaging equipment to follow along the case presentation of how to fix a broken bone," explains Kimberly Guzmán, co-founder of BIPOC Club. "They seemed very engaged with placing bandages and learning how they too can become veterinary doctors."
Following Along
First, students meet Comet, their patient. Comet is having difficulty walking after his leap from the top of a bunk bed. Students are challenged to identify what they should do first: perform surgery? Take x-rays? Do nothing at all?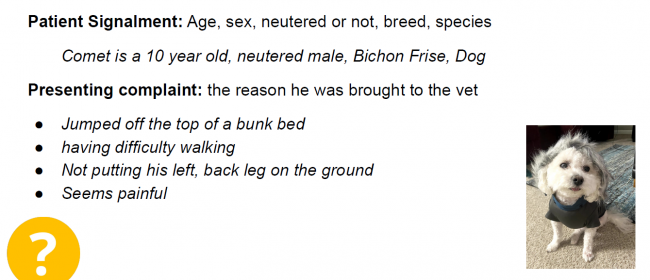 After students identify the next step (to take x-rays), presenters from the BIPOC Club teach them the anatomy of a dog's leg. Together, they study real x-rays.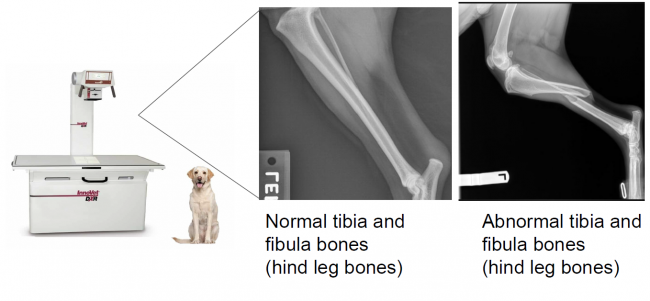 It's time to bandage the broken bone. Using their stuffed animal, students practice wrapping the three layers of bandage: the cotton cast padding, the gauze bandage, and the splint with colorful adhesive bandaging tape.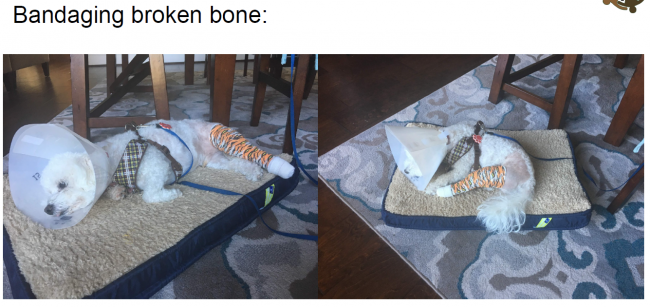 The presentation closes with a discussion of what's next for Comet, and young students talk about ways they could gain experience working with animals if veterinary medicine interests them.
"Outreach and mentorship programs are vital to expose students to different careers," says Guzmán. "Diversity, equity, and inclusion groups, such as MSU's BIPOC Club, Latinx Veterinary Medical Association, and the Association of Asian Veterinary Medical Professionals can especially help expose underrepresented communities to veterinary medicine. We must continue this work."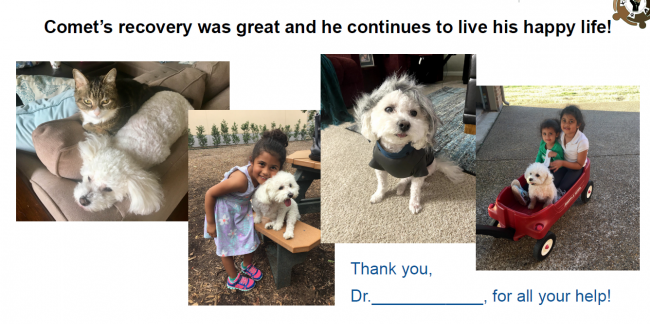 Related Stories: