Dr. Ian Moore is the 2022 winner of the Michigan State University College of Veterinary Medicine's Diversity, Equity, and Inclusion Award. The award recognizes an individual the College's faculty, student body, staff, or alumni community for contributions to diversity and inclusion.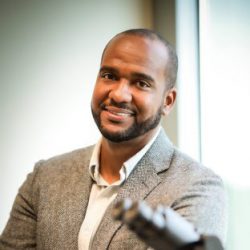 Ian Moore, DVM, PhD is the 2022 winner of the MSU College of Veterinary Medicine's Diversity, Equity, and Inclusion Award.
Moore, who underwent a dual residency and PhD program at the MSU Veterinary Diagnostic Laboratory and College of Veterinary Medicine after earning his DVM degree from Tuskegee University, was selected for the award based on his public health outreach work and his continued work providing science experiences to students at all educational levels.
Moore aims to provide youths with opportunities that can empower them to improve their lives and those of the people around them, irrespective of their socioeconomic status or ethnicity. He argues that diversity in STEM fields brings equally diverse ideas to the table.
"It would be near impossible to prove, but one could argue that as a society, we would, or could, be much further ahead of where we are currently if not for the many years of people being denied access to educational opportunities because of their race, gender, or some other bias," says Moore.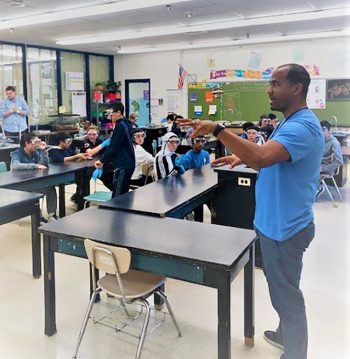 "What could those long-lost and discouraged children, men, and women have become?" he continues. "What life-altering advancements did we miss out on because of someone's selfish desire to restrict someone else's ability to learn?"
Currently, Moore serves as the director of the Division of Pathology at the Emory National Primate Research Center at Emory University. In his volunteer outreach work, he uses his perspective in biomedical research and pathology to educate the public (both children and adults) about health and safety topics. For example, after being recruited to be the veterinary pathologist that would lead the team conducting pre-clinical pathology safety and efficacy studies for a COVID-19 mRNA vaccine in 2020, Moore led a series of virtual discussions and videos to converse with the public about the safety, efficacy, and value of becoming vaccinated.
"It was not until I spent time speaking to people about vaccinations that I saw how badly people needed a translator and trusted source about biomedical research, and to debunk many of the free-flowing myths that, in some cases, kept people from getting treatments, therapies, and preventative care they needed," he says.
More about Moore
Read about Moore's disease research, and how stories can be told from animal tissue, here.

Moore has also spent time tutoring, speaking about pathology and veterinary medicine at career days, arranging educational programs for high school students inside of professional laboratories, and other outreach efforts.

Moore aims for students to envision themselves entering STEM fields. "With children, you can shape how they see the future, and their role as potential contributors in the field of science."
Previously, Moore served as a veterinary pathologist at the National Institutes of Health, where he researched infectious and allergic diseases. He is also a diplomate of the American College of Veterinary Pathologists. Recently, Moore was invited as the Diversity Keynote Speaker at the 2021 Purdue Veterinary Conference, and spoke at the 2021 Annual Veterinary Medical Symposium at Tuskegee University.
The Diversity, Equity, and Inclusion Award recognizes an individual from the MSU College of Veterinary Medicine Community (faculty, student, staff, or alumni) for contributions to diversity and inclusion in alignment with the College's values.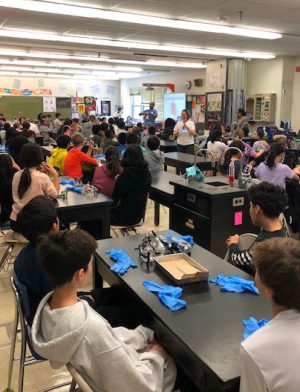 From Moore's nomination letters:

"When he goes to schools to speak to young people, he goes there to excite them about the science, but also to remind these kids that someone that looks like them has ascended to the highest echelon of the scientific world, and that they too should aspire to use their minds to pursue whatever sparks their interest."

"He has reached back to offer a helping hand for those who would aspire to follow him in a similar path to success. In particular, he has worked to build an early pipeline for Black students interested in STEM careers. Seeing a successful and positive Black man judging the high school science fair, or standing up at the elementary school career day, or arranging a summer student experience in an NIH lab, can motivate young talent to strive for a lifetime of scientific discovery and service."