By Bridget Walker, DVM Class of 2021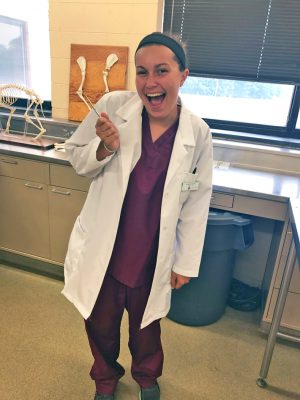 The world of veterinary medicine can be an amazing and exciting place! But, how do you become the veterinarian that you want to be? One thing is for sure: education is everything. The knowledge gained and lessons learned in veterinary medical school are the foundation for every good veterinarian. While it is near impossible to remember every little detail learned in class, doing your best and continuously trying to create connections will help you to be successful as you complete your schooling and begin your career.
One of the best ways to help you remember what you learn in class is to put your knowledge to work and get hands-on experience. The Michigan State University College of Veterinary Medicine has several great hands-on opportunities, like veterinary-club-run wet labs, gross pathology rounds, and work in the Hospital as a surgical assistant. These experiences have helped me to solidify the information that I absorbed through countless hours of lectures. Remembering different drug classes and reviewing the location of veins in the body (things I never imagined I would know), have become second nature to me through my hands-on experience.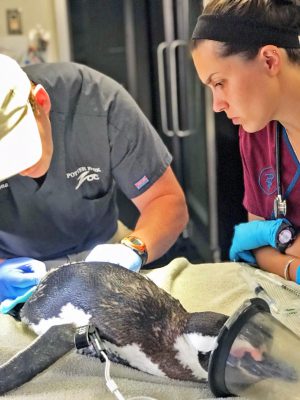 I've spent my summer working at Potter Park Zoo in Lansing, MI and Binder Park Zoo in Battle Creek, MI; it has been the best hands-on experience I've had so far as a veterinary medical student. Dr. Ronan Eustace, director of animal health for Potter Park Zoo, and Dr. Kim Thompson, veterinarian for Binder Park Zoo, are fantastic mentors. They've helped me become more comfortable with performing physical examinations, assisting with anesthesia, drawing blood, running clinical tests, coming up with possible diagnoses, and formulating treatment plans on animals, ranging from small frogs to giraffes. Hands-on experience is especially important in zoo medicine. Zoo veterinarians work on many more species than your typical veterinarian, so being able to practice comparative medicine is key. For example, the knowledge I gained from my first-year classes on renal anatomy, histology, and physiology now have real-world practical value when I'm faced with a meerkat who has kidney disease.
Veterinary medical education has two equally important parts: the academic aspect and the clinical experience aspect. You can't have good clinical skills without a solid academic base, but it would be difficult to be a good doctor without any hands-on experiences. Focus on both of these aspects, and you will be much more prepared for your future!