In May, we celebrate Asian American and Pacific Islander Heritage Month. This month is to honor the ways in which history—and veterinary medicine—has been enriched by members of these communities. In recognition of the occasion, one student leader at the MSU College of Veterinary Medicine shares her experiences and thoughts on inclusivity.
Jennifer Ding, DVM Class of 2025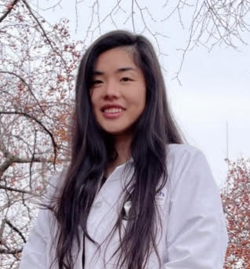 About: "My name is Jennifer, and I am a class of 2025 DVM student. I am a 1.5-generation Chinese-American; I was born in China and moved to California when I was in second grade. I lived in the Bay Area then attended the University of California, Santa Barbara and graduated in 2020. My interests include emergency, shelter, and specialty medicine. I am the co-founder and co-president of the Association of Asian Veterinary Medical Professionals (AAVMP) student chapter at MSU. I hope through AAVMP that we can help promote and raise awareness for diversity in the veterinary field, help foster a supportive environment for APIDA students, as well as encourage more Asian, Pacific Islander, and Desi American (APIDA) representation in our community and the field of veterinary medicine."
How can the veterinary community be more inclusive of APIDA individuals? "Compared to other health care fields, APIDA individuals are underrepresented in veterinary medicine. I believe this stems from stigmas about veterinary medicine in the APIDA community, as well as a lack of diversity. In order to diversify the field, outreach is critical to show young kids from minority groups what it means to work in the veterinary field, and that it is an attainable career. Providing mentorship and encouraging interest among APIDA youth, as well as supporting the current community of APIDA veterinary students, are important to ensure that individuals are welcome in the veterinary profession.
The stereotypes surrounding APIDA individuals and their relationships with animals can also hinder many APIDA individuals from entering the veterinary profession. I personally experienced this deeply rooted misconception a multitude of times in the form of microaggressions and racially charged 'jokes.' Within the past few years, the COVID pandemic has magnified this stereotype, and it is important now more than ever to educate those around us, and to show how harmful this way of thinking can be. In veterinary environments it is important to expose employees, students, and faculty to different cultures and schools of thought. Diversification is so much more than bringing together those who look different, it is also about spreading acceptance and the willingness to listen to others experiences. I hope to contribute to this movement, starting with fostering a community such as AAVMP, where we seek to increase APIDA visibility within the veterinary profession by reaching out APIDA youth and collaborating with organizations such as BIPOC, VOICE, and LVMA to advocate for greater general diversity within the veterinary profession."