Hispanic Heritage Month is celebrated from September 15 to October 15, and is a time to recognize the enormous contributions of Hispanic and Latinx members of society. Below, we recognize the contributions of some of the College's community members and ask them a question: How can the veterinary community be more inclusive of Latinx individuals?
Dr. Andres Contreras, Associate Professor of Large Animal Clinical Sciences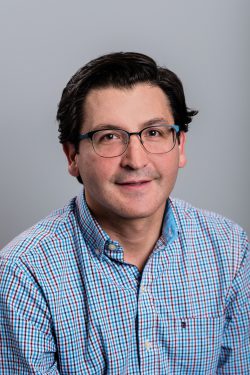 About: Andres Contreras (DVM, PhD) received his doctor of veterinary medicine degree from the Universidad Nacional de Colombia. He spent three years working with tropical cow-calf operations and grazing dairy herds in central Colombia. He then moved to Michigan to continue his education. At Michigan State University, he participated in the Large Dairy Internship Program, earned a master's degree in mastitis and milk quality, and attained a PhD in comparative medicine and integrative biology. He completed postdoctoral training at the Center for Integrative Metabolic and Endocrine Research at Wayne State University in Detroit. Today, his research program focuses on the adaptations of adipose tissue to inflammatory disease and negative energy balance and its implications to dairy cattle health, especially during lactation cycle transitions.

How can the veterinary community be more inclusive of Latinx individuals?
"One, we need to recruit more Latinos into DVM programs. We need to recruit more Latinos into DVM programs. Targeting recruiting efforts to populations such as children of animal agriculture workers would be an excellent option. This segment of the Latinx population has a unique knowledge of production animal agriculture that will expand the ever-decreasing number of veterinarians interested in large animal practice.
Two, Latinx DVM students would benefit from having a solid support network, especially during the preclinical stages of training, focusing on academic performance and mental health. The support network should target Latinx students with limited economic resources as those are more vulnerable to academic failure.
Three, fostering organizations like the Latinx Veterinary Medical Association will help recent graduates to find employment and provide resources to those in practice that are entrepreneurs and own veterinary clinics."
Orlando Ochoa, DVM Class of 2023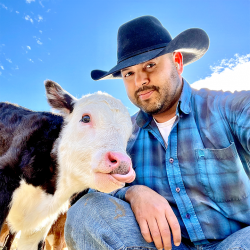 About: "I'm a third-year veterinary student at MSU. I was born and raised in North Hollywood, California and am a first-generation American in my family. Both of my parents were from Michoacán, Mexico, and relocated to California in the mid 1960s as immigrant farm workers. Therefore, I am studying veterinary medicine to work closely with immigrants who work to contribute and help improve our farming communities."

How can the veterinary community be more inclusive of Latinx individuals?
"Throughout my experiences working in food animal production, I tend to work more frequently with Spanish-speaking farm workers. During my first experience working in feedlots, being bilingual made it easier for me to make connections with the farm workers. I quickly found out that I was more than just a connection for treatment; I was a link of communication that could lead to better communication between all the employees in the hopes for more effective health care. Farm workers that had been working for a feedlot company for years suddenly were coming to me with questions about animal health, procedures, or the medicine that they were using to treat the animals. They weren't just coming to me because I spoke the language, but they were coming to me because I was also familiar with their culture.
This made me concerned of the big cultural gap when concerning food animal procedures. Helping to close this cultural gap is a way that the veterinary community can help become more inclusive. Most of the Latinx community understands that it is not easy to learn a new language or be completely fluent to make meaningful connections! Closing a cultural gap takes understanding, cultural awareness, as well as being able to identify possible differences and how they impact a particular culture's functions or beliefs. The bottom line is, showing effort can make a huge impact in any culture. Active listening is helpful when asking a client how to pronounce their pet's name correctly. Sometimes it boils down to something as simple as asking for clarification. Most of the time the Lantinx community is more than happy that you're simply showing interest. With practice, the veterinary community will be a more comfortable setting for the Lantinx community. What may seem out of the ordinary for one culture, might be a norm for another. Instead of being judgmental or using unintentional disapproving body language, it's important to focus on the quality of care rather than its demographic."
Eri Lack, Financial Analyst in the Office of the Dean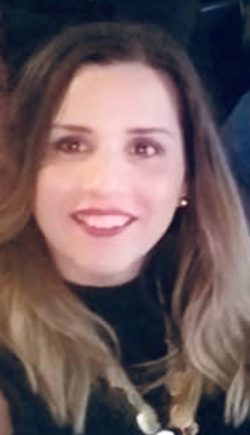 About: Eri supports the mission of the College by providing financial and administrative oversight. Eri began her career at Michigan State in 2009, and she has held different positions across campus. A native of Monterrey, Mexico, Eri graduated with an advance accounting/business degree before moving to the United States. In her free time, Eri enjoys traveling, reading, dancing, and spending time with friends and family, especially her husband Bruce and kids Sophie, Alexander, and her mini Bernedoodle puppy Minnie Moose.

How can the veterinary community be more inclusive of Latinx individuals?
"I believe the biggest step for inclusion and equality is understanding the Latin community. We all should be accepting cultural differences, and always provide support to each other by addressing challenges as they arise. There is value in learning about different cultures, treating every individual with respect, and even something as simple as being more open, accepting and tolerant of other people. At the College of Veterinary Medicine, I always feel supported and included, and this provides the environment I need to continue growing and advancing in my career."