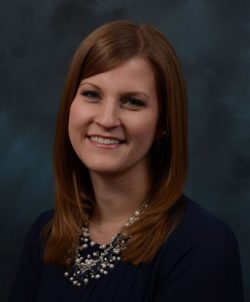 October 11 through 17 is National Veterinary Technician Week, a celebration organized by the National Association of Veterinary Technicians in America. The week brings awareness to the role of licensed veterinary technicians, also known as veterinary nurses, on the veterinary health care team.

Taylor Epp is the director of the Veterinary Nursing Program at the Michigan State University College of Veterinary Medicine. Epp assumed the role in 2017 after serving six years as an instructor in the Program. Epp herself is an alumna of the Program and also has earned a master's degree in educational technology from MSU.

How do veterinary nurses support the veterinary health care team?
Veterinary nurses play many roles, each of them vital to the veterinary health care team. They work with veterinarians to treat and care for animals. They possess specialized knowledge about animal health and well-being, which allows them to work in private practice, shelter medicine, education, biomedical research, government, and industry. Day-to-day duties include surgical assistance, anesthesia, x-ray, nutritional management, physical therapy, client education, and much more.
Veterinary nurses have a profound impact on their workplaces. Research shows that in private practices, effective utilization of veterinary nurses increases the revenues of the practice, provides better patient care, and improves service to clients. Improved utilization of veterinary nurses also affects the mental well-being of all veterinary professionals.
How have veterinary nurses responded to ongoing COVID-19 challenges?
Veterinary nurses have stepped up during this pandemic. In many cases, they've been the wheels making the train run, attending to a huge volume of patients under challenging circumstances. It's important to recognize how hard they have been working; here at MSU's Veterinary Medical Center and elsewhere.
Veterinary nursing students also have risen to the occasion. The way they learn has been transformed rapidly. Without realizing it, they've begun practicing skills that will help them in their future careers. Two building-block traits sought in veterinary professionals are flexibility and creativity—working with what you're given. Students have adapted and remained flexible at an impressive level.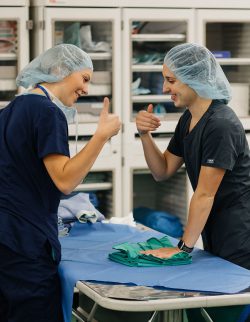 How has MSU's Veterinary Nursing Program changed since you were a student?
The Program itself hasn't necessarily changed; we maintain the high standards of the curriculum and have amazing instructors. The biggest change has occurred in the professional world, and that change is reflected in the Program.
The College has always advocated for the veterinary nursing profession, and as such supports the Veterinary Nurse Initiative, a nationwide movement to standardize credentialing, scope of practice, and professional titles across the profession, among other things. By doing so, the movement aims to enhance the ability of veterinary nurses to be recognized by the public for their work.
Part of the initiative is to change the title from "veterinary technician" to "veterinary nurse." To reflect this, the College went through the academic governance process to change our name from the Veterinary Technology Program to the Veterinary Nursing Program, effective spring 2020.
You have a master's in educational technology. Is that coming in handy as the College relies on technology for remote learning due to the COVID-19 pandemic?
My master's degree has given me foundational skills that have helped in the transition to remote learning, as well as to support those skills in our faculty. We were kind of lucky because before we switched to remote learning, the Program already used many of the technology systems offered by the University. The transition was still a lot of work, however, but the work ethic of our group has been incredible. Our veterinary nurses, veterinarians, and educators kicked it into high gear to maintain the top-notch education we promised students when they were accepted into the Program.
Our educators have found creative ways to make virtual learning engaging. That was one of our main concerns; we're a tight-knit and personal program, so hands-on, one-on-one or small group work is normal. We were concerned that students wouldn't connect with each other and their instructors virtually. But we've been pleasantly surprised with how engaged our student community has been with each other. And they are doing a great job reaching out and utilizing their instructors as they need to as well.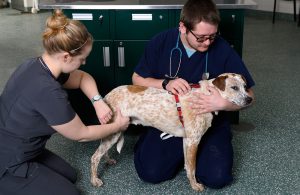 After graduating from the Veterinary Nursing Program, what brought you back to become an instructor?
As a student, I experienced firsthand the incredible instructors and the difference they made. I told my best friend, "If a position ever opens up here, I want to be an instructor." I am dyslexic, so in school I had to work hard at things like reading and math, huge components of veterinary medicine. But my instructors made sure that all students were successful. Their passion for veterinary medicine infected me. I wanted to be part of that.
As an instructor, I found from the other side that it's intoxicating to watch students grow and find their passions and helping them explore all they can accomplish in veterinary nursing.
You mention having dyslexia. Has that informed the ways the Veterinary Nursing Program makes itself accessible to students of varying backgrounds?
We've been very purposeful about the educational content we create and use, as well as the technology we use. It's important that it be accessible to all students. For instance, we add closed captioning to lectures posted online for students who may not speak English as a first language. We also blend synchronous and asynchronous learning styles in our courses and use active learning with hands-on labs.
Because we are a more intimate program, with the same instructors teaching throughout the entire curriculum, students and instructors build strong relationships. Students feel comfortable reaching out for support with class material difficulties—even life issues. We are here to help them be successful.