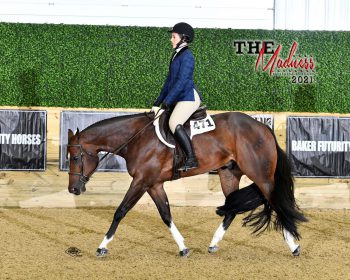 Renee McParlan describes her horse, Krown on the Rox, also known as RT or Krown, as "the kind of horse that everyone fell in love with at first sight." Renee and Jeff McParlan brought home Krown, a 4-year-old Quarter Horse gelding, in the hopes that he would make an excellent show horse for their daughter. "He was so trainable and willing," recalls Renee. "Four months after we got him, our daughter showed him at her first American Quarter Horse Youth World Show. It was a first for both of them, and they ended up tied for reserve champion in their main class. They had a bright future together."
Unfortunately, the McParlan family's plans changed when Krown's upper hock joint became infected shortly after the world shows. Jeff and Renee took Krown on the Rox to the MSU Veterinary Medical Center. Dr. Ashley VanderBroek took Krown's case, and together, Dr. VanderBroek and the McParlans began a three-month process of clinical care and surgeries.
"The MSU team was attentive, caring, and determined," says Renee. "With each interaction, we felt their love of animals and for what they do, as well as genuine care for RT's case. I received daily communication on him, and each time I visited RT, he was happy and well cared for. He regularly had doctors, assistants, and residents popping by to say hello, and it was evident that he was a well-loved patient."
Of course, Dr. VanderBroek and the McParlans hoped that Krown would pull through, but the dreaded decision came in January. After talking extensively with Dr. VanderBroek about the quality of RT's life, Renee and Jeff decided it was time to say goodbye. "When you go through something so difficult, bedside manner and compassion can make all the difference. When the day came for us to say goodbye to him, we did that together with Dr. VanderBroek, her assistant, resident, and another doctor. Our family is forever grateful to them for their care and compassion that day. An autopsy would later confirm Dr. VanderBroek's diagnosis of severe osteoarthritis caused by the joint infection, which while sad, was validation that we all made the right decision at the right time for him," Renee says.
Touched by the care they received at the Hospital, Renee and Jeff decided to turn a difficult situation into something positive—something that would help others. The pair established the Krown on the Rox Memorial Scholarship in May of 2022 to help equine-focused students. As Renee put it, "The dedication and love we experienced from Dr. VanderBroek and the entire team at MSU Large Animal is something we want to support for future generations. We know how difficult college can be for students today, and if we can assist with one small piece, we knew we had to do that."
Jeff and Renee hope that the scholarship relieves some of the financial pressure for students who have a love of horses as they work towards their goal of becoming veterinarians. The pair was grateful for the compassionate veterinary professionals at MSU, and they hope the scholarship will allow more students to experience mentorship from these individuals.
"Renee and Jeff's generosity in providing a scholarship for equine-focused students couldn't come at a better time," says Dr. VanderBroek. "There is currently a nationwide shortage of equine practitioners, and for a variety of reasons, fewer and fewer graduates are going into equine practice. This scholarship helps offload some of the financial aspects of veterinary school while fostering support for equine-focused students."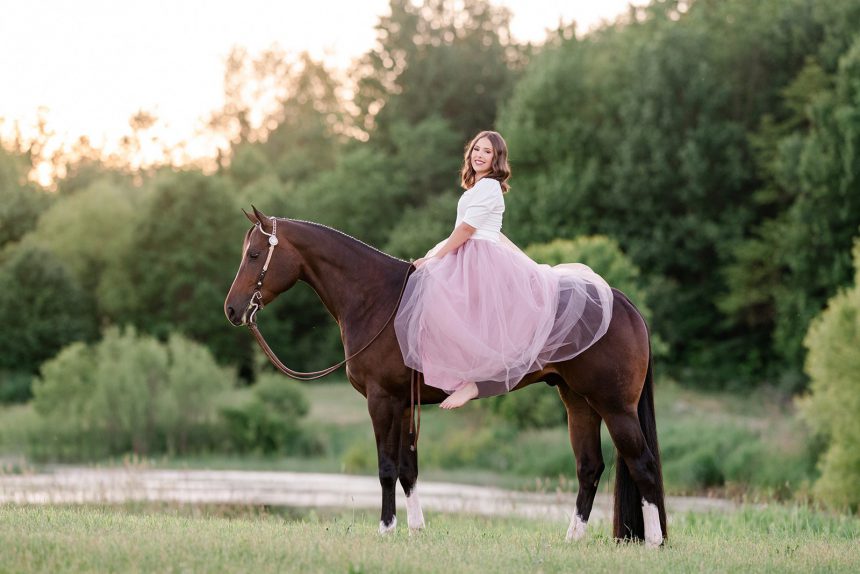 For Renee and Jeff, the scholarship is an important reminder of the importance of generosity, even in the toughest times. "Losing a beloved family member too early is difficult, but we knew each step of the way was the right step for us and for our horse," says Renee. "RT has the kind of personality that should live on. This scholarship is reflective of RT's giving nature. He was a phenomenal horse, and we hope this scholarship gives some phenomenal students opportunities for many years to come."
The Krown on the Rox Memorial Scholarship helps equine-focused students relieve some of the financial pressure as they work towards becoming Spartan veterinary professionals. Join the McParlan family—support the next generation of equine veterinarians.
Horsing around
Jeff and Renee spend most of their free time travelling the U.S. for horse shows and horse-related activities. When they're not busy with shows, they enjoy spending time with their three daughters, including an annual ski trip and visits to Lake Michigan. They're also sure to give a lot of love to their two Labrador retrievers, their cat (who thinks he's a dog), and their five horses.