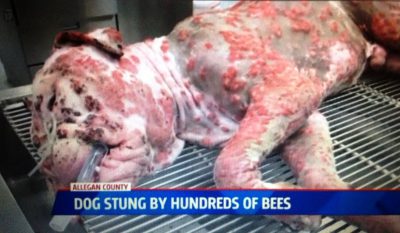 Stinger, a 10-month-old Pitbull Terrier, was brought to the Southwest Michigan Animal Emergency for a severe skin rash and hives. His owner reported that Stinger had been stung by bees. While the clinic staff worked with Stinger, his owner left and never returned.
The clinic doctor started Stinger on medications to stop an allergic reaction, but his condition did not improve. They contacted LuvNPupz rescue, who helped facilitate Stinger's transfer to the Allegan Veterinary Clinic. After being transferred, he was treated by Dr. JoAnna Kane. She sent in a skin biopsy, which revealed an infection and mites. Stinger was given new medications to treat the infection and kill the parasitic mites, and his skin condition began to improve.
Once he was looking and feeling better, he was neutered. Unfortunately, five days after his surgery, Stinger's skin lesions flared up again. Two days later, Stinger's condition was worse than it had been in the beginning with more irritation, redness, and crusting over most of his body, and he was depressed. Blood work was performed and revealed three changes consistent with ongoing skin problems: extremely low blood protein, an abnormally high white blood cell count, and a mild anemia. At this time, Stinger was referred to the MSU Veterinary Medical Center.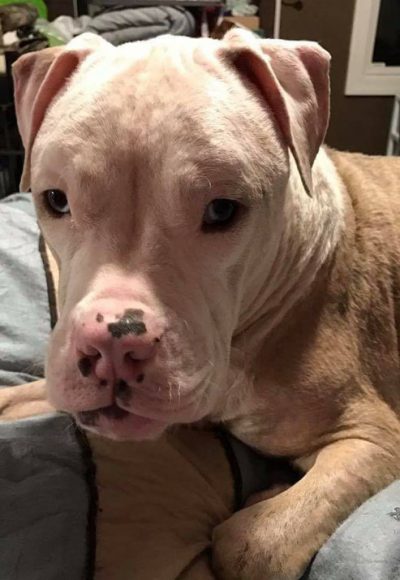 At MSU, Stinger was seen by Dr. Andrea Hasbach, one of the clinicians for the Hospital's Dermatology Service. During the exam, she found that Stinger's lesions and crusting were more severe on his head, back, and forelimbs. Additional tests to look at the skin for parasites, fungal infection, or auto-immune disease revealed that while Stinger was negative for parasitic and fungal organisms, he had biopsy findings consistent an autoimmune disease called pemphigus foliaceus.
Since Stinger's condition was so severe, Hasbach recommended stopping all other medications and starting him on a high dose of the oral steroid prednisone. Because auto-immune diseases are the result of an over-reactive immune system, their treatment relies on decreasing the immune response with immune suppressive medications, such as steroids or cyclosporine. Since he also had a bacterial skin infection taking advantage of his auto-immune disease, Hasbach prescribed daily dilute bleach soaks to manage superficial bacteria.
Stinger returned to LuvNPupz to recover while Hasbach continued to consult on his case. After a few days, Stinger had not improved, but he also wasn't getting worse. Hasbach suspected that the prednisone was not being absorbed through his intestinal tract because he was not showing any typical symptoms of steroid use, such as increased appetite, thirst, or urination. Hasbach switched Stinger to an injectable steroid called dexamethasone and recommended an evaluation of his digestive system's absorption. Stinger was beginning to respond after the change to the injectable steroid, and the additional testing supported poor stomach absorption due to low vitamin B12. Hasbach recommended weekly supplementation of B12 and made long-term recommendations for the management of Stinger's auto-immune disease. Over the next month, Stinger's lesions healed entirely, and he has since found a new place to call home.