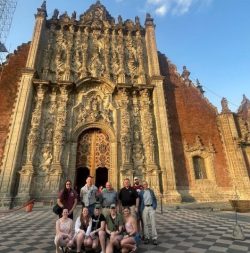 Students, under the guidance of Drs. Harold Schott, Jim Schumacher, Greg Crosley, Jeff Bunn, and Lauren Fischer, traveled around Mexico treating equids and growing their clinical skills through daily practice. The students had the opportunity to work in partnership with Universidad Nacional Autónoma de México (UNAM) and Universidad Veracruzana (UV).
The students and faculty shared their experiences with unique patients, rare conditions, and singular procedure conditions that are difficult to replicate in a hospital setting.
Ashley Greenlick – Day 4: Centro de Enseñanza, Investigación Y Extención en Producción Agrosilvopastoral Station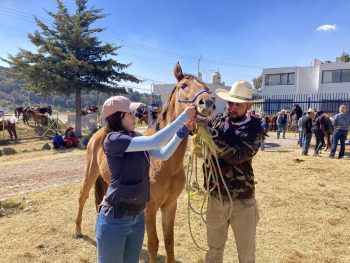 "The first few cases were slightly chaotic, as we were navigating communication with a language barrier and the number of animals waiting to be seen. However, it didn't take too long before all the students fell into a groove and started cruising through cases."
Ashley Miller – Day 5: Multiple communities near Chapa de Mota
"In the last community, the students got a different experience while working with wild horses that were not used to being handled. And to top it off, they were put in a chute for the first time which led to some close calls since they did not know how to act. It was a wild ride when vaccinating and deworming these horses."
Mona Bandyopadhyay – Day 6: Another multiple community day near Chapa de Mota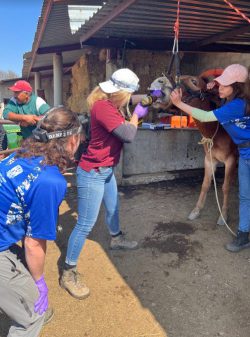 "This community had many young horses and foals to vaccinate and deworm which posed a fun challenge for our group. Once we finished intaking and palpating, we began surgeries, dentals, and hoof trimming. We performed a total of three castrations with two being cryptorchid surgeries. One of the mares receiving dental and hoof care had the most adorable and well-behaved foal that patiently waited to nurse while we worked."
Orlando Ochoa – Day 8: San Juan Tuxtepec and on to Veracruz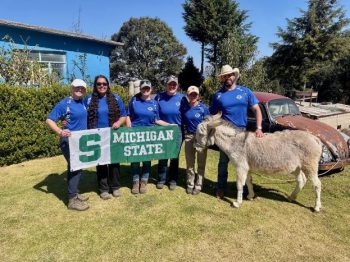 "There was a donkey to treat right away with overgrowth of all four hooves. It was a sassy donkey but with a little splash of pharmaceuticals and a well-trained team we were able to start work on her tiny feet. Under the supervision of Dr. Jeff Bunn, students learned how to trim the hoof back and correct the angle. When we were all done, the donkey rested well tied to the bumper of an old Volkswagen beetle and posed with the Spartans."
Ashley Greenlick – Day 12: La Nueva Victoria
"Our leader from UV, Dr. Alex, had an ultrasound machine so students were able to practice utilizing transrectal ultrasonography in addition to palpation skills started the week before. There were also several horses that were young and had minimal handling prior to being seen by us. This proved a welcome challenge, pushing us to use patience and proper horsemanship skills."
Ashley Miller – Day 13: El Diamante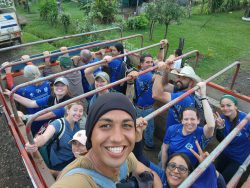 "The fun part about getting to this community was that we had to ride in the back of a cattle truck since the bus couldn't make the drive which was an experience that none of us had ever done before. Once we arrived at the community, we were greeted with horses lined up throughout a soccer field. By the end of the day, we had performed intake on over 100 equids."
Kylie Galla – Day 14: Coxcoapan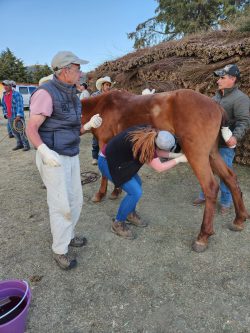 "It was raining on and off with high wind speeds and gusts up to 50 mph! We put our raincoats on and got to work. Several horses at this location required hoof trimming or had abscesses causing quite severe lameness. Many also came for castration or sarcoid removal, and given my interests are in large animal surgery, the volume of surgical cases made the wind and rain a little more bearable.
There has been such a high volume of cases for dentals, castrations, hoof trimming, palpations, and so on that we have all had the opportunity to become not only comfortable but substantially more confident and competent with all these essential equine practitioner skills in real-life situations. No other clinical rotation has quite that kind of opportunity."
The full pdf of in-depth daily entries of the clerkship is available below if you'd like to read on.
Part One
Part Two