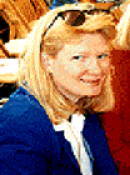 Tracy Anne Hammer came to the Michigan State University College of Veterinary Medicine in 1990 and was MSU's first dual-degree program candidate. While working toward her DVM, Hammer was simultaneously studying to attain a PhD in microbiology. In addition to being an impressive student, Hammer was always active in student affairs and teaching. She was a leader in implementing a hosting program for CVM applicants who were being interviewed on campus, organized the 1995 Phi Zeta Research Day, represented microbiology students on the College of Natural Science Dean's Student Advisory Council (despite not being a CNS student), and was an outstanding teaching assistant and tutor.
On July 17, 1996, Hammer boarded a plane to France on her way to present parts of her dissertation research at a meeting of the International Society of Animal Genetics. The plane crashed, and both Tracy and her mother, Beverly Hammer, along with the other 227 people on board, were killed.
In Hammer's memory, her friends and family, along with MSU faculty, staff, students, and alums made generous donations in order to establish the Tracy Anne Hammer Memorial Fellowship Fund. As the gift agreement reads, "This award is intended to encourage students who wish to pursue a dual-degree program within the College of Veterinary Medicine." In addition to being a dual-degree student, the recipient(s) is selected each year based on financial need, academic achievement, and demonstrated promise in making scholarly contributions to both the DVM and Graduate Programs.
The recorded recipients of the Tracy Anne Hammer Fellowship (since 2001-02) are:
Jamie J. Kopper, Assistant Professor, Veterinary Clinical Sciences, Iowa State University
Kara N Corps, Fellow, Comparative Molecular Pathology, National Institutes of Health
Emmalena Gregory-Bryson, Research Scientist
Sarah A. Hamer, Assistant Professor, Veterinary Ecologist, Texas A&M University
Jamie C. Morrison, Medical Director, Capital Area Humane Society
Lance C. Visser, Assistant Professor, Cardiology, UC Davis
Jennifer L. Sidge, Medical Ecologist, Michigan Department of Health & Human Services
Zoë Williams, Large Animal Clinical Sciences, Michigan State University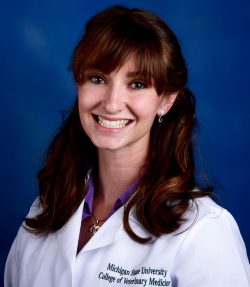 Zoë Williams, who received the fellowship in 2018-19 and 2019-20, focused her research on equine neuromuscular disorders. "This fellowship has allowed me to finish my PhD this semester, without taking on more financial burdens," says Williams. "I am truly grateful for this award and feel that I can closely relate to Tracy. Tracy was also a dual DVM/PhD student—in fact, she was the first—at MSU, and she also loved horses, though she focused her research on canine dilated cardiomyopathy. Her memorial fellowship has enabled me to pursue my DVM/PhD investigating equine myofibrillar myopathy. Tracy truly pioneered the way for ambitious dual degree students, and I want to continue her legacy."
The Tracy Anne Hammer Memorial Fellowship Fund aids ambitious students working toward a DVM and a PhD simultaneously. Join those who have contributed in Tracy's name—support CVM's dual-degree students.