The MSU College of Veterinary Medicine (CVM) has expanded its existing mentorship program with CVM Connect, an online platform that matches students with mentors who work in veterinary medicine. The platform also can facilitate "flash," or one-time, connections with alumni and host job and internship postings.
The mentorship program was developed to grant students access to the guidance and support of the veterinary community via mentors with real-world experience. Doctor of Veterinary Medicine (DVM) student Jose Mix, Class of 2023, and his mentor, Dr. Ignacio Correas of animal health company Zoetis, were matched via CVM Connect because of their common interest in livestock and large animal care.

"Our mentors can really help to just be voices of reason during times of uncertainty as we progress through the profession," Mix says.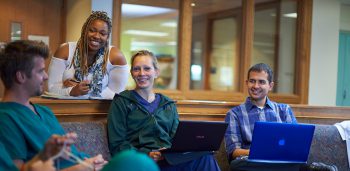 Originally from Colorado, Mix feels that the College's mentorship program allows him to form professional connections in Michigan and across the country. He also hopes to learn about aspects of veterinary medicine that he had not previously considered.
"I've had a very positive experience with my mentor," Mix says. "We've discussed our plans for keeping up to date, and I look forward to the insight I will gain."
As a mentor, Correas plans to follow up with Mix to hear his experiences working with a mixed animal practice this summer, as well as learn about the exciting challenges his mentee will encounter during his second year in veterinary school.
The veterinary profession is rapidly evolving, and Correas encourages his colleagues in the field to get involved. "Mentoring provides a great opportunity to keep up with current developments, whilst contributing to a future colleague's development," he says.
College faculty and alumni are eligible to join as mentors. DVM and Veterinary Nursing students are encouraged to sign up for CVM Connect to be matched with a mentor and access other platform features. Signing up is simple, and the platform offers integrated messaging and video conferencing capabilities, meeting reminders, and the ability to manage contact preferences.