It's no secret that pets are the real social media influencers. I don't know about you, but I find it impressive how they find all the time to tweet, take and edit their own photos, and post on Facebook and Instagram. Especially when I consider the mechanics behind it—I mean, they don't have thumbs; they're just dogs, cats, horses, pigs, rabbits doing whatever dogs, cats, horses, pigs, and rabbits do (probably horsing around, am I right?).
In today's world, we think of our pets as our family. This bond that we have with animals is taking over our lives, their lives, and social media. But, if we can't live a digital life without them, how do we handle it when we may have to live without them #irl? We do the only thing we know to do—take them to the vet.
This attachment we have to our pets makes veterinarians' jobs both easier and harder; if a veterinarian saves the life of our animal(s), they are savior to us forever. We will rave about them to anyone who will listen, write reviews on every online platform there is (thank #goodness for Facebook, Yelp, and Google reviews, am I right?), and stay loyal to them forever.
But, if there's nothing the veterinarian can do, the opposite reaction may occur, and it can be more dramatic. As someone who's unexpectedly and traumatically lost a pet before (my childhood miniature poodle, Felicity—RIP, baby girl), I know how painful this is. I also know how the salt of expenses and struggle to understand why she couldn't be saved makes the wound sting even more.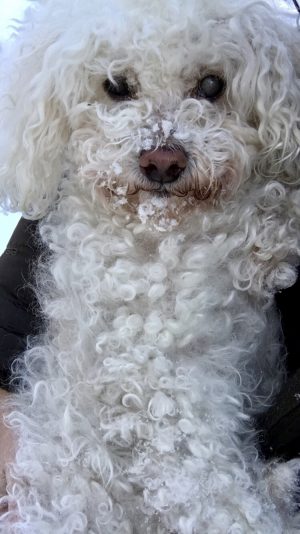 I'll be the first to admit that I'm a dramatic person who clings to her pets like a leech. Since I can admit that, I also can admit that I expect a lot from my veterinarian. Fortunately, for the both of us, I've never felt the need to write a negative review, nasty Facebook comment, or dramatic Instagram post about my less-than-ideal experience at a veterinary clinic. However, I know the tables would turn if I felt like the staff at a veterinary clinic weren't being supportive, patient, or explanatory enough. And I would raise heck if all that happened on top of losing my pet, and then was faced with this ginormous bill. I mean, I would've just lived my worst nightmare; why shouldn't I share that with the world?
It hasn't always been like this, though; there was a time before social media and online reviews. The beginning of the end was February 4, 2004: the day Facebook launched. Before then, veterinarians didn't need to think much about what people were saying about them online, or what their digital presence was like. Veterinarians only needed to worry about reviews that were spread via word-of-mouth, not with the copy and paste function and multiple clicks of a computer mouse or taps on the screen of a smartphone. Today, within seconds, someone can login into Facebook or post a photo on Instagram of their deceased pet and share the negative experience that they had at a veterinarian's practice. Within a few more seconds, that review can be seen by, commented, on, and shared with hundreds of people.
Before I posted all over me and my pets' social media feeds, I hope I would remember something: decisions regarding our pet(s) are difficult due to our deep bond with them, and those decisions are even more unbearable when financial restraints are involved. Similar to doctors in human medicine, there are several factors that are out of veterinarians' control, like the cost of procedures and the time it takes to receive diagnostic test results from a laboratory.
Regardless of this knowledge, the fact is that veterinarians are often bashed and degraded on social media when a client has a negative experience at their clinic. They are accused of not caring for pets and being money hungry. This is not true for the majority of veterinarians. On average, the salary of a traditional veterinarian starts at $50,436 dollars per year. When veterinarians recommend expensive procedures and treatments, it's because they are looking out for us, the pet owner who cannot live without our animal(s), and our pet(s), who requires said treatment.
On top of saving the lives of as many animals as possible and developing their businesses, veterinarians also must accommodate the deepening bond that people have with their pets, and realities that come with that, and the very public digital sphere that clients use to share the experiences they had with their veterinarian. All it takes is one Facebook review, Twitter poll, Yelp post, or Instagram story to determine a veterinarian's reputation.
Prior to February 4, 2004, when an animal passed away in a veterinarian's care, they didn't have to continue to relive the owner's pain in social media posts complete with pictures of adorable now-dead Fluffy. They didn't have to deal with past and potential clients not coming to their practice because they saw a review on Facebook that said they only care about money and not animals. This isn't only difficult to deal with as a veterinarian, but it's almost unbearable to deal with as a person—a person who went into veterinary medicine because they love animals and want them to have the best lives possible.
Veterinarians, in addition to being experts, miracle workers, and confidants in their field, are now challenged with maintaining their esteem, reputation, and likability—not only in the physical presence of their clients and their pet(s), but on social media as well. Their passion and practice are under a microscope—of which they cannot change the magnification.