By Dr. Hal Schott, DVM, PhD, DACVIM
Screeching scarlet macaws and blabbering parrots as a wake-up call. Blue skies and sunshine in January. Sounds like paradise, unless you are a working equid in Costa Rica's Osa Peninsula. That's where Drs. Schott and Petersen (and their two high school children) and Sue Wismer, LVT spent a week in late January as participants in the 6th Equitarian Workshop, sponsored by the American Association of Equine Practitioners.
Equitarian = Equid + humanitarian = volunteer efforts and programs in developing nations around the globe to help working horses, mules, donkeys, and burros that account for 90% of the world equid population.
These working animals are essential for the economic stability of the families that own them. In Costa Rica, most working equids are small horses that are used to carry coffee and other crops, work on ranches, and, to a lesser extent, for tourism. The good thing about living in a country with a lot of sunshine and rain is that horses have access to adequate forage and most were in fair body condition (no fat horses there). However, they are plagued by ticks, equine infectious anemia, piroplasmosis, and vampire bats – not the nicest living conditions.
Over the week, our group of about 30 veterinarians, technicians, students, and support staff were transported to work sites in cattle trucks, cared for about 350 equids – examinations, vaccinations, deworming, castrations, dentistry, hoof care, wound care, and overheated horses (that had traveled several hours to be cared for). By the end of each day, buckets of both horse and human sweat had been lost and many chigger bites were sustained, but spirits were high as this is one of the most rewarding veterinary experiences to be had.
Over the next year, MSU Large Animal Clinical Sciences and Animal Science faculty are exploring potential partners in Mexico and Latin America with a goal of establishing a longer term support program for working equids. In addition to helping a third world community in need, such a program would provide primary care experience for MSU veterinary students, management, and husbandry experience for Animal Science students, as well as an option for Michigan equine practitioners to participate in an Equitarian experience. Please contact Hal Schott or Sue Wismer if you would like additional information.
Day 1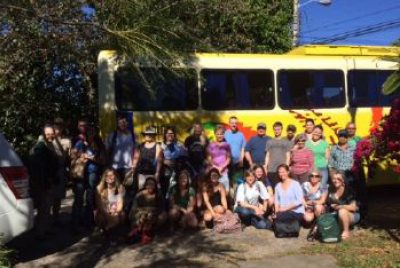 By Matt Kornatowski, DVM
The 6th Equitarian Workshop got under way today in San Jose, Costa Rica with a group of nearly 30 people and a big yellow bus. It was a rocky start for some. Missing among this group were three notable Equitarian leaders, Dr. Jay Merriam, Dr. Dave Turoff, and Amy McLean, PhD, all due to medical reasons that precluded flying. For the first time, The Donkey Sanctuary was absent due to a last minute issue for their staff member, Zoe Raw. Storm Jonas precluded planned departures from the Charlotte airport (Judy Batker and Heather Sinclair) and fog shut down the San Francisco airport, stranding Canadian David Paton. Miraculously, all three were able to catch up with us by catching flights from San Jose down to Puerto Jimenez.
The group this year includes veterinarians, vet techs, vet students, undergraduate students, and PhDs, as well as a farrier and a saddler from Latin America. We also have Roxy and Dave Bell's son and daughter, who have been well trained to work as technicians for veterinarians. Dr. Hal Schott and Dr. Annette Petersen also brought their son and daughter, both in their teens, to learn more about work in developing areas, and to see the beauty of Costa Rica.
After a brief early morning yoga session led by Mickey Bell, one of the workshop attendees, we left from a wonderful B&B (Margarita's) and trekked nearly seven hours down the coast. Our first stop was at the famed crocodile bridge. Congregating underneath this lengthy bridge are quite a number of crocodiles just waiting for a misstep from a tourist (or Equitarian). We walked away from the bridge unscathed.
We stopped for lunch at a small restaurant near the beach called Su Raza. A typical Costa Rican meal, referred to as a 'casado" was enjoyed by all. This meal is usually comprised of rice, black beans, plantains, salad, and a protein – in our case, it was fish.
After this, the trip continued through palm oil farms (rows and rows of palm trees) until we finally arrived at our destination – Puerto Jimenez, located on the Osa Peninsula. Marianna, our local contact, greeted us with open arms and got us set up at the local church. This shall be our home for the next week (luckily, there are no crocodiles). The accommodations are rustic, but we have a roof, clean water, and (somehow) Internet.
Dinner was held at a local restaurant where we were informed that the cook was famous for her soups. I must say, however, that everything was delicious, not just the soup. After filling our bellies, we returned to the church for a quick lecture and overview of what is yet to come this week.
Day 2
By Matt Kornatowski, DVM
Our second day in Puerto Jimenez was a day of lectures and discussions to prepare us for what is yet to come. Many topics were covered.
Immediately following our Yoga lesson (this is going to be a recurring theme), breakfast was served to us by a local Tico family. (Tico is a term for a native Costa Rican.) The ladies actually gathered all of the mugs from their homes, as well as their neighbors, so that we could have coffee. The outpouring of support from this community is amazing! The breakfast was standard Costa Rican fare - rice and beans with scrambled eggs and a locally made cheese. We have also had a plethora of fresh fruits available to us.
... these animals are a lifeline for the people. In some countries, without a donkey, kids don't go to school, or the family may go without water.
Our lectures covered a variety of topics, including the concept of One Health (the fact that human and animal medicine are interrelated), common wounds seen in working horses and how we can prevent them, and skin diseases. We also discussed the importance of having an equid available to a family. It's becoming quite clear that we are not only here to help horses, but also to help the people.
We learned about some of the research that is being done on these trips. As stated in yesterday's blog post, there are PhDs that take part in these trips. They, along with others, are here to look at things such as the economic impact of what we are doing, the improvement of life with improved care of the animal, welfare measures, as well as infectious diseases and their effects.
The stories told during these lectures regarding previous Equitarian trips are amazing. It's
important to keep in mind as we go through these blog posts this week that these animals are
a lifeline for the people. In some countries, without a donkey, kids don't go to school, or the
family may go without water. It's pretty amazing how we often take these things for granted.
The lectures today summed up a lot, not only about what we can give to these communities,
but also what we can take away from the experience.
To reinforce the research lecture, a quick demonstration was performed with a local donkey. We ran through the morphometrics that are being studied to monitor body condition in these equids, as well as further discussion of issues we might be looking for.
The day was wrapped up with a fantastic meal and performance by a local musician and his daughter, all arranged by Mariana. We also enjoyed dancing (or watching) some of our group. The more adventurous went for a quick moonlight swim. Then, it was back to the church to shower and relax for tomorrow's events.
Day 3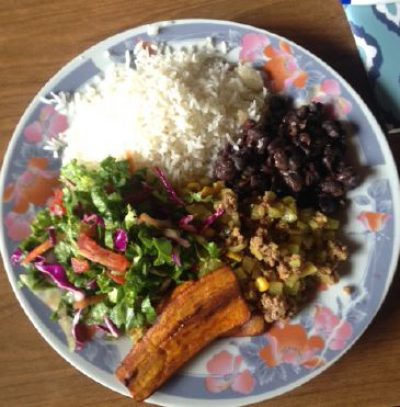 By Adrienne Otto, DVM
The morning yoga class has blossomed, inspiring nearly all the Equitarians to participate for at least part of the class. Thanks to Mickey, we have had a half hour of stretching every morning, and she has made it easy for other Equitarians to join in. This morning, almost all of us were there for some part of this wonderful way to start the day.
Off again to the 'salon,' where we attend class. This space is nearly wide open with a tile
floor, six ceiling fans, incredibly fast Internet, and a constant supply of cold water, juice, coffee,
and fresh fruit. Given how hot and humid Puerto Jimenez is these days, Mariana has
found us the best possible accommodation for our classroom activities. We had a very short
lunch and carried right on through with excellent presentations. Personally, I found Dr. Hal
Schott's presentation extremely provocative. His work and research regarding hydration dynamics was unexpected and compelling.
We said farewell, y MUCHISIMAS GRACIAS to the community ladies that have been feeding us awesome breakfasts and lunches for the last several days. Then our wonderful Mariana arranged an outing on her friend's boat out on the Golfo Dulce for us to cool off, swim, eat, and see more of this beautiful area. This was truly an unexpected treat, as the boat also sported a slide. Before long, many of the team were trying to outdo each other with stunts off of the slide and jumping off of the upper level of the boat. The sunset was stunning.
To add to the adventure, the boat became grounded by the rapid drop in water level due to extreme tides. We all had to move to the front of the boat to try to lift it off. When that failed, a number of the young veterinarians jumped back in the water to push the boat off into deeper water.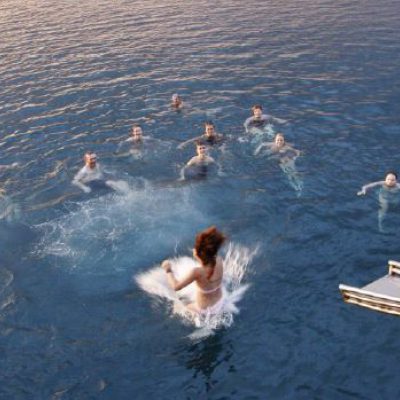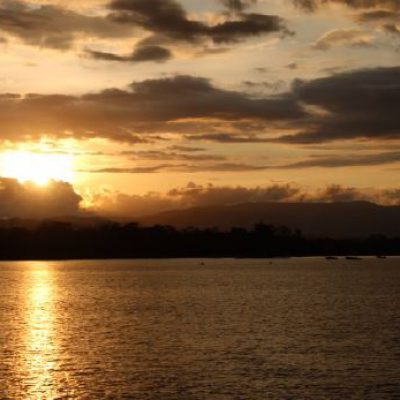 Tomorrow, we hit the 'campo,' our first workday, on the road by 6:00 a.m. La Palma is a community new to the Equitarians. Although we have no idea how many equids will be presented, we have a plan A and B to be sure to make the most of our resources. Stay tuned!
Day 4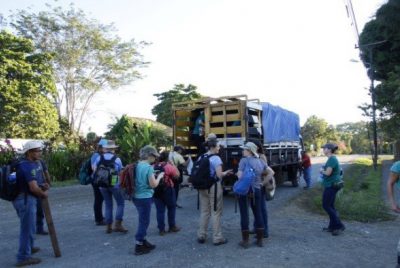 By Ashley Leighton Kornatowski
Our first field day just closed, and we have a bunch of dirty, sweaty, tired, but smiling, Equitarians back at base camp. We started our day at 6:00 a.m. sharp as we gathered for a thoughtfully prepared on-the-go breakfast (egg/meat burritos and bananas) before we loaded up the truck for La Palma. Cattle trucks are a common means of transport of people and gear in Latin America. We were able to fit all our gear and many of our group members for a slightly bumpy ride to our work site.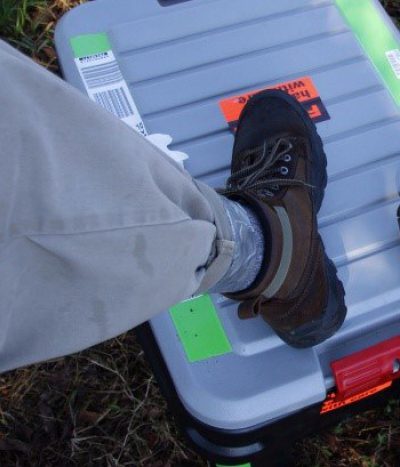 We've been warned by our local guide and guardian angel, Mariana, that the chiggers in this region are BAD – especially out in the farms, which are hosting our field work. Chiggers are a nasty little juvenile form of a mite, which likes to hang out in deep grass or leaf litter to wait for unsuspecting animals – or Equitarians. They climb up pants with ease, and their bites are particularly itchy for a long period of time. The name of the game is prevention, so we are taking somewhat extreme precautions: DEET application, followed by tucking in our pants into our socks, followed by a ring of duct tape to help keep the buggers out. We must look fairly ridiculous to our Costa Rican friends, but for their part, they haven't let on that they believe our group has a very odd sense of fashion.

When we arrived in La Palma, we were greeted by our gracious hosts, Doña Isabel and Jito Jimenez. We got to work quickly, unloading our gear and setting up the various work sites – four intake stations, dentistry, surgery, farriery, a centralized pharmacy, and an educational area for local children. And then we were off! We were all pleasantly surprised by the overall good condition of the horses at this site – the horses want for lack of basic veterinary care (which is just not available in this region), but they certainly do not want for care and attention from their owners. It is common in this area for horses to be fed a "ration balancer" of honey topped with salt, to supplement the diet of pasture. Castrations, dentistry, and hoof care were all common presenting requests.
Our team ended up seeing 54 horses total, including 13 castrations (with one bilateral cryptorchid in there!), at least as many dentals, and too many hoof trims to count. Every horse that came through received a thorough physical examination, vaccination for Rabies and Tetanus/Encephalitis, deworming with ivermectin (unless recently dewormed), and topical application of an insecticide (Fipronil, off label for horses but quite effective against ticks, and readily available in this area). The worst-off horses we saw, by far, were the broodmares with suckling foals. It is common in this region not to wean foals until they are quite old, or the mare does it herself. It's easy to see the strain this puts on these mares, many of which are also pregnant and still working. A number of these gave rides to tourists with their foals trotting alongside.
Our long day was made much less taxing by the wonderful hospitality of Doña Isabel and her team, who not only fed us a delicious lunch, but also provided us with fruit, juice, fresh coconut milk, and cold water continuously. We then made our way down the street to a butterfly sanctuary for dinner. This sanctuary is set up as a way for local women to make a living by offering tours of the sanctuary and selling resin-preserved butterfly wings (from butterflies who die naturally). The butterflies were beautifu and the food was delicious, eagerly consumed by our hungry team… but that wasn't all! Two toucans and a Cherrie's tanager were spotted from the farm driveway. After dinner, we were also treated to a traditional dance by our butterfly sanctuary host's daughter and friend. They were eager to share their culture with us, and we enjoyed every bit of their performance. Then it was back on the cattle truck for the ride back to our base in Puerto Jimenez.
All in all, it was a great first work day for many of us for whom this is our first Equitarian experience. The horsemen and one horsewoman were all great to work with. The horses needed basic care, but were generally not in dire straits, and we were asked to do many procedures which will benefit the community for a longer period of time. Looking forward to see what tomorrow brings!
Day 5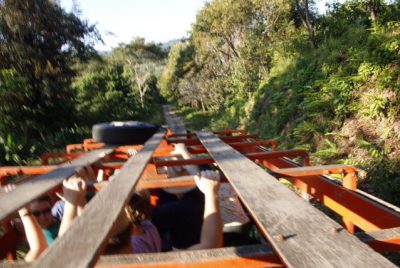 By Katherine Fertig and Craig Lesser
Today was our second day of working with the equids. We had a 6:00 a.m. breakfast call for grilled cheese and ham sandwiches along with the delicious coffee, followed by a very bumpy "five block" trip (meaning 15 minutes) to our next lodging site. We are now residing in a senior citizen daytime gathering place where local elders come to spend their days playing games, eating, and socializing. It is a fantastic facility and we feel very at home, especially our senior equitarians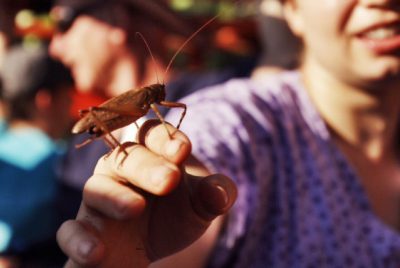 We continued our trek into the mountains in the back of a livestock transportation vehicle along tree-lined roads and scenic views. Along the very bumpy ride, we gathered a few more friends of the insect variety that accompanied us the rest of the way to a soccer field atop a mountain. We quickly discovered who did not like bugs! From there, we had a panoramic view of the ocean – not too shabby! The name of the community is Miramar.
It was time for work to begin. We started the day with a routine castration, followed by several dentals, vaccinations, physical exams, and hoof trims. One horse had some bumps on the nasal septum (separation between the left and right nostrils) that was biopsied. Other interesting cases included a suspect poll evil caused by Onchocerca, several dermatology cases, including sunburns and fly allergies, and old bat bites. A number of the horses were overheated, arriving with temperatures as high as 104, and panting respirations. These were cooled with repeated applications of water, and were then moved to the shade where their rectal temperatures slowly declined.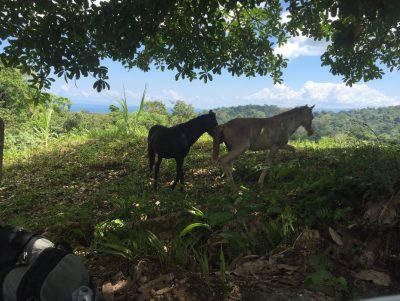 A couple of naughty babies decided to leave their moms to get a better view of the ocean. These had to be roped in order to be examined, vaccinated, and dewormed. One, a roan foal with a bald face, was already badly sunburned. We took turns to pause briefly for lunch which included a "to die for" hot sauce spread over our rice and beans. One of today's participants was Jason, aka Jito, the owner of the site yesterday, who wanted to learn more about horse care and farriery techniques. Omar addressed a number of ill-fitting saddles with owner education and demonstration of what was causing the lesions on their horse's back.
Our last horse of the day was a horse that had been purchased as a "gelding" but had continued to portray stallion-like behavior. Upon palpation of the scrotal region, two masses were palpated. He was anesthetized and it was discovered that there were two testicular remnants producing enough testosterone to display this behavior, but not enough tissue to be producing sperm. The owner was relieved to find that this stallion-like behavior should go away now that he has been fully castrated. In all, 30 horses received services and much health care education was imparted to their owners.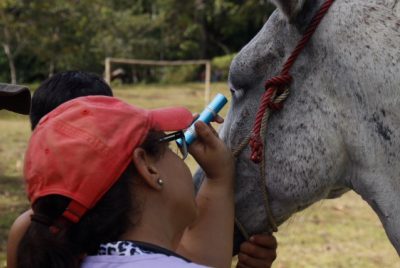 Since there was plenty of sunlight left in the day and our transportation had not yet arrived, Juan Lopez Garcia, the owner of today's property, wanted to take us to the waterfall on his property. The "short and easy downhill hike" was more of a slide down the jungle mountain side that ended at a beautiful waterfall in a grotto. The water was a little chilly, but very refreshing. On the hike back up the mountain, we saw a variety of local species, including spider monkeys, howler monkeys, scarlet Macaws, and a close encounter with a very long snake.
When we arrived back at the soccer field, a local dog approached us with a face full of porcupine quills. The group of horse vets put on their thinking caps and figured out a way to sedate the young dog. Numerous quills were removed successfully. Just before loading the transportation vehicle back to our lodging site, two toucans were spotted on the edge of the field. Another very bumpy ride, but this time, we didn't pick up any additional winged passengers.
At our new lodging site, we unpacked and stretched out all over the center. We gratefully inhaled an amazing lasagna dinner followed by rice pudding. Dinner was followed by a brief yoga session. Tomorrow is not as early. The truck is leaving at 7:00 a.m. It is expected to be a very busy day with lots and lots of equids.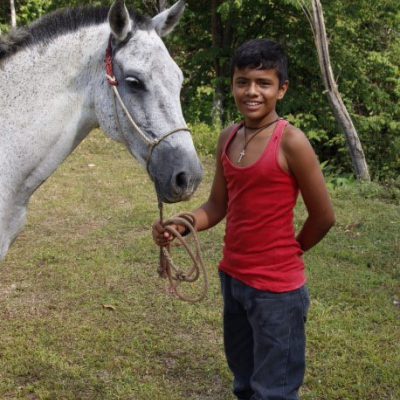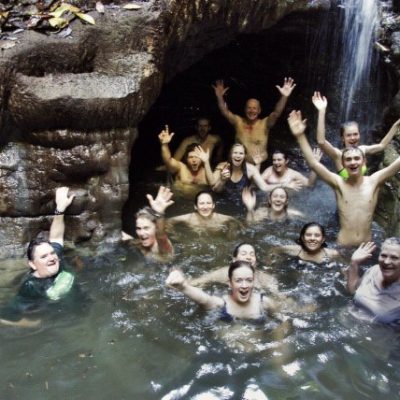 Day 6
By Hal Schott

We got to sleep in today – WOOHOO - breakfast at 6:30 and into the cattle truck at 7:00! Breakfast was scrambled eggs, rice and beans, and fried plantains – a Costa Rican breakfast of champions, not to mention fantastic coffee. The enteritis bug had a mild strike and we were down two Equitarians, but the rest of the group was moving full steam ahead (there is no other pace with our planner/guide/meal-juice-water provider/cheerleader Mariana in charge). After about a 20 minute ride, we arrived at the work site and there were already 30-40 horses waiting for us, along with one wandering donkey that no one claimed to own (but that needed brain surgery [castration] badly and entertained us all day with his braying).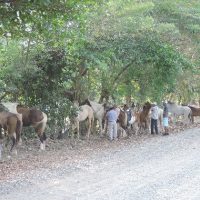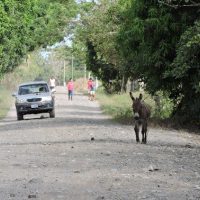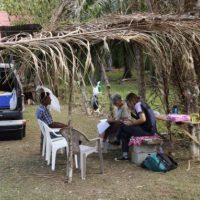 Once again, Lucy was in charge of registering owners and their horses (keeping some semblance of order to the Equitarian chaos). Our working area was a grass pasture with long grass (we are loving chiggers by now, but they have not yet learned to penetrate our duct taped pant legs) around which the perimeter had been nicely cleared of leaves and branches to provide a reasonable working area, largely in the shade. The morning was complemented by large groups of green parrots flying and squawking overhead. Our initial evaluation (triage) teams have become well-oiled machines and they rose to the challenge of having owners with 10 or more horses to process. Around 12:30 p.m., the heavens parted with a Costa Rican shower (deluge) in the dry season and all got a good soaking, except for a small group on lunch break (another fantastic Costa Rican meal complemented by fresh fruit provided by the local horse owners).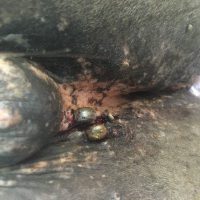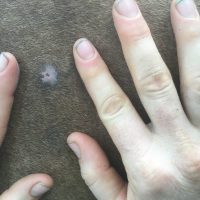 By 2:30 or so in the afternoon, we managed to examine around 80 horses and send five for castration, about 20 for dentistry, and even more for farrier work. All in all, this group of horses was in fairly good body condition, but once again we saw many infested by ticks, vampire bat bites, and overgrown feet.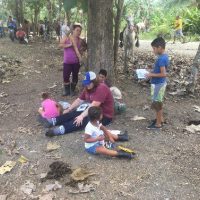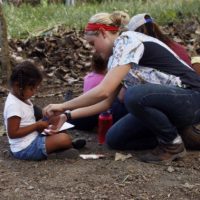 A somewhat perplexing problem we have seen at all sites is irritation and nodular proliferation in the nares and along the nasal septum. This problem results in serosanguinous to mucopurulent nasal discharge and partial obstruction of the upper airway. We have been able to collect biopsy specimens from two affected horses that we hope will provide more insight about this condition that may limit the productive work life of a substantial number of Costa Rican equids. Another unusual case was that of a markedly distended occipital bursa just behind the ears – another problem for which we wish we knew the cause.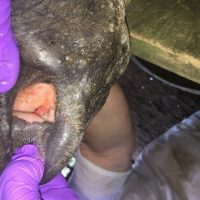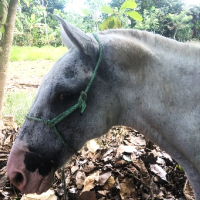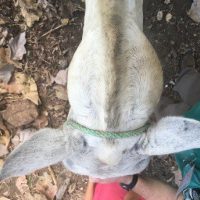 As the day wound down, another light shower made us scramble to pack up our equipment and supplies, although the dentistry team continued to work in a nice covered stable. After all the horses were done, our Costa Rican hosts treated us to a round of cervezas in a newly built open air house – the walls were beautiful teak wood collected locally on the farm – surrounded by a garden of fragrant greens of every hue.
On return to the Elder Care Center, guess who was waiting – the donkey we met at the end of the first classroom day – she seemed to want to join us for the evening! Dinner was a special treat of fish, salad, potatoes, and plantain chips – but half the crew missed the first round of dinner as they headed to Mariana's gift shop at the airport. They returned as the Schott crew was heading back to their lodging. Although the Equitarian gang is starting to show signs of cumulative fatigue, they remain excited for their final day at a site where the largest number of working equids is expected!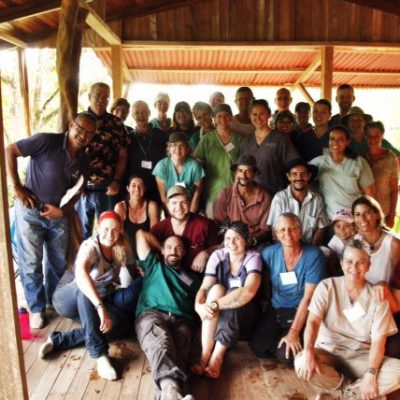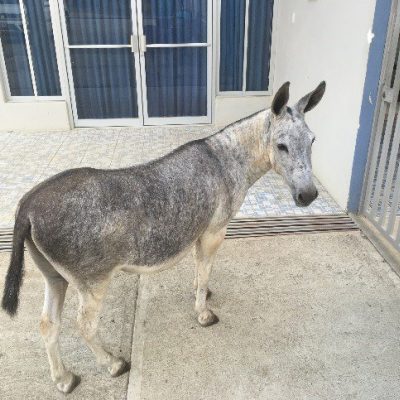 On a personal note, the Schott family would like to sincerely thank the entire group for making our children, Melissa and Noah, feel welcome at all venues of the Equitarian Workshop. They have enjoyed the experience and getting to know many of our participants– Melissa has bonded with Carolina quite well! We brought them to Costa Rica to open their eyes to some of the many important needs in this world and we hope, thanks to all of your efforts, that this will be a life shaping experience for our entire family.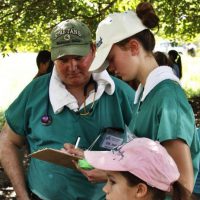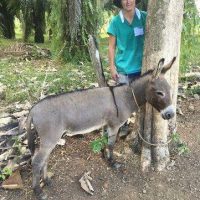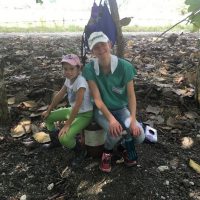 Day 7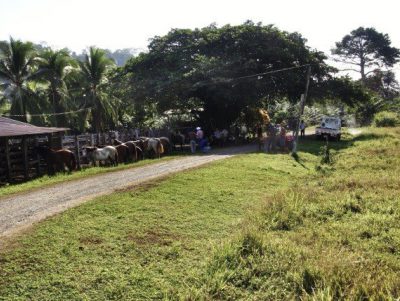 By Sue Wismer

Today was the fourth and last day of clinic work in Monge, about an hour from Puerto Jimenez. We hit the ground running! After some initial organizational challenges, we had an almost perfect set-up. We were to have a huge tree to set up under the abundance of shade. Our first case for the day was a sick, four-day-old foal. It was waiting for us when we arrived. Too weak to walk on its own all the way to the clinic, it came in a car. The mare had arrived in a truck–not horse trailer but open air truck! The foal was extremely weak and dehydrated. She was immediately attended to by many of the doctors. She was laid down on her side without any struggle and Dr. Roxy started giving her sub Q fluids.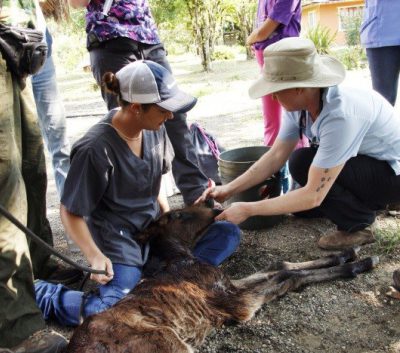 That was the start of very long day for Brianna and Dr. Hal. Brianna is one of two technicians on the trip and she stayed with the foal all day, monitoring and feeding the filly, Jira. The challenge was to take care of a neonate without the usual, expected equipment. We were able to place an IV catheter and give her 3 ½ L fluids, place a stomach tube and feed her the mare's milk, plus a combination of the available antibiotics. Melissa Schott and Carolina Mobley, Mariana's daughter, quickly learned how to milk a mare to provide the "liquid gold." There was a hope the foal would do well and it actually was able to stand on its own after a few hours. Unfortunately, it died later that afternoon. The educated guess is that the filly was a dummy foal with septicemia, which is a difficult prognosis in the best of situations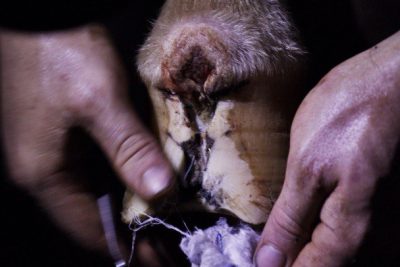 We had a few difficult cases today, including a laminitic horse that showed evidence of having a severely rotated P3 (coffin bone) that had begun to come through the bottom of the sole. One of the more time consuming patients was a horse presenting with multiple wounds on its face that were contaminated and infected with the larvae of the Habronema worm. Dr. Katherine and Dr. Judy spent several hours debriding and cleaning the many pustules on the side of this horse's face. In addition to all that fun, there was a wound on the front of a horse's coronary band that had become so infected, it produced abscess-like pus when pressure was applied. Approximately ¼ of the hoof wall had to be removed to allow for the infected area to be properly cleaned–thank you, Dr. Craig!

The grand total for the number of horses seen today was 103. Although thoroughly exhausted, we are very pleased with our ability to help the horses, mules, and donkeys that we did throughout this week. Even as it was our longest and most draining day, it is the type of day that reminds us all of our purpose as Equitarians.
Day 8
By Julie Wilson
The last day of a very successful workshop has come to an end. We are tired, but smiling, brimming with ideas and plans for an even better 2017 Workshop. We began our morning with presentations of the Equitarian work of Becky Bott, Angie Varnum, and Judy Batker on the American Indian Reservations in South Dakota. The parallels between their work and the Equitarian work in Latin America were striking.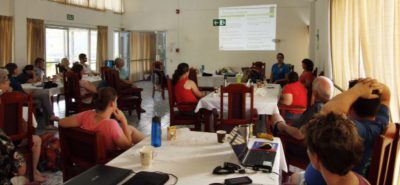 We next tackled the challenges of creating and maintaining a sustainable and effective Equitarian
program to improve the health of working equids and the families that depend on them. Do's and
don'ts were outlined with examples from various projects. The following questions and discussion
prompted more in depth information on project planning and execution. Simultaneously, the fecal
egg counts were performed in the back of the room by Roxy and Mickey Bell. Most were moderated
to high, with only three negatives. The medical records will be consulted to see if the negative ones
correspond to horses that were recently dewormed. Adrienne announced the "unofficial" equine
infectious anemia test results for the random samples that were taken. The proportion of positive
tests by community ranges from 15-36%. Later this year, Adrienne will be trapping tabanid flies
near horses in the Osa peninsula. These will be tested for the virus, and correlated with the results
from the Equitarian Workshop.
Mariana, Adrienne, Kim, and Lucy were thanked for their outstanding help in support of the workshop.
The "wish list" of supplies was reviewed and a few extra items were added. We closed with
suggestions on how to improve the workshop for next year, which revealed great enthusiasm for a
modification of this Workshop's model. Why change the model? The only significant weakness in our
community work was our failure to attract the neediest horses in the region.
The majority of the horses that presented for services were in fair to good condition, and the majority of owners appeared to be able to afford care. This concern was slightly ameliorated by two insights:
Many of the horses are not working as much as previously due to loss of work opportunities and
Some of the horses that arrived at the work site via truck truly did belong to some owners that could not otherwise afford health care, save for the free ride wealthier horsemen provided.
What is the new model that might address these concerns? First and foremost, Mariana Mobley has
agreed to be our local coordinator again. Although we wore her out, she still maintains her
enthusiasm, passion, and energy to support the communities in the Osa. Her consent is hugely
meaningful, because the Equitarians have never been so well supported in the communities, nor fed
and hydrated so well. This announcement was met with huge applause.
Second, Kim Thabault agreed to store the remaining supplies which will facilitate bringing a broader inventory of equipment and medications that were on our wish list.
The third exciting piece of news is that the horsemen in the community we served on Friday are interested in supporting a means of transporting more horses to the community day. "Cabalgatas" are popular organized trail rides in which many local horse owners participate. These give them an opportunity to show off their horses and socialize. Everyone is charged a small fee to come and a large lunch is served at the end. Any money that is left over after the cooks and food are paid for is donated to the local school. I suggested that the communities consider holding a cabalgata to support our Equitarian day. The money could be used to transport many more of the poorest owners' horses. This idea immediately took root. At the next big cabalgata in mid-February, this proposition was presented to the participating horsemen. The alternative will be to try to find worksites higher up in the hills.
Other ideas of note that came from our Saturday morning discussions, included a photo contest. Each participant could select three photos to submit for consideration in six categories: These might be best disease or lesion, best owner - Equitarian interaction, best Equitarian in action, most humorous, best wildlife, and best scenery. Each participant was encouraged to recruit a colleague to come to the next Equitarian Workshop, as well as to carry the message of the needs of working equids to their clients and potential donors.
After the exciting morning session, the drive back to Alajuela was quiet. Many soon dozed off, despite the winding road. My mind was spinning with too many ideas and follow-up details to take more than a quick cat nap. We ate at our same restaurant in Dominical and had time for a short walk to the beach. The three youngest tried to catch a wave or two on the long beautiful shore.
Our only hiccup was a tractor trailer loaded with lumber that blocked the road after the trailer hitch failed. Very little space was left on the verge to try to get around it. We squeaked through the gap holding our breath as there was a very narrow margin of error. Our driver was given a resounding cheer when we made it.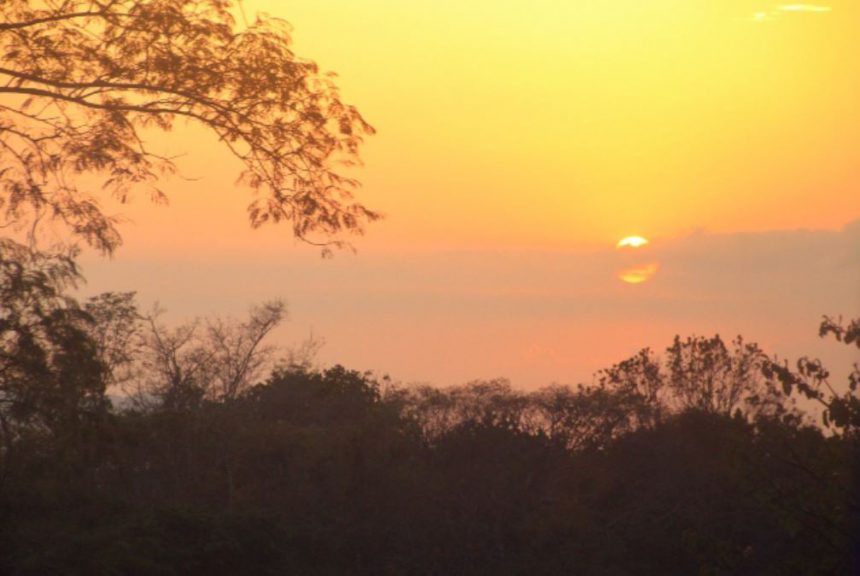 We came over the last hill into the Central Valley just as the sun was going down. Matt once again
captured the sunset with an exquisite picture.
Our last dinner at Margarita's guest house seemed like a family gathering. Everyone still had enough
energy to reminisce on the week's highlights, as well as to get to know more about each other. Then it
was off to the airport by taxi at varying times for all of us.

Thank you for sharing this adventure and learning experience with us. We hope that all who have read the blogs or participated will continue to advocate for the working equids that are so critical to families throughout the world.
Photo credits: Dr. Kornatowski, Scott Lesser, and Craig Lesser