On Tuesday, December 3, Spartans near and far will come together to make a better tomorrow. Give Green Day is a chance to give back and make a difference to impact current and future Spartans. In celebration of giving back, the MSU College of Veterinary Medicine is showcasing students, who have benefited from scholarships as they pursue their degrees. You can help support them and future students by contributing to the College's Give Green Day fund.
Q&A WITH KYRA HEIRICH, DVM CANDIDATE CLASS OF 2020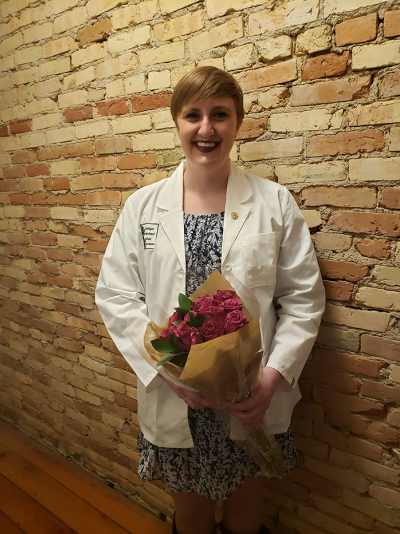 What are your current interests and career aspirations?
I'm currently leaning toward small animal or mixed emergency medicine. My background is in research, but these days, I am really loving clinical medicine. I may end up back in research again someday though! My work in the Jeffrey [human] Breast Oncology Lab spurred my interest in minimally invasive diagnostics; we used liquid biopsy (blood samples) to monitor progression of metastatic cancer. I had the opportunity to work with brilliant engineers and doctors, and loved the collaborative effort of biomedical engineering. In undergrad, I also worked for a veterinary contract research organization that collected pre-clinical data for cutting-edge medical devices.
I discovered my passion for emergency medicine working at SAGE Veterinary Centers in Campbell, CA throughout all of my summers during vet school. I love the fast pace of ECC and never knowing what kind of case you will see next, and I especially love the instant gratification of being able to give pets (and their humans) immediate relief from their pain and suffering. I'm also very passionate about shelter medicine and supporting animal rescue, and would like to find a job where I can also do spay/neuter and shelter med.
What are you most enjoying about veterinary school?
I enjoy exploring new interests and areas of vet med I never even knew existed! I came into vet school quite confident that I was going to pursue lab animal medicine, and along the way, have found I actually love interacting with clients in stressful situations (which happens ALL the time in ER!), performing surgery, and even primary care—something I never saw myself doing long-term. It's taught me to always keep an open mind, and has helped me learn a lot about myself throughout the process.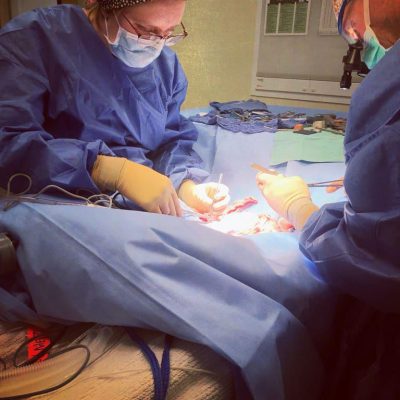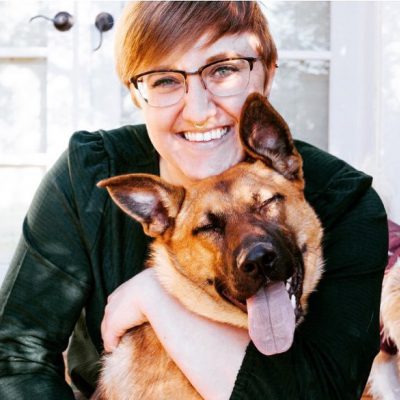 Which scholarships have you received?
The Vulcan Scholarship
How has receiving scholarships impacted you and your veterinary education?
As an out-of-state student, my student loans are a constant source of stress. I will graduate with more than $300,000 in debt, so it's really important to me to find a job I enjoy and allows me to have a good quality of life as I spend my entire career trying to pay that back. In order to make ends meet, I've spent the majority of my savings from working prior to vet school, and I've also had to work full-time during every available summer and winter break in our curriculum. Many veterinarians have advised me to take advantage of off-campus specialty externships, but travel and lodging can make some of these opportunities cost-prohibitive. By receiving this scholarship, I've been able to take advantage of off-campus opportunities without completely blowing my limited budget. Some of the opportunities I've been able to pursue include:
A RAVS (Rural Area Veterinary Service) trip to the San Carlos native american reservation in AZ
A high-quality/high-volume spay/neuter training in Asheville, NC put on by the ASPCA
I also have eight weeks of upcoming externships at my undergrad alma mater—UC Davis—planned for the spring.
I was also able to complete a veterinary acupuncture training course, and will be certified to perform acupuncture on both small and large animals upon graduation.
All of this additional surgery and specialty training has enhanced my veterinary education, and also allows me to bring a unique set of skills to my career.
If you could say something directly to your scholarship funders, what would you say?
I can't thank my scholarship donors enough for the opportunities they've provided me. I have been able to explore a huge range of diverse interests, none of which would have been possible without my scholarship funding.