September 15-October 15 is National Hispanic Heritage Month. Among the festivities at the College of Veterinary Medicine was a speaker event discussing the impact of Latinx Americans on agriculture and veterinary medicine. Separately, the MSU Latinx Veterinary Medical Association (LVMA) board members discussed how their identities intertwine with veterinary medicine.
Speaker Event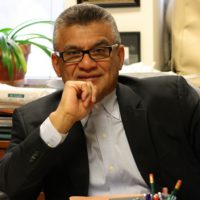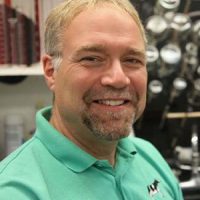 The College was joined by speakers Luis Alonzo Garcia, Director of Migrant Student Services at MSU, and Dr. Ronald Erskine, Professor Emeritus of the College of Veterinary Medicine. The event was organized by the Office of Admissions, Student Life, and Inclusivity.
Garcia's knowledge of migrant workers in the United States overlapped with Erskine's experience working with the Julian Samora Research Institute at MSU, where he collaborated on a project centering improved communication for Latinx dairy workers. This became a multifaceted discussion on the economic effect of Latinx food workers on the country.
Garcia began by pointing out the economic power of the Latinx community in the United States. An economic power that holds weight in veterinary medicine and food production as people go about their lives, interacting with animals, food, and domestic alike. Especially those who work in veterinary medicine and agriculture. Garcia added that 78% of agricultural workers identify themselves as Hispanic (regardless of immigrant or U.S.-born status). Further, Erskine explained that since 1950, fewer cows are producing more milk, driving farms to become larger and rely more on hired labor. In the dairy industry, Hispanic labor has a massive impact as they are the primary laborers on most farms and are responsible for the majority of milk produced. However, they are a population often overlooked when discussing the wellbeing of US agriculture.
Erskine noted that secondary to language and cultural barriers between Latinx dairy workers and the typically white American owners and managers of dairies, communication tends to be a persisting difficulty. Especially, communicating proper procedures to workers.
Workers, Erskine says, are often only told what to do when taking care of dairy cows—not why they must do it. The breakdown can mean lower production and health risks for the cows. However, the issue isn't that workers don't care to learn, but rather that the information is improperly communicated. Erskine notes that when Spanish-speaking veterinarians take time to explain to workers the "whys" of veterinary treatments and milking protocols, workers are enthusiastic about learning and applying the new knowledge.
Garcia states that when it comes to the diversifying student body, communication is also crucial. The Hispanic population in the U.S. has continued to grow since the 1970s. Providing support for students from different backgrounds and from a young age results in veterinary professionals from diverse backgrounds to connect with the equally diverse populations they serve—whether they be agricultural workers, or pet owners.
Latinx in Veterinary Medicine
MSU LVMA's stated mission is to address "the lack of Latinx representation in our profession and create an official community for Latinx veterinary professionals to come together to empower and support each other and the next generation of Latinx veterinarians and veterinary nurses." As the MSU branch of the national LVMA, the students in MSU LVMA are part of a wider push to bring Latinx voices to the fore of veterinary medicine and make the most of the veterinary, agricultural, and wider economic impact which Erskine and Garcia both touched on.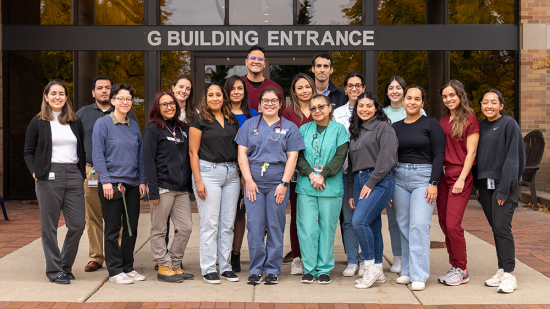 For many MSU LVMA board members, their Latinx identities influenced their decision to pursue veterinary medicine in the first place – especially when realizing they could be a positive role model for other future Latinx veterinary professionals, or to make veterinary care more welcoming to Latinx clients.
"Embracing my heritage while being an example and supporting the next generations of Latinx students who are considering veterinary medicine is very valuable to me," says Nicole Guzmán Veizaga, DVM class of 2025 and MSU LVMA Vice President, "thus I joined LVMA with the goal of helping uplift and empower our Latinx community at MSU College of Veterinary Medicine, but to also help provide resources and opportunities to allies who recognize the need of being more inclusive for clients. Highlighting Latinx veterinary professionals and their huge contribution to the veterinary profession is my favorite part of Hispanic Heritage Month."
Ariana Antezana, DVM class of 2026, and MSU LVMA secretary pointed to her identity as a reason to advocate for her community. "My identity, being Peruvian-Bolivian definitely influenced me to pursue veterinary medicine. Knowing that my other white counterparts were exposed to veterinary medicine at a young age whereas I started my pursuit in college made me realize how my community didn't have enough exposure to veterinary medicine."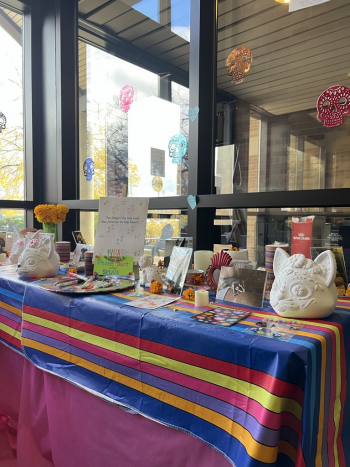 In November, the MSU LVMA also set up an Ofrenda, or altar, for pets who have passed in observance of Dia de los Muertos.

"My identity didn't affect my decision to pursue veterinary school, but it did influence my perspective as an advocate for animal care. I learned the value of my identity as I contribute to bringing visibility to others. I learned that being compassionate starts by opening my perspective to understanding those who come from a different place than myself," added Tayna Carrasquillo, DVM class of 2025 and MSU LVMA social media chair.
For the client side of things, Cindy Cardona, DVM class of 2026 and MSU LVMA speaker and wet lab coordinator, noted, "From personal experience and internships, I found that many veterinarians do not speak Spanish and do not have staff that are able to translate for them. This often leaves clients with no choice but to either not fully understand the doctor, or to bring their children as a translator—both often resulting in miscommunication and misinformation. When I began to work in clinics, I found that many clients were grateful that I was there to help with translation, and communication became much more efficient."
Many also discussed finding and uplifting cultural community within and outside of veterinary school as an important aspect of their studies.
"I enjoy listening to Spanish music (literally on the daily). I also feel especially connected to my culture when I make meals my grandmother used to make growing up," says Isabel Mendoza-White, DVM Class of 2025 and MSU LVMA merchandise chair. "I joined LVMA to find a community for myself on campus. Now, as a third-year student, I continue to be involved with LVMA to promote diversity on campus and educate the greater College community about my beautiful culture."