This fall, the 2021 ExoticsCon took place in Nashville, Tennessee. The event is an annual convention hosted by the Association of Avian Veterinarians, the Association of Exotic Mammal Veterinarians, and the Association of Reptile and Amphibian Veterinarians. Kaitlyn Nikirk, DVM Class of 2024, not only attended the event, but served as a moderator. She writes about her experiences below.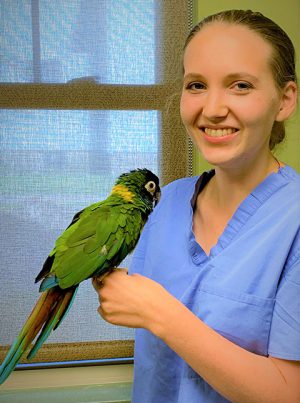 The year is 2013. A young girl walks over to a group of huddled vets at a conference. "Do you have any advice on how to become a veterinarian?" she inquires. "Don't be a vet," one of the veterinarians laughingly replies. This is the memory that's flashing before my eyes as I'm at the Association of Reptile and Amphibian Veterinarians (ARAV) moderator podium eight years later and the next speaker is finishing —it can't be that same vet after all these years. Yes. It's her.
While at ExoticsCon 2021, I served as a moderator for the ARAV Surgery track, a student lab assistant in Surgical Procedures of the Psittacine Beak and Skull run by Dr. Brian Speer, a student lab assistant in Ultrasound for the Reptile Clinician by Dr. Sean Perry and Dr. Kelsey Brust, and met with the ARAV Legislative and Animal Welfare Committee.
As I was moderating a presentation, I recognized one of the speakers from a conference I attended in 2013. A memory flashed before my eyes. I was determined to reconnect with the speaker, and in good humor give her a little bit of a hard time. Eight years later, I strode up to her and said, "Your advice didn't work." She asked if I regretted anything. I said no. She said laughingly, "then you're in the right place." The right place. I felt it.
I walked the conference halls, soaking it all in, talking with vendors, filling my notebook with more and more research ideas and potential speakers to bring back to MSU. I saw old friends and made some new ones. There is something incredible about being around people who are just as excited as you about something. For me, that "something" is birds. I'm thankful for the opportunity I had to attend a wonderful conference and learn from so many exotics experts. It's thrilling to see continuous innovations and development within the profession and I'm excited to see what the future holds.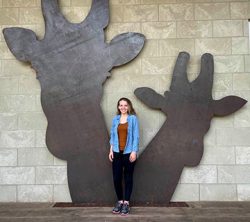 Since early this year, I've been working on the Legislative and Animal Welfare Committee for ARAV, monitoring and responding to local and national legislation. During the conference we were able to meet in person as a committee with the Association of Avian Veterinarians (AAV) Legislative Committee to discuss shared concerns. Since the conference, I've been given the opportunity to take more active roles in ARAV and AAV. I'm currently a co-chair on the AAV student committee, a moderator and contributor on the new ARAV student Facebook page, and a new member of the AAV Legislative Committee. I hope to continue to support and learn from these organizations as I grow as a student and professional.