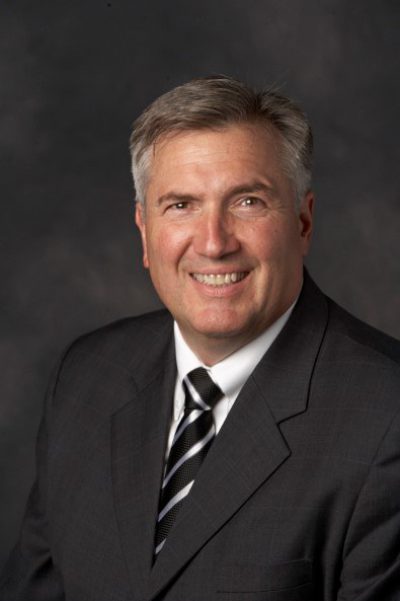 Christopher Contag, PhD, is the founding director of MSU's Institute for Quantitative Health Science and Engineering (IQ) and the inaugural chair of the new Department of Biomedical Engineering. He also is the inaugural James and Kathleen Cornelius Endowed Chair for the MSU College of Engineering. An internationally known biomedical researcher, Contag's work focuses on the development of new technologies and therapies for precision medicine and health maintenance.
Before arriving at MSU, Contag was on the faculty at Stanford University School of Medicine, where he was professor of pediatrics and oversaw various health initiatives that included the Molecular Imaging Program and the Center for Innovation in In-Vivo Imaging. Contag is also a past president and fellow of the World Molecular Imaging Society. He earned an undergraduate degree in biology and a PhD in microbiology from the University of Minnesota. Contag grew up in a family of veterinarians with his father, Dr. Carlos Contag, and his grandfather, Dr. Henry Schwermann, running a practice together in southern Minnesota while he was growing up. Dr. Carlos Contag was also a professor at the University of Minnesota, Waseca in the veterinary technicians program.
Tell us about IQ and why you chose to lead this group at Michigan State?
I came to MSU to lead the new effort in biomedical research as director of IQ and chair of Biomedical Engineering. The vision I have for the Institute, the Department, and the University is to fundamentally change healthcare from a discipline with a symptomatic focus to one with a predictive and preventive focus. Integrating genomics and other tools for early detection into healthcare will lead to new prognostic paradigms that will transform the practice of medicine.
How does veterinary medicine fit in with IQ's mission and current activities?
Veterinary medicine can lead this paradigm shift with integrated genomics and clinical evaluation of new tools for early detection. Although a focus of the Institute is human health, there is much to learn from the practice of veterinary medicine and tremendous opportunities for the development and testing of new approaches to healthcare by bridging biomedical engineering and veterinary medicine. I would like to work with MSU faculty and students to realize this paradigm shift.
Each year, the College of Veterinary Medicine hosts Phi Zeta Research Day, which showcases the research and scholarship of students and faculty from the College and other affiliated MSU departments and colleges. This includes veterinary students, master and doctoral students, residents, interns, undergraduates, and faculty from across the biomedical sciences. Why did you agree to be the keynote speaker for this year's event?
The growth of every discipline now lies at the interface with other fields, and to effectively address the unknowns in biology and medicine it will be necessary to speak the languages of chemistry, engineering, physics and biology so that we can build functional bridges of knowledge and effective technologies to address the most pressing needs in healthcare.
Why is Phi Zeta Research Day an important piece of education for veterinary, master, doctoral, and undergraduate students and residents and interns?
Phi Zeta Research Day is an opportunity to see the advances in other fields that will impact your research, your understanding and your practice. As such, it is an important part of our education, whether you are a veterinary, master, doctoral, or undergraduate student. Moreover, it is imperative that residents, interns, faculty and staff think through the research problems presented at Phi Zeta Research Day along with the other faculty, students, and staff as a way to enrich MSU research and build links to research programs across the University. If MSU is to have a global impact we need to build strong teams of interdisciplinary scientists and clinicians with a passion for innovation—Phi Zeta Research Day is an opportunity for advancing careers and beginning the process of discovery that will transform healthcare.
What advice would you offer to those students wishing to pursue careers in research?
For students wishing to pursue careers in research, Phi Zeta Research Day is the start of a lifetime of inquiry, always asking the questions, "How did this happen and what does it teach me?" and "How could I have predicted this outcome from the data that was available?" Revealing undiscovered processes, and building networks of knowledge is our mission, but our passion is seeing something for the first time—something that no one else has ever observed—our discovery, and our contribution to the greater good.