IRONDOG is a charitable fund that raises money to support the advanced medical and surgical needs of the pets hospitalized at the Michigan State University Veterinary Medical Center. With the increasing cost of veterinary care, pet owners are forced to make difficult decisions based on financial constraints. In many of these cases, curative treatment options are available, yet not affordable. By helping these animals and families, the vision of IRONDOG is fulfilled. Please check out the IRONDOG Facebook page to learn more about this community at MSU.
irondog beneficiaries
Meet Booker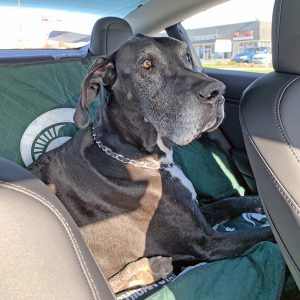 Booker is a six-and-a-half-year-old Great Dane. He came to Michigan State University Veterinary Medical Center in November of 2017 after he tore his left cruciate ligament. His owner, Amanda, is not certain how he injured his leg, but noticed that his walking gait looked off; he would pick up his leg with each stride.
At 175 pounds, Booker's surgical repair, performed by the Hospital's Orthopedic Surgery Service, required two metal plates for stabilization. Unfortunately, after the first repair, Booker suffered a meniscus tear and a staph infection. IRONDOG funds were able to help offset the large financial burden these surgeries required.
Former surgical resident, Dr. Brittany Jones, was a huge help to Booker. She would perform Booker's rechecks in Amanda's car, as his infection was potentially transmittable to other patients.
Today, Booker is doing well! Though, he isn't completely free of any lameness, he is able to run and play freely and without any pain.
Meet Ellie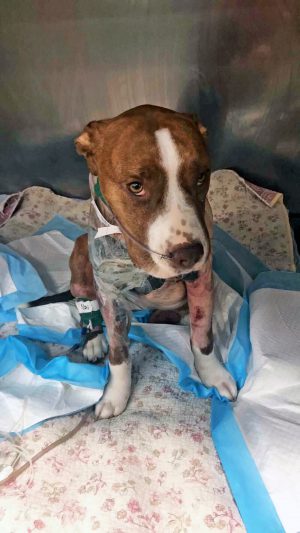 Ellie is a five-year-old Boxer/Pit Bull mix. She was brought to the Michigan State University Emergency and Critical Care Medicine Service due to a severe reaction she had to an injection. Her condition required both inpatient and outpatient care from May 2018 through August 2018. Bandage changes, several prescription medications, multiple surgeries, skin graft procedures, and wound debridement were all needed to help Ellie's wound heal completely. Ellie carried a special backpack which held a wound drainage system that Heidi, Ellie's Mom, had to empty daily before giving her a shower and changing her T- shirt (the shirt was needed to cover and protect her wounds while they healed). That summer, Ellie eventually graduated to a "cross your heart" bandage.
Ellie visited the Hospital daily. As such, she soon learned to discern the voices of different doctors. In fact, she would bark whenever she heard her doctor's voice. It's as if she was saying, "I'm here for my appointment!" When needed, one of Ellie's assigned veterinary medical students even "dog sat" her.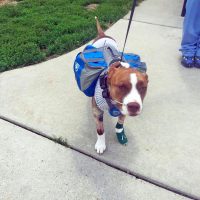 "The care she received from Drs. Stanley, Levy, and Armstrong was exceptional!" says Heidi. In August 2019, on the one-year anniversary of Ellie's wound healing, she visited Dr. Levy, with the Hospital's Emergency and Critical Care Medicine Service, to celebrate how far she's come. "Thanks to IRONDOG, and all the veterinarians, front office staff, technicians, students at MSU, Ellie is back to her happy and healthy self!" says Heidi.

Watch Ellie's Story