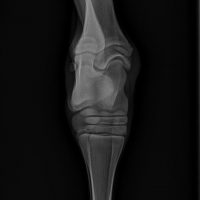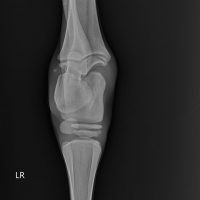 While all life may be considered a miracle, some births are extra miraculous.
Napoleon, an Irish Sport/Hunter colt, was not able to stand or nurse on his own after being born, and had a worsening case of diarrhea. Despite being born three weeks past his due date, radiographs taken by Napoleon's primary care veterinarian showed that his leg bones had not fully formed. Additionally, his mother's placenta had strange coloring, which suggested placentitis, which is a uterine infection.
Owner Martha Denver and her veterinarian tried to bottle feed Napoleon, but to no avail. So, just 12 hours after being born, Denver brought Napoleon to the MSU Veterinary Medical Center.
At MSU, Napoleon was admitted to the Pegasus Critical Care facility, where clinicians from the Emergency and Critical Care Service ran more diagnostic tests. Napoleon was diagnosed with sepsis and bronchopneumonia in addition to the placentitis and incomplete ossification, or incomplete bone growth.
It was a tough situation, and Napoleon—who still hadn't been named at the time—had less than a 40 percent chance of survival.
"Dr. Holcombe named him," says Denver. "I told her I didn't want to know his name until we knew he would make it."
That took time. Napoleon was initially treated with a plasma transfusion, broad spectrum antimicrobials, and intravenous fluids, as well as intravenous nutrition. After two days, Napoleon's diarrhea had resolved, and he was placed on strict bed rest for two weeks. During this time, Napoleon required a foal sitter to be with him 24/7 to minimize further crushing of the delicate bone structures while they developed.
Two weeks later, the team fit Napoleon with fiberglass tube casts that allowed him to stand without crushing his knee bones as they continued to form. Because the casts had to immobilize his legs, Napoleon's tendons, ligaments, and muscles had not yet strengthened. The team worked with Napoleon using step-down splints, leg bandages, and passive range of motion exercises to facilitate proper tendon development without stressing his bones. Then, Napoleon began using MSU's underwater treadmill in the Dr. Elwood and Linda Collins Rehabilitation Center. This allowed him to walk with 80 percent less weight-bearing impact on his joints and bones.
Napoleon was a hydrotherapy master. He walked on the underwater treadmill for 30 minutes per day, 5 days per week, and almost reached a full trot. He continued his hydrotherapy for less than two weeks before being discharged with careful monitoring, diet, and housing instructions.
Napoleon's treatment and recovery were multi-faceted, extensive, and took a long time. But Denver says MSU kept her informed.
"The communication was great," says Denver. "The team kept me updated every step of the way."
Denver says that since being home, Napoleon is doing well.